Mesquite Oversized Loads Accident Lawyer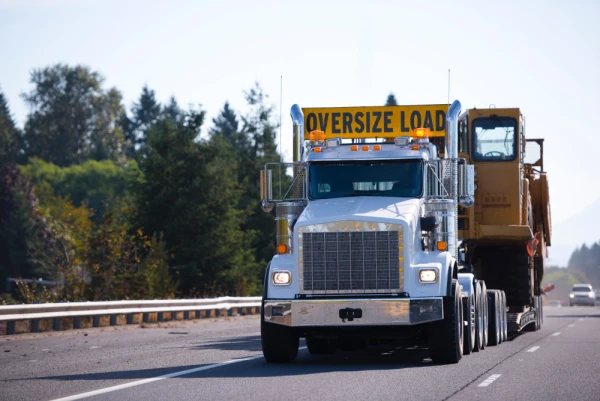 Many truckers haul oversized loads through Mesquite, TX. Drivers need special permits to pull these loads. They may also need pilot vehicles and other precautions. Even with all these precautions, accidents still happen, leading to serious injuries and property damage.
You can seek compensation if you were hurt in an accident with an oversized truck. Just reach out to a Mesquite oversized loads accident lawyer right away. It's easy to reach a member of our team for help getting damages. Call (469) 998-4069 and let us focus on your specific needs after an accident.
Learn More About Oversized Loads in Texas
There are state and Federal laws regarding the size of large trucks. Generally, large trucks must carry loads that are no more than:
Eight feet, six inches wide.
14 feet high.
The possible length of a large truck varies based upon the type of vehicle a trucker is operating. However, 65 feet is usually the upper limit for trucks. Note that, in some cases, truckers can legally haul "oversized" loads.
In order to haul an oversized load, a trucker must get a permit from the Texas Department of Motor Vehicles (TxDMV). These permits may allow truckers to haul larger loads. However, getting a permit does not mean that an accident will not occur.
Risks Associated with Oversized Trucks in Mesquite
Truckers may have a difficult time safely operating an oversized load in Mesquite. These large vehicles often have many blind spots. When a trucker is unable to see vehicles in these blind spots, it could result in an accident.
Oversized loads also sometimes take up part of other lanes on the road. Accidents may occur as large trucks attempt to share the road with other vehicles. Additionally, oversized loads take a significant amount of time to stop because of their heavier weight.
Finally, some oversized loads become unbalanced while driving, which could result in a rollover accident in Mesquite. Rollover accidents might involve only the truck driver, but they sometimes cause major collisions involving other drivers.
If you were hurt in any kind of collision involving an oversized truck, you should get help on your side quickly. Reach out to us right now by calling (469) 998-4069. We're ready to go over your case and to provide you with legal assistance.
Losses Associated with Mesquite Oversized Load Accidents
Many drivers are primarily concerned with their injuries after an oversized load accident in Mesquite. Accidents with very large trucks may leave you dealing with:
Injuries to your head and brain.
Injuries to your back, neck, and spine.
Internal injuries and damage to organs.
Broken bones, burns, and cuts.
Make sure that you seek treatment for your injuries quickly after an accident in Mesquite. You might need emergency care in some situations. If your injuries are not as severe, you can visit a hospital under your own power after the crash. Getting help quickly could help indicate that the accident caused your injuries.
You may also be unable to return to work after you are hurt in Mesquite. Sometimes, accidents with large trucks have a lasting effect on your health. You might end up dealing with a disabling condition for the rest of your life. You could also end up facing high costs to fix your vehicle, as well as pain, suffering, and mental anguish.
Your oversized loads accident lawyer in Mesquite can take steps to help you get compensation for all of these losses.
Methods to Get Compensation After an Accident in Mesquite
You have several options that could help you get compensation after an accident with an oversized truck in Mesquite. In many cases, you could file a claim with the insurance company. These claims may allow you to get damages for your medical expenses and other losses.
A lawyer can represent you during negotiations with insurance agents, potentially resulting in a settlement that covers your losses. Your lawyer will also support you if you decide to file a lawsuit against the driver who hit you. A lawsuit means taking your claim to court and hopefully getting a favorable verdict from a judge and jury.
Contact a Mesquite Oversized Loads Accident Lawyer Now
Take charge if you were hit by a driver hauling an oversized load in Mesquite. Focus on securing compensation by contacting us for a free consultation. Begin working with an oversized loads accident lawyer in Mesquite today.
Reaching us for help is simple. Just call (469) 998-4069 or fill out our online contact form. We're standing by to assess your case.
Frequently Asked Questions