Mesquite Bicycle Accident Lawyer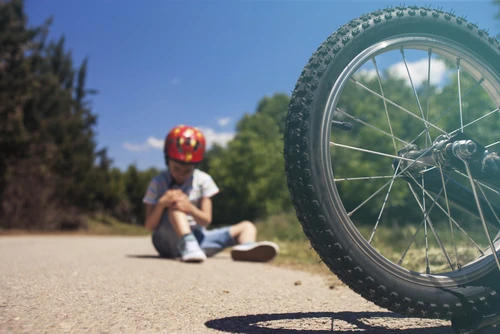 When a person rides a bicycle, they have significantly less protection than someone inside of a motor vehicle. This, coupled with the fact that Texas has no statewide bicycle helmet safety laws, means that bicyclists in Mesquite are vulnerable to serious injuries if they are struck by an automobile. Though every situation is unique, some of the common injuries in bicycle accidents include:
Traumatic brain injuries (TBIs)
Spinal cord injuries
Broken bones
"Road rash"
Paralysis
Loss of limb
In the worst cases, it is possible for the bicyclist to be killed in these types of accidents. Though lacking in regulations that protect bike-riders from injury, Mesquite law does provide them with a way to pursue compensation from irresponsible or at-fault drivers. At our firm, a Dallas car accident law firm, we offer our services as skilled Mesquite bicycle accident lawyers to injured bike riders in need of assistance through the complex legal system.
Fault and Your Compensation
Fault is a legal term that refers to responsibility for an event, such as a car accident. In some cases, such as drunk driving accidents or accidents that result from one person texting while driving, fault may be clear-cut and easy to assign. In others, the situation is more fraught with gray areas. Fortunately, injured bicyclists are able to pursue compensation from the driver of the motor vehicle even if they are partially responsible for the accident in which they were injured. There are two primary elements of Texas Civil Practice and Remedies Code §33.012, which discusses how fault changes a person's compensation.
The 50% Rule
The first element of the law is that an injured bicyclist is able to pursue compensation as long as they are not more than 50% to blame for their accident. In other words, you can collect recovery from the other driver as long as you are less to blame for the accident than they are.
Reduction in Compensation
However, the second part of the law states that your total available compensation will be diminished by your percentage of fault. So, if you are 30% responsible for the accident, your total award of compensation will be reduced by 30%. For this reason, it is the job of a Mesquite bicycle accident attorney to provide evidence lowering your percentage of fault and increasing the fault of the driver.
Procedural Rules
If you are injured in a bicycle accident, you may be swamped with a full plate of responsibilities. While you focus on recovering from your injuries, you may have to communicate with your employer to explain time off, discuss your care plan with multiple doctors and specialists, coordinate schedules for kids' school or other family issues, and more. Trying to learn and understand the personal injury claims procedure from a legal standpoint can be too hard on you on top of all of those factors. That is why having an experienced bike crash lawyer in Mesquite on your side is such a benefit.
Finding the Right Evidence
To help with your case, our Mesquite bicycle accident attorneys can work to gather crucial evidence that strengthens your position and makes it more obvious that the driver of the vehicle was at fault for the accident. Some common types of evidence include:
Pictures of the accident scene
Medical reports
Eyewitness testimony
Accident reconstructionist testimony
Traffic camera footage
Police reports
Nearby surveillance camera footage
The sooner you get a skilled lawyer on the case, the sooner they can gain this information and preserve evidence before memories fade and physical evidence disappears. Some cases, such as accidents involving rideshare companies, may require your attorney to spend time poring over contracts to assign fault, so it is always best to contact a lawyer as soon as possible after the accident.
Filing Your Claim on Time
Additionally, a knowledgeable bike wreck attorney in Mesquite may be poised to file your claim much more quickly and efficiently than you, given their experience. In Mesquite, and throughout Texas, personal injury claims must be filed within two years of the accident or the injured person loses the right to pursue damages, according to Texas Civil Practice and Remedies Code §16.003. Allow our attorneys to put your mind at ease and file your claim on time while you focus on recovering from this tragic wreck.
Get a FREE Case Evaluation Today
At our firm, a Dallas car accident law firm, , we know that injured people are in a rough situation. You may have mounting medical bills, time away from work, a difficult physical and mental recovery, and a variety of other issues that make life hard. That is why we offer you a FREE case evaluation so that you can see if our team of Mesquite bicycle accident lawyers is right for you. It's also why we pledge not to collect a fee until you receive the compensation you need to bring justice to your life.
To start the process of meeting with a Mesquite bicycle accident attorney, fill out the form on our contact page. If you prefer a phone call, dial 469-998-4069. We are here to help you in this difficult time.
Frequently Asked Questions