Mesquite Pedestrian Accident Lawyer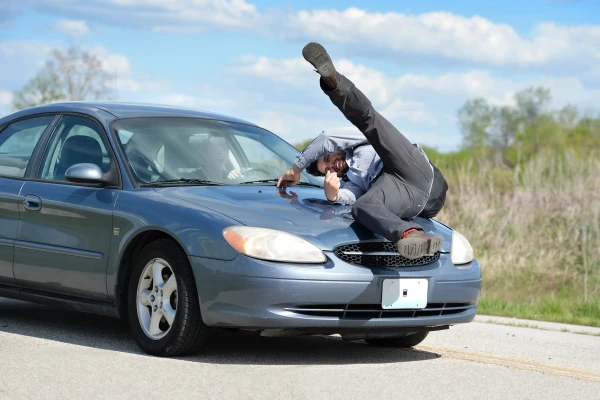 The roads around Mesquite, Texas are full of cars, trucks, vans, and buses. With all this congestion, walking to your destination can seem like your best option. You can enjoy the fresh air, get some exercise, and save money by walking. Unfortunately, you can also be involved in a pedestrian accident.
There were over 100,000 pedestrians hurt in motor vehicle accidents just in 2015, according to the Centers for Disease Control (CDC). The National Highway Traffic Safety Administration has reported that more than 5,000 pedestrians were killed in 2015 alone in wrongful death accidents.
Victims of pedestrian accidents are often badly injured and left with crippling medical bills. It can be hard to get the compensation you deserve from the insurance company of the driver responsible for the accident. Get the help and support you need from a Mesquite pedestrian accident lawyer before it's too late.
What to Do After a Pedestrian Accident in Mesquite
Handling a pedestrian accident appropriately right from the start can make it easier to get the compensation you need later on. You should call emergency services and get contact information from any witnesses if possible.
You should also try to get information from the driver that hit you. This can be difficult, as hit and run crashes in the U.S. have recently come to an all-time high. Dealing with a situation where you don't know who hit you can make it more difficult to get compensation, but it isn't necessarily impossible.
Finally, contacting a pedestrian accident lawyer should be among the first things you do after an accident. A pedestrian accident lawyer will step in to protect you immediately by:
Communicating with insurance companies
Working with professional investigators
Speaking with witnesses and building a case
Fight for the Compensation You Need with a Pedestrian Accident Lawyer
Pedestrian accidents can result in terrible injuries that can take costly medical care to address. These accidents commonly lead to:
Cuts and broken bones
Concussions
Spinal cord injuries
Injuries to the brain and other internal organs
Any of these injuries can require hospitalization and even physical therapy. You may be permanently injured, depending on the severity of the accident.
In a perfect world, the insurance company for the driver that hit you would cover these costs without a fight. Unfortunately, we do not live in a perfect world. It can be difficult to make an insurance company treat you fairly, if the driver that hit you even has auto insurance. That's where your pedestrian accident lawyer comes in.
Pedestrian accident lawyers will gather evidence to prove that the driver was at fault. In a large percentage of cases, drivers hit pedestrians because they are:
Disobeying traffic laws
Driving without paying attention to where they're going
Drowsy, distracted, or drunk
Your pedestrian accident lawyer will dig into your case to find the causes for the accident and bring them to light. You can also count on your lawyer to work hard to show that your injuries were caused by the accident and that you should be compensated for them.
Choose a Trustworthy Pedestrian Accident Lawyer
Picking the right pedestrian accident lawyer can help determine whether you win or lose your case. You can increase your chances for success by working with a law firm that has experience handling cases that are similar to yours.
You need help from legal professional you feel comfortable with. Many pedestrian accident lawyers offer consultations that allow you to test the waters. Working with a lawyer you can trust can make your legal battle much easier.
You can also focus on picking a reputable legal team. Some lawyers are only out to better themselves. Make sure you pick a team that uses a "no win, no pay" policy to find a group that isn't out to take advantage of you. You shouldn't have to pay legal fees unless your lawyer has secured your settlement or won your case.
Let a Pedestrian Accident Lawyer in Mesquite Help You
You have enough to deal with after a pedestrian accident, you don't need to have to worry about fighting a legal battle too. Let an experienced Mesquite pedestrian accident lawyer step in and shoulder this burden for you.
We understand what you're going through and we want to help. Let us put our experience to work for you so you can get the compensation you need. You can get the ball rolling by contacting us today for a FREE consultation.
Call (469) 998-4069 or fill out our online contact form to get the help you need now.
Frequently Asked Questions