Desoto Pedestrian Accident Lawyer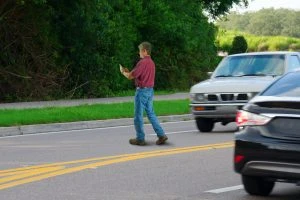 Walking is a great way to exercise and get out in the fresh air. Many individuals in DeSoto, Texas, walk to their destinations to save money or to help the environment. Regardless of the motivations, pedestrians in DeSoto can be severely injured if they are involved in a motor vehicle accident.
Pedestrian accidents are some of the most dangerous incidents to occur on our roads. Pedestrians have no defenses against cars, trucks, and other motor vehicles. Pedestrian accidents often result in serious injuries or even wrongful death.
Fortunately, getting help after a pedestrian accident can be as simple as contacting a DeSoto pedestrian accident lawyer. You can start getting support and advice right away from a legal professional right here at home.
Pedestrian Accident Facts in DeSoto
You are not alone if you've been injured in a pedestrian accident. The Centers for Disease Control (CDC) reported 129,000 pedestrian injuries in 2015 alone. Wrongful deaths are also depressingly common in pedestrian accidents. Over 5,000 pedestrians lost their lives just in 2015.
Research has shown that most pedestrian accidents take place during the night and in urban areas. You deserve legal support no matter where or how your pedestrian accident occurred. Make sure you're ready to fight back by contacting a pedestrian accident lawyer in DeSoto today.
Pedestrian Accident Lawyers Can Help You
You could face a long period of recovery after a pedestrian accident. You could be left with crushing medical debt from injuries that weren't even your fault. While many people logically assume that the driver in a pedestrian accident will cover these bills, getting compensation can be a challenge.
A pedestrian accident lawyer can step up and fight for you by:
Handling Insurance Companies
Insurance companies are primarily business organizations concerned with their bottom lines. They use predatory practices, such as offering pedestrian accident victims small payouts to make suits disappear. A pedestrian accident lawyer can make sure you aren't taken advantage of after an accident.
Negotiating a Settlement
You might be able to come to an agreement with the driver that hit you after a pedestrian accident. A settlement allows all involved parties to decide on fair compensation after an accident. Your pedestrian accident lawyer will argue on your behalf during settlement negotiations, to make sure you get the compensation you need.
Fighting in Court
Some pedestrian accident suits go all the way to the court system in DeSoto. Dealing with legal rules and procedures requires skill and experience. You can count on a seasoned pedestrian accident law firm to stand up for you when it matters the most.
Winning your court case requires your lawyer to prove the driver's fault. This can require a professional investigation. Your lawyer will question witnesses who saw the accident and may even reconstruct the accident in certain situations.
Pedestrian Accident Complications in DeSoto
Not every pedestrian accident is easy to resolve. Many pedestrian accidents are carried out by hit-and-run drivers, who flee the scene afterwards. It can be difficult to get the compensation you need if you don't even know who hit you, but it isn't impossible if you get legal help on your side.
Additionally, many drivers try to blame pedestrians after an accident. This is because the legal code in DeSoto allows multiple people to be blamed for an accident, and the compensation you receive is tied to your percentage of responsibility.
You may be accused of jaywalking or walking with a blood alcohol content (BAC) that is above the legal limit. A pedestrian accident lawyer can help you fight these accusations so you get the full compensation you deserve.
Get Professional Help from a DeSoto Pedestrian Accident Lawyer
Dealing with a pedestrian accident on your own can reduce the odds that you'll get compensation for your injuries. You can focus on getting the legal support you need by contacting a law firm that has experience winning pedestrian accident cases.
We have the legal know-how to take on any pedestrian accident case. You can count on us to provide you with trustworthy advice and care during this difficult period of your life. You can start getting the advice you need right now by contacting us for a FREE consultation.
Take charge of your future by calling (469) 998-4069 or by completing our online contact form.
Frequently Asked Questions