DeSoto Oversized Loads Truck Accident Lawyer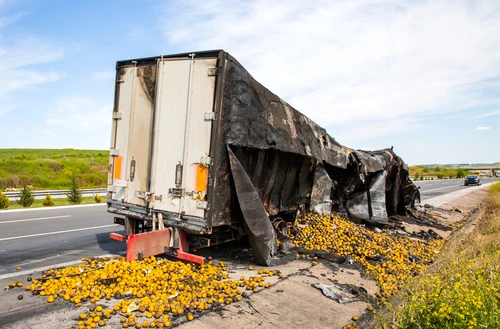 Want compensation after you are struck by an oversized truck in DeSoto, Texas? Reach out to our team right now. We'll focus on helping you build a legal claim following your accident. You can count on us to help you get damages for your:
Medical expenses
Lost wages at work
Vehicle repair costs
A DeSoto oversized loads truck accident lawyer can offer you the assistance you want right away. Just call us at (469) 998-4069. We're ready to deal with all aspects of your case after a truck collision in DeSoto.
Limits on Oversized Loads in Texas
The state of Texas sets limits on the size of vehicles that can drive on our roads. Generally, vehicles must stay:
Below 14' in height
Below 8'6" in width
Below 80,000 pounds in weight
Note that these regulations do not apply to all vehicles. These are the upper limits for vehicles driving in DeSoto without a permit. Some drivers can get oversized load permits from the Texas Department of Motor Vehicles (TxDMV).
Drivers with an oversized load permit can operate larger trucks. However, just getting a permit does not mean that a driver will operate their vehicle safely. Many truck drivers drive in a dangerous fashion when they operate oversized loads. We're here to help if one of these drivers strikes you.
Accidents Involving Oversized Loads in DeSoto
Any commercial truck could end up involved in a motor vehicle collision in DeSoto. However, oversized loads represent a specific challenge to other drivers on the road. Oversized vehicles are often very hard to maneuver. They have trouble making turns and may take up more than one lane.
However, the above factors are not direct causes of collisions here in DeSoto. We can work to show that a truck driver took actions that directly led to your accident. We'll investigate your accident by:
Speaking with eyewitnesses
Reviewing the scene of your accident
Getting your police report
Working with accident reconstruction techs
Reviewing the causes of your accident can help us show that another driver acted in a dangerous or reckless way. Perhaps a driver hit you after running a red light or taking a turn too fast. Regardless of the cause of your collision, our DeSoto oversized loads truck accident lawyers are here to help. Just call (469) 998-4069 so you're ready to learn more.
Oversized Load Truck Accidents and Damages in DeSoto
Oversized load accidents in DeSoto often end up leaving drivers with numerous expenses. We are here to help you seek compensation for these damages. We'll start by focusing on your medical costs. You can count on us if you are facing expenses for your:
Emergency medical treatment
Time recovering in a hospital
Medical tests and procedures
Medications and physical therapy
We know that not everyone sustains the same injuries in an accident with a large truck. That's why we'll go through your medical records to make sure your unique losses are addressed. We can also help you get compensation for your vehicle repairs. Our team even steps in if your vehicle was totaled after an accident in DeSoto.
Finally, we focus on non-economic damages after an accident involving an oversized truck. These losses are associated with your pain and suffering. Turn to us and get comprehensive assistance after a collision.
Your Claim for a DeSoto Oversized Loads Truck Accident
You don't have to construct a legal claim on your own after an oversized loads truck accident in DeSoto. You can reach out to a lawyer and get support in your corner today. Allow us to focus on your specific situation while providing you with easy-to-understand information about your claim. We'll work to either settle your claim out of court or help you file a lawsuit.
Many drivers choose to settle their claims with insurance companies after an accident. This is because it can save on court fees. Additionally, settling usually takes less time than filing a lawsuit.
However, some insurance agents will try to get you to accept a subpar settlement after a collision. Let us deal with insurance agents for you now.
Speak to a DeSoto Oversized Loads Truck Accident Lawyer
Contact our team if you were hit by an oversized truck. We'll start working to get you the damages you want. Count on our oversized loads truck accident lawyer in DeSoto and get assistance now. You can easily contact us by calling (469) 998-4069. We also provide you with an online contact form.
Get the help you want by contacting us and reviewing your situation with a free consultation.
Frequently Asked Questions