DeSoto Fatigue Truck Accident Lawyer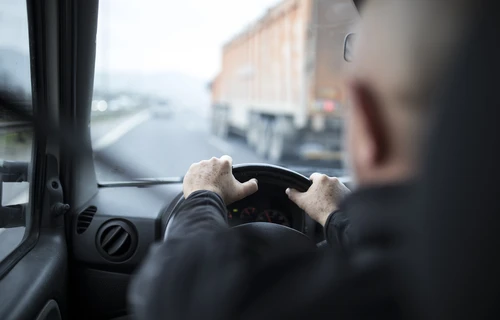 Sometimes, fatigued truck drivers in DeSoto end up causing major accidents. You can end up facing major losses if you were struck by a truck driver experiencing fatigue. Fortunately, contacting us can help you get compensation for your:
Medical expenses
Lost wages at work
Vehicle repairs
Pain and suffering
Our DeSoto fatigue truck accident lawyers are standing by to assist you with your legal claim. We can work to settle your case out of court. You can also count on us to help you file a lawsuit. Discuss the best way to handle your claim by calling (469) 998-4069.
Find Out More About Fatigue Accidents in the U.S.
Fatigue causes impairment in drivers around the country, according to the National Sleep Foundation (NSF). Fatigue causes a number of collisions every year. In fact, the NSF estimates that, on a yearly basis, fatigue leads to around:
71,000 injuries
1,550 fatalities
However, you should know that these figures are not exact. There is not a test that can be used to determine if someone is fatigued. Therefore, many fatigue accidents go unreported in our country. Any driver can experience fatigue. However, truck drivers often end up dealing with this impairing condition frequently.
Truck drivers are expected to drive on the road for long, uninterrupted stretches. This can result in fatigue. Some truck drivers also have to overnight on the road. This can prevent them from getting enough sleep, leading to fatigue. This exhaustion can then end up leading to an accident here in DeSoto.
Dangerous Behaviors Associated with Fatigue in DeSoto
Driving while fatigued is often dangerous. However, fatigue on its own does not cause accidents in DeSoto. Instead, accidents occur when fatigue causes drivers to operate their vehicles in dangerous ways. Fatigued drivers sometimes:
Drive too fast for conditions or tailgate other drivers
Drive through red lights or stop signs
Drift into another lane
Fall asleep at the wheel and run off the road
These are only examples of some forms of reckless driving associated with truck driver fatigue. We can focus on other reasons for fatigue accidents when you contact us to get help. It's easy to reach us after a collision. Just call (469) 998-4069. Take charge of your future by working with a DeSoto fatigue truck accident lawyer.
Your Losses for a DeSoto Fatigue Truck Accident
Truck accidents in our area frequently result in major damages and injuries. You can end up facing high medical bills and vehicle repairs after a collision caused by a fatigued truck driver. Some examples of medical expenses include:
Emergency medical care
Time in a hospital during your recovery
Medical assessments and procedures
Rehabilitation and medication costs
You may even need to replace your vehicle after a fatigue accident caused by a truck driver. Your vehicle could get totaled in the collision. We are here to help you seek full damages to cover all of your losses. We can even help you get damages to address your pain, suffering, and mental anguish.
Some drivers in your situation also receive exemplary damages. These damages are designed to punish the driver who caused your accident. Find out more about exemplary damages by reaching out to a truck accident lawyer today.
Handle Your DeSoto Fatigue Truck Accident Claim Now
You don't have unlimited time to seek compensation after a fatigue truck accident in DeSoto. In fact, the statute of limitations in Texas usually runs out after two years. In some cases, drivers only have six months to seek compensation for their losses.
Fortunately, we are standing by to get to work on your claim right now. We know how to investigate the causes of a fatigue accident in DeSoto. We'll also review all of your losses. We'll focus on making sure that all of your damages are fully addressed after a collision.
Our team can negotiate with insurance agents to settle your claim here in DeSoto. You can also contact us if you want to file a lawsuit. Filing a lawsuit lets you take your claim to court. We'll support you if your case goes before a judge and jury.
Allow a DeSoto Fatigue Truck Accident Lawyer to Help You
Secure legal help if you were struck by a tired truck driver in DeSoto, Texas. Start working to build a legal claim right away by calling us at (469) 998-4069. You can also complete our online contact form. Our fatigue truck accident lawyers in DeSoto will handle all of your legal needs. We'll focus on bringing you the compensation you want.
Start digging into your claim right now by contacting us to get a free consultation.
Frequently Asked Questions