DeSoto Tow Truck Accident Lawyer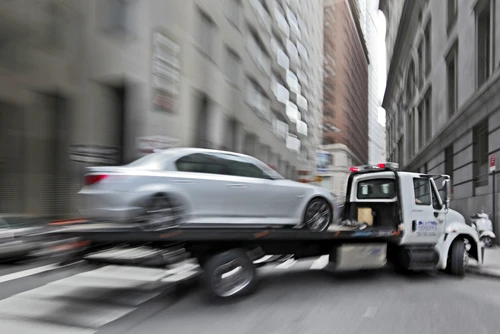 Allow us to provide you with legal assistance if you were struck by a tow truck in DeSoto, Texas. We understand how to secure compensation for you in this situation. Contact us if you want to secure damages to cover your:
Medical expenses
Lost wages at work
Vehicle repair costs
A DeSoto tow truck accident lawyer can step up to help you handle the aftermath of a collision. Find out how we could build a claim for you by calling (469) 998-4069. We are prepared to help you now.
Review the Facts About U.S. Tow Truck Accidents
If you were hit by a tow truck, you are not alone. There are many tow truck accidents around the country on a yearly basis. In fact, the Federal Motor Carrier Safety Administration (FMCSA) keeps track of these accidents for us.
The FMCSA reported that there were over 900 accidents involving tow trucks in the year 2018. These accidents occurred for a number of different reasons. Some accidents were caused by driver errors. Other accidents occurred because:
A vehicle in tow came loose and slid into traffic
A tow truck company failed to perform proper maintenance on the truck
There was a defective part on the tow truck
We'll review the unique causes of your accident here in DeSoto. This can help us build a personalized claim to help you get compensation for all of your losses.
Types of Tow Truck Accidents in DeSoto
Tow trucks are a kind of commercial vehicle. They are large and heavy. They have numerous blind spots that make it difficult for truck drivers to see other vehicles. They also take longer to stop than many vehicles because they weigh so much.
All of these factors can contribute to a tow truck accident in DeSoto. Generally, there are three major kinds of tow truck accidents. This includes:
Head-on collisions
Rear-end collisions
Side-impact collisions
Sometimes, tow trucks get involved in rollover accidents. These accidents occur when a vehicle tips over in the course of a collision. However, rollover accidents are not as common as other kinds of wrecks.
Our team can help you regardless of the kind of accident you faced. We'll start working on your claim as soon as you contact us to get help. Just call (469) 998-4069. Begin working with a DeSoto tow truck accident lawyer right now.
Losses for a DeSoto Tow Truck Accident
As we mentioned, tow trucks are very large vehicles. This means that they can end up causing significant damage in an accident. You can end up with a totaled vehicle and with high medical bills. You may want compensation to cover your emergency care, time in a hospital, and physical therapy.
We know that many drivers also face time off work after a tow truck accident. You may need time off in order to recover from any injury in our area. Some accidents can even leave you with a disabling condition that prevents you from returning to work at all.
We'll work to bring you damages to cover all of these losses. You can also reach out to us if you want non-economic damages after a collision. Non-economic damages can cover the losses associated with your pain and suffering. Contact us to find out more.
Build a Claim After a Tow Truck Accident in DeSoto
Get help right away after a tow truck accident in DeSoto. You should know that you have a limited amount of time to seek compensation after you are hit by a tow truck. In general, the state of Texas will give you two years to file a claim or a lawsuit.
Many drivers choose to settle a tow truck accident claim in DeSoto. A settlement helps you get compensation without going to court. This can help you avoid court fees. Settlements also help you get damages more quickly in most cases.
However, settlements do not work for all drivers in our area. Insurance agents sometimes refuse to treat drivers fairly after a collision. In this situation, a lawyer can help you file a lawsuit against the driver who hit you. Let us take your claim to court right now.
A DeSoto Tow Truck Accident Lawyer Can Help You
Focus on building your claim after a tow truck accident in DeSoto. Members of our team will provide you with the legal help you want. Just call us at (469) 998-4069. You can also fill out our online contact form. Take control by working with a tow truck accident lawyer in DeSoto.
Discuss all aspects of your case now with a free consultation.
Frequently Asked Questions