Irving Tow Truck Accident Lawyer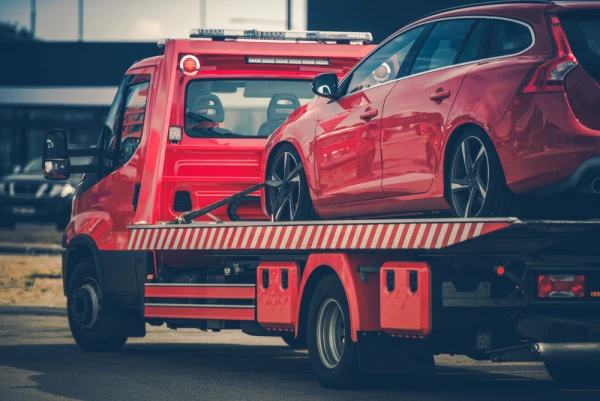 Have you or someone you love been involved in a tow truck accident in Irving, TX? If so, you're not alone. Tow truck accidents can be very severe. They may damage your car, SUV, or pickup truck, and you may also experience physical injuries. In extreme cases, tow truck accidents can result in death.
There are an estimated 43 deaths per 100,000 tow truck drivers, and a tow truck driver is killed every six days by passing traffic. In other industries, the average number of deaths per year is only 3 per 100,000. Accidents are the most common cause of death for tow truck drivers.
For other drivers, the risk of fatality in a tow truck accident is high. That's why you need legal representation in the aftermath of a tow truck accident. Our Irving lawyers can help you fight for your rights. Whether you're seeking compensation for a lost vehicle or medical damages, we'll ensure you get what you're owed.
Call our Irving tow truck accident lawyers today at (469) 998-4069. You can also book an appointment on our website. Consultations are 100% free. If we don't win your case, you won't pay.
Tow Truck Accident Injuries
If you are involved in a nonlethal tow truck accident, you may still face severe injuries. Often, injuries from a tow truck accident are life-changing. You or your passengers may require surgeries, physical therapy, or even long-term care.
Some tow truck accident injuries are so debilitating that you may be unable to resume a normal life. In some cases, accident victims cannot return to their jobs. You may also need to give up your favorite hobbies, like travel or sports. Sometimes these changes are only temporary while you recover. Other times, they impact you for the rest of your life.
Additionally, tow truck accidents can be traumatic. It's common for people to face PTSD after a tow truck accident because the experience is so frightening.
In a tow truck accident, your physical injuries will vary based upon the circumstances. However, certain injuries are common. These injuries include:
Damage to the head and neck — You may experience a concussion, traumatic brain injury (TBI), or whiplash.
Spinal cord injury — A spinal cord injury from a tow truck accident may result in chronic pain, as well as paralysis. You may be rendered a paraplegic or quadriplegic after a tow truck accident.
Broken bones — Tow truck accidents can cause fractures, including broken arms, legs, ribs, and other bones.
Organ damage — Your organs may be damaged in an accident with a tow truck, resulting in internal bleeding, punctured lungs, or other injury.
Heart attack and stroke — The stress of a tow truck accident may trigger heart attacks and strokes in older, at-risk individuals.
External tissue damage — You may experience cuts, burns, or bruises.
Loss of limbs — In extreme accidents, you may lose a limb or require a hospital amputation.
Because of these personal injuries, it's important to pursue compensation from a tow truck accident. If the driver or their employer is found liable, you may be eligible for payments to cover your medical bills, lost wages, and lifelong care.
Different Tow Trucks Involved in Accidents
In Irving, you may encounter different types of tow trucks. Each type of tow truck can cause accidents for different reasons. Some tow trucks cause worse accidents than others. When you're in a tow truck accident, it's important to determine which type of truck was involved.
The most common types of tow trucks in Texas are:
Wheel-Lift Tow Trucks
A wheel-lift tow truck uses a metal "yoke" to lift another vehicle by its front or rear wheels. They use a hydraulic lift system or a special pneumatic hoist to raise the vehicle, then tow it behind the truck.
Wheel-lift tow trucks are often less safe than other types of tow trucks. This is because the vehicle being towed may drift into another lane. The towed vehicle can also cause accidents by swinging into another car when the tow truck is turning.
Flatbed Tow Trucks
As the name suggests, flatbed tow trucks have a large truck bed for transporting cars or other vehicles. A vehicle can be driven onto the flatbed, pulled with a winch, or lifted with a hydraulic hoist.
Once the vehicle is on the flatbed, it can be easily secured. A flatbed tow truck is usually the safest type of tow truck. However, accidents can occur if the towed vehicle falls off the flatbed. A fallen vehicle can crush another car or create a safety hazard in the row.
Flatbed tow trucks are also larger and heavier than other tow trucks, which means they may have reduced visibility. Flatbed tow truck drivers are also more likely to lose control of the vehicle in bad weather.
Hook and Chain Tow Trucks
A hook and chain tow truck is less common in Irving roadside accidents. These tow trucks use heavy chains to hook a vehicle to the truck's rig, then haul it away. The equipment involved can damage cars, so hook and chain tow trucks are usually reserved for hauling junk. They are also used to remove objects blocking a road, such as fallen trees.
Hook and chain tow trucks may cause accidents if the chains have been improperly secured. Objects can come loose and collide with other cars. Additionally, hook and chain tow trucks are often older vehicles.
Because they are not used as frequently as other types of tow trucks, the owners may fail to keep them properly maintained. This can result in accidents caused by mechanical failure.
Integrated Tow Trucks
Finally, drivers may encounter integrated tow trucks. These trucks are used to tow buses, heavy machinery, and other trucks. They may be larger and heavier than other types of tow trucks. Often, integrated tow trucks have multiple axles.
Integrated tow trucks may cause fatal accidents because of their size, as well as the size of the vehicles they transport.
Call Us Today
When you've been in an accident with a tow truck in Irving, TX, give us a call at (469) 998-4069. Our lawyers are waiting to assist you. Consultations are free, and there's no obligation to pay unless we help you win.
Frequently Asked Questions