Irving Moving Van Accident Lawyer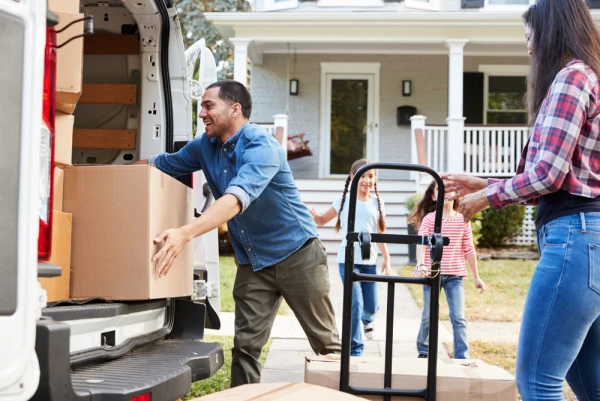 People are moving to Irving, TX, all the time. According to the U.S. Census, Irving's population grew 10% from 2010 to 2019. This means more moving vans on Irving city streets than ever before — and more moving van accidents.
If you've been in an accident with a moving van, you need legal representation. Our moving van accident lawyers are standing by to assist you. Whether you're seeking compensation for a totaled vehicle, medical bills, or lost wages, our Irving law office can help.
Getting in an accident with a moving van can be a frightening experience. You don't have to handle it alone. Call us today at (469) 998-4069 for a free consultation. We'll discuss your case and help you win. If we don't win on your behalf, you won't pay for our services.
Liability in Moving Van Accidents
When you're in a car accident, it's vital to determine liability. Unfortunately, determining liability after a collision with a moving van can be complicated. There may be multiple parties who are responsible, not just the van's driver.
The following factors can affect liability in a moving van accident:
Is the Driver an Employee of a Moving Company?
If so, the moving company may be partially liable for damages in an accident. They may be responsible if they hired unqualified drivers, failed to provide adequate training, or required drivers to work long shifts without breaks.
Is the Moving Van Owned by a Moving Company?
If the moving van is owned by a private moving company, the company is legally required to ensure proper vehicle repair and maintenance. The company may, therefore, be liable for the accident if it was caused by a mechanical failure. For example, the moving van driver may not be liable if the van's brakes failed, but the moving company would be.
Is It a Rental Van?
Were you in an accident with a U-Haul, Budget Truck, or other rental van? If so, the liability most likely falls to the driver alone. However, some professional movers use rental vans, rather than owning their own fleet. Is the van driver a private individual? Or do they work for a moving company? Find out.
Help Determining Liability
By working with accident lawyers, you won't have to determine liability alone. Simply provide our legal team with the information from the accident. Then, we'll help you receive the compensation you deserve.
Tips for Handling a Moving Van Accident
Car accidents are disturbing. When the accident involves a large vehicle such as a moving van, it's even harder to keep a level head. Whether or not you aren't injured, you may feel a rush of adrenaline or shock.
That's why it's important to be prepared. Learn how to respond in the aftermath of a moving van accident before you hit the road. With these tips, you'll be able to stay safe. They will also help you collect the information you may need in a future lawsuit.
Tip #1. Focus on Safety
First, focus on your safety and the safety of your passengers. If your vehicle can still drive, pull over. You don't want to make the accident worse by blocking traffic. If you can't move your car, assess the situation carefully. Remain in the vehicle if you're in the middle of a busy highway.
Then, check for injuries. If someone in your car needs medical attention, call 911 right away. Don't try to move someone who may be severely injured.
Tip #2. Call the Authorities
Report the accident to your local police or highway patrol. When the authorities arrive, they can help clear the accident scene. They will also file an accident report, which you'll need for future legal action.
Tip #3. Exchange Information with the Driver
Next, talk to the moving van driver. Get their name, phone number, and insurance information. If possible, take a photo of their driver's license. Then give the driver your information.
Tip #4. Take Photos and Videos of the Accident Scene
If it's safe, take photos and videos of the accident scene. Document any damage to your vehicle, as well as any damages to the moving van. Be sure to show the van's location relative to your own car. Record images of the street, as well, to provide context. For example, take photos and videos of any skid marks on the road. This documentation will help your future legal case.
Tip #5. Record a Testimony
Finally, record your testimony. Try to do this as soon as you can, while your memory of the accident is still fresh. You can write it down, create a voice memo, or take a video. Be as detailed as you can. How fast were you driving? Which lane were you in? How did the moving van cause the accident?
If you can, collect testimonies from your passengers as well as any witnesses to the accident. Our Irving moving van accident lawyers can use these accounts to help win your case.
Moving Van Accident Compensation
Moving van accidents can interrupt your life. After getting into a moving van accident, you may experience the following:
Damage to your car, including total loss
Injury to you or your loved ones
Death of a loved one
Inability to work or enjoy life due to disability
Severe emotional distress
Recovering from a moving van accident may be a long, difficult road. You may require surgeries, physical therapy, or long-term care. Injuries from a moving van accident may also prevent you from returning to work.
If so, you deserve compensation. It can help you regain control of your life after a moving van accident. Don't wait to seek help.
Contact us today for a complimentary legal consultation. Our moving van accident lawyers will get to the bottom of your case and fight for your rights. Consultations are 100% free with no obligation. If we don't help you win, we won't charge for our services.
Call (469) 998-4069 now. Our lawyers are happy to serve the Irving, TX community.
Frequently Asked Questions