Irving T-Bone Accident Lawyer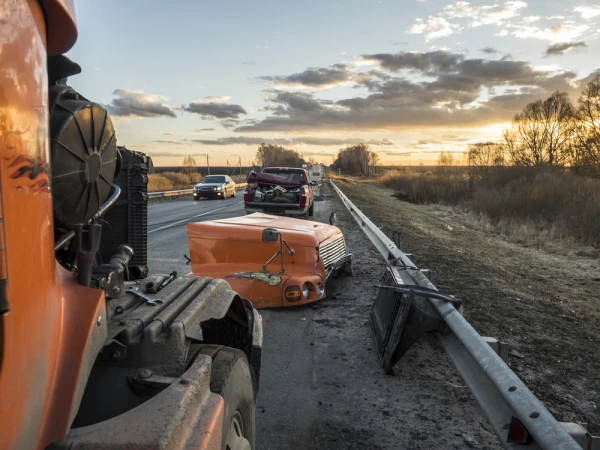 T-bone crashes are common in Texas. They frequently cause vehicular damage, severe injuries, and even death. After getting into a T-bone accident, your life may be permanently changed.
In T-bone accidents, one driver crashes the front of their car into the side of another driver's car. This usually happens because one of the drivers is speeding, distracted, or making an illegal maneuver.
"T-boning" often involves cross traffic as well, which means the passenger side of your car may take the worst of the damage. In 2018, T-bone crashes accounted for 23% of all passenger fatality statistics in car accidents in the United States.
But if you've been T-boned, don't worry. Legal assistance is available. Our Irving, TX, lawyers can assist you, helping you recover from your accident. We'll help establish liability and determine how much compensation you may be owed. Then, we'll fight to ensure you win your case.
Contact our accident attorneys today by calling (469) 998-4069. You can also reach out online via the contact form on our website. Legal consultations are 100% free with no obligation. You'll only pay for our services if we help you win.
What Should You Do After Getting T-Boned?
T-bone crashes can happen to anyone. You may be driving through downtown Irving one day when suddenly another driver smashes into the side of your car. In the aftermath of this car accident, what should you do?
First, if possible, move your vehicle out of traffic. Pull over to the side of the road or into a nearby parking lot. You don't want to make the accident worse by causing other cars to swerve around you. This could cause a dangerous pileup. The other driver should move his or her car, too.
Then, check for injuries and call 911. If anyone involved in the accident needs medical attention, tell the 911 operator to send an ambulance. Stay in your car while you wait for the paramedics unless it's dangerous to do so.
Next, exchange insurance and contact information with the other driver. Take photos and videos of the crash if this is safe. Document the damage to your vehicle, as well as any relevant details from the accident site. For example, photograph any broken railings or skid marks on the road.
Details from the accident site can help prove liability by showing the trajectory of the other vehicle. If there were any bystanders who witnessed the accident, ask for their information so they can provide testimony later.
Finally, record your own account of the accident while it's still fresh. Write down everything you can remember or record a detailed voice memo. It may also help to draw a diagram of the street, noting the position of your car and the other car when the accident happened.
What Causes T-Bone Crashes?
T-bone crashes get their name because of the shape of the accident. When the front of one car hits the side of another car, the collision looks like a "T." These accidents are also known as side-impact collisions, right-angle collisions, or broadside collisions.
Several factors contribute to T-bone crashes:
Speeding Through Intersections
T-bone accidents are very common in intersections. In many scenarios, T-bones occur when one driver is making a left turn and the other driver is speeding through a yellow light. The driver turning left may not notice the speeding driver, or may falsely assume they will stop. In other accidents, T-boning happens when a driver runs a red light or refuses to slow down for a stop sign.
Confusion About Right of Way
Although "right-of-way" rules are very clear in Texas, some drivers still get confused. If a driver falsely believes they have the right of way, they may T-bone another car in the middle of an intersection. In this accident scenario, one car is usually driving straight, while the other is turning. Always make sure you know when to yield to oncoming traffic — this will help you avoid a side-impact collision.
Illegal Turns
As mentioned, T-boning frequently occurs when one vehicle is turning. Although it isn't always easy to determine liability when someone gets T-boned, drivers making illegal turns are usually at fault. This can happen when the driver ignores a red light, violates the speed limit, or refuses to yield.
Driving Under the Influence
Driving under the influence of drugs or alcohol also causes T-bone crashes. When a driver is drinking or using drugs, it severely impairs their judgment. It also negatively affects their coordination, motor skills, and depth perception. Impaired drivers may misjudge their vehicle speed, as well as their distance to other cars on the road. This may cause them to T-bone another car.
Driving While Distracted
Driving while distracted can be just as dangerous as driving under the influence of drugs or alcohol. If a driver is texting, talking to a passenger, eating, shaving, or applying makeup, they aren't paying full attention to the road. If there's a car turning left in front of them, they may not be able to react in time — this can result in a T-bone accident.
Mechanical Problems
Finally, T-bone crashes can happen due to mechanical problems. One or more drivers involved in the accident may have faulty brakes, steering, acceleration, or other issues. These safety problems affect the driver's ability to control their vehicle. For example, a driver with defective steering may be unable to swerve out of the way to avoid hitting another car.
Get Help for T-Bone Accidents in Irving, TX
If you or someone you love has been T-boned, seek help from our Irving attorneys as soon as possible. We can help you receive the compensation you deserve. We'll work hard to obtain a settlement to cover medical bills, replace a totaled vehicle, and provide for your pain and suffering.
Don't wait. Reach out now to schedule a complimentary consultation and discuss your t-bone accident with a lawyer. Remember, all legal consultations are free of charge. Give us a call at (469) 998-4069.
Frequently Asked Questions