Flower Mound T-Bone Truck Accident Lawyer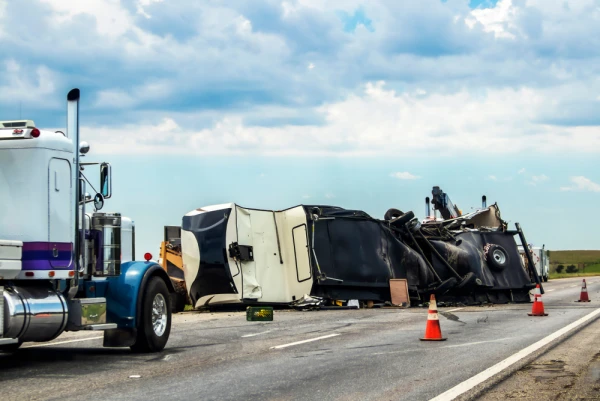 T-bone accidents are among the worst types of truck accidents. Also known as a side-impact or broadside collision, these crashes result in property damage, severe injury, and even death. A t-bone accident can happen in an instant and change your life forever.
In communities like Flower Mound, TX, t-bone accidents involving trucks are sadly common. Any driver is at risk of being involved in a t-bone accident. When these accidents involve vehicles of differing sizes, such as a large truck or tractor-trailer, the individuals in the smaller vehicle may suffer serious injuries or fatalities.
Were you in a t-bone accident involving a truck in Texas? You may be owed compensation. Contact our Flower Mound, TX law office by dialing (469) 998-4069 today. You can make an appointment for a free consultation with one of our truck accident lawyers. Our lawyers can help determine liability and determine the best next steps for legal action.
T-Bone Truck Accidents Pose a Danger to All Drivers
T-bone accidents occur when one vehicle crashes head-on into the side of another vehicle. These collisions get their name from the "T" shape that results from the impact. Depending on the speed of the vehicles at the moment of the crash, t-bone truck accidents can be mild or severe.
Often, t-bone accidents involving trucks occur in intersections or parking lots where cross traffic intersects. Driver mortality in a t-bone accident can be high, especially when the driver is struck by a larger vehicle such as a truck.
If you're in the car that's been "t-boned" by a truck, the sides of your vehicle may crumple inward. Even if your car is equipped with airbags, the damage from this type of impact is still serious. Additionally, if your car is much smaller than the truck that hits you, the crash may cause you to spin out or rollover. Many t-bone accidents involved multiple vehicles.
Although you can't always prevent a t-bone accident with a truck, there are steps you can take to reduce your risk. First, always wear your seat belt. Seat belts saved an estimated 14,955 lives in 2017 alone. According to the National Highway Traffic Safety Administration (NHTSA), an additional 2,549 lives could have been saved if the individuals had buckled up.
Second, always follow the rules of the road. Many t-bone accidents occur due to reckless driving, such as speeding or running red lights. Make sure you pay attention to your surroundings when you drive; don't get distracted. If you're texting or using your phone while you drive, you may cause a t-bone accident.
Other causes of t-bone truck accidents include:
Ignoring the Right-of-Way
In an intersection, the right-of-way determines which cars and trucks are allowed to drive through the intersection and which cars must stop and wait. Many t-bone accidents involving trucks occur when drivers ignore the right-of-way or become confused about their turn. This is common in intersections without traffic lights, as well as four-way stops and traffic circles.
Whenever you reach a stop sign, always come to a complete stop and wait three seconds. Then, assess your vehicle's position relative to the other cars and trucks in the intersection. Is there a truck to your immediate right? If so, they have the right-of-way. If the truck is on your left, you have the right-of-way.
Unfortunately, many reckless drivers speed through intersections — including red lights. To reduce your risk of a t-bone collision in these scenarios, always look both ways to check for traffic before driving through an intersection. Do this even if you have a green light.
Driving Under the Influence
Truck drivers who use drugs or alcohol endanger others. When someone is driving under the influence, it affects their judgment as well as their ability to control their truck. Someone who is driving under the influence may fail to notice a red light, speed, or engage in other reckless maneuvers.
Many t-bone accidents with trucks occur because a driver is drunk or using drugs. Unfortunately, these t-bone collisions can be the most severe and result in significant injuries to you and your passengers. If the other driver involved in your t-bone accident was driving under the influence, they are liable for damages.
Fatigued Driving
Drugs and alcohol aren't the only factors that impair driving ability. Did you know that driving without enough sleep is equivalent to driving with a 0.08% blood alcohol level? Fatigued driving causes thousands of truck accidents each year.
Often, a fatigued truck driver may not realize they're unsafe to drive. These drivers may experience a phenomenon known as "microsleeping," where they lose consciousness for a very brief moment. Although microsleeping may only last a fraction of a second, this is more than enough time for the truck driver to cause a t-bone accident.
Poor Weather
Some t-bone accidents involving trucks can be blamed on poor weather. Heavy fog, rain, or snow can impact visibility. A truck driver may get into a t-bone accident because they can't see the road. If you ever find yourself in a situation where poor weather affects your ability to see, pull over until the weather lets up.
Additionally, poor weather can affect the road surface. If a road becomes icy or flooded, it may be difficult for a truck driver to brake in time to prevent an accident. Slippery road surfaces also impact tire traction. T-bone accidents may occur if the driver loses control of their truck and can't stop in time.
Mechanical Failure
Similarly, some t-bone accidents happen due to mechanical failure. If a truck hasn't been well maintained, it may experience mechanical problems such as brake failure. The driver may lose control and see your vehicle, but fail to react in time to avoid the accident.
What to Do After a T-Bone Truck Accident
If you're involved in a t-bone accident with a truck, focus on safety first. Move your vehicle to the side of the road or another location so you're not blocking traffic. If you or one of your passengers is injured, call for medical assistance right away. Then, get the truck driver's contact information, insurance information, and insurance information.
If it's safe to do so, take photos and videos of the accident site. This can help determine liability and compensation later on. Finally, call (469) 998-4069 or use our online contact form to schedule a free consultation with a Flower Mound, TX truck accident lawyer.
Frequently Asked Questions