Flower Mound Cargo Truck Accident Lawyer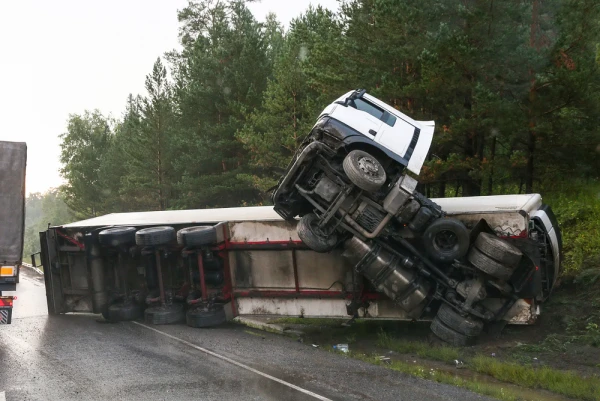 As one of the biggest states in the nation, thousands of commercial cargo trucks pass through Texas every day. They also deliver goods to many cities like Flower Mound. As more people shop online, more trucks have entered the cargo transport race. Companies like Amazon and Walmart use fleets of cargo trucks to deliver domestic shipments to their distribution centers.
While cargo trucks help the economy and make it more convenient for businesses to ship items to consumers, there's a downside to these vehicles. More cargo trucks mean more cargo truck accidents. Because the average cargo truck is 20-30 times heavier than a car, these vehicles can inflict serious damage in an accident.
According to the Insurance Institute for Highway Safety (IIHS), the majority of fatalities in large truck crashes are passengers in other vehicles. In 2018, 4,136 people died in truck crashes. Many more suffered serious injuries. Often, injuries from cargo truck accidents are lifelong. Accident survivors are often paralyzed or suffer neurological damage from brain injuries. A cargo truck accident can impede your ability to live a normal life.
If you get in an accident with a cargo truck, contact our Flower Mound, TX law office today. Our truck accident lawyers can help you determine if you have a case. Consultations are free and there's no obligation to use our services. If we take your case, we'll only charge for our services if we win. Make your appointment today by calling (469) 998-4069.
Types of Cargo Truck Accidents
There are many different types of cargo truck accidents. Accidents vary depending on the size of the truck and its weight, as well as the speed and angle of the collision. However, even a minor accident involving a cargo truck can have serious consequences.
In the United States, many tractor-trailers are used as cargo trucks. Also known as big rigs, 18-wheelers, and semis, these vehicles are massive. They can weigh up to 80,000 pounds when hauling a full load. These cargo trucks are often 13.5 feet tall, 8 feet wide, and 70-80 feet long from cab to trailer.
Due to their high ground clearance, smaller cars may slide under the cargo truck during an accident. This can lead to severe injuries or even fatalities. Other common types of cargo truck accidents include:
T-Bone Collisions
Also known as a broadside or side-impact collision, a t-bone collision occurs when one vehicle smashes head-on into the side of another vehicle. The shape of the impact resembles a "T."
Unfortunately, t-bone collisions can be fatal, especially when a cargo truck is involved. Most passenger cars aren't designed to withstand significant damage to the side. Even with side airbags, these collisions usually result in serious injuries due to a lack of protection.
A t-bone collision involving a cargo truck can occur anywhere. However, these accidents are more likely in intersections, parking lots, or driveways where cars and trucks intersect.
Rollover Accidents
Rollover accidents happen when a cargo truck or another vehicle becomes imbalanced. The momentum of a crash causes it to tip over. The cargo truck may land on top of a smaller vehicle or send other vehicles skidding from the force of the impact. A fallen cargo truck also blocks traffic, which can lead to pileups.
A rollover accident is more likely to occur at high speeds. They also occur when a heavy cargo truck turns too quickly. Highways and traffic circles are common sites for rollover accidents involving cargo trucks.
Jackknifing
Jackknifing is a unique type of accident that happens to tractor-trailers and other vehicles with a separate cab. When a cargo truck jackknifes, the trailer is thrown in one direction and the cab thrown in another. This accident gets its colorful name because the shape of the crash resembles a folded jackknife.
Jackknifing poses a serious risk to other drivers. When the truck begins to jackknife, the driver loses control of their vehicle. The cargo truck may crash into other cars. It may also cause an accident by blocking traffic. Other drivers may not be able to stop or swerve in time to avoid hitting the jackknifed vehicle.
Rear-End Collisions
For safety's sake, cargo trucks drive at slower speeds than other cars. Unfortunately, this makes some drivers impatient. As they hurry to get where they're going, they don't leave enough following space and tailgate the cargo truck.
This can lead to a rear-end collision. If the truck brakes and the driver doesn't have enough following space, they can hit the truck. However, due to the cargo truck's height, their vehicle may slide underneath the trailer. This can result in a worse accident than a normal rear-end collision.
Fallen Cargo Accidents
Finally, cargo truck accidents can also involve fallen cargo. If the truck's load isn't properly secured or falls onto the road due to mechanical failure, the dropped objects can result in a serious accident. The cargo may crush another vehicle or cause it to skid.
In other scenarios, the fallen cargo may cause an accident indirectly. When drivers encounter the fallen cargo in the road, they may crash as they attempt to navigate around it and avoid hitting it. This can cause rear-end collisions and multi-car pileups.
Cargo Truck Accident Injuries
Following a cargo truck accident, victims may suffer any of the following injuries:
Head injuries, including concussions and traumatic brain injuries (TBIs) that impair cognitive function
Neck injuries, including whiplash and spinal cord injuries, which may result in paralysis
Cuts, burns, bruises, and broken bones
Internal organ damage and internal bleeding
Psychological damage, including PTSD
Due to the serious nature of these injuries, many victims require long-term care and face expensive hospital bills. An accident settlement can help you get back on your feet. Depending on the circumstances of the accident, you may also be able to win a settlement from the cargo truck driver's employer.
Call (469) 998-4069 now to speak with a Flower Mound accident lawyer and discuss your legal options after a cargo truck crash.
Frequently Asked Questions