Wylie Cargo Truck Accident Lawyer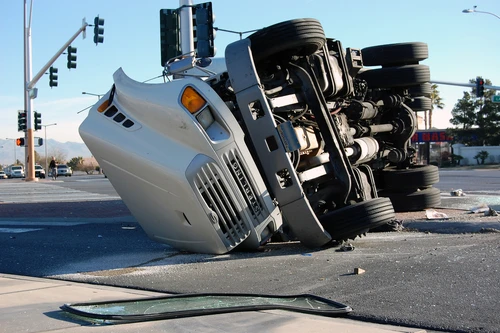 Take control of your future if you were struck by a cargo truck in Wylie, Texas. Get legal help on your side right away after a collision. Members of our team are standing by to help you seek compensation for your losses right away.
Get in contact with a Wylie cargo truck accident lawyer today. You can begin working with members of our team if you call (469) 998-4069. We are familiar with the best steps to take to bring you compensation after a collision with a commercial vehicle.
Learn More About Cargo Truck Accidents in the U.S.
Cargo trucks are a specific type of commercial vehicle. Any kind of vehicle that carries or hauls products or goods is considered a cargo truck. The Federal Motor Carrier Safety Administration (FMCSA) tracks many individual kinds of cargo trucks, including:
Flatbed cargo trucks
Enclosed box cargo trucks
Log or pole cargo trucks
Concrete mixer trucks
Garbage trucks
Tow trucks
While these vehicles have superficial differences, they are all used to move materials or goods from one place to another. This means all of them are classified as cargo trucks in Wylie.
Any of these trucks could end up causing a major collision. We are here to help you after any kind of cargo truck accident in Texas.
Recoverable Losses for a Wylie Cargo Truck Accident
A cargo truck collision in Wylie can leave you with many expenses. Fortunately, you have the opportunity to get compensation for your losses after a collision. Working with a cargo truck accident lawyer in Wylie can allow you to receive:
Economic Damages
Economic damages are what many drivers think of first after a collision. These damages are tied to things like your medical expenses, lost wages, and vehicle repairs. Economic damages are associated with bills and other costs you face after a collision with a cargo truck.
Non-Economic Damages
Many drivers also receive non-economic damages after a collision in Wylie. These damages are not associated with a set financial expense. Instead, they represent things like your pain or suffering. We can help you calculate a fair cost for non-economic damages in Wylie.
Exemplary Damages
You can also get exemplary damages after some collisions here in Wylie. These damages are not tied to any losses you sustained. Instead, they are supposed to punish the driver who caused your accident. Contact us to learn more.
Your Claim for a Wylie Cargo Truck Accident
You have several options to seek compensation after a cargo truck accident in Wylie. Drivers in your situation often choose to settle their claim out of court. You can settle a claim by agreeing to a deal offered by the insurance company.
However, these agreements with the insurance company are not always in your best interests. Some drivers would rather take their claim to court. We know how to file a lawsuit for you after a cargo truck collision in Wylie. We're also ready to go over the pros and cons of settling or going to court when you contact us.
Take Action at the Scene of a Wylie Cargo Truck Accident
You can get proactive about securing compensation if you got hit by a cargo truck here in Wylie. There are a number of steps you can take before you leave the scene of your collision. Taking these steps can help when it's time to build a cargo truck accident claim. For example, you should get pictures of:
The scene of the accident
Any possible hazards
The damage to your vehicle
Your injuries
In addition to taking pictures, make sure that you get contact information from any eyewitnesses and the cargo truck driver. It's also a good idea to contact the police and report any cargo truck accident, especially if you sustained an injury.
Finally, make sure that you reach out to a truck accident attorney in Wylie after a collision. Getting legal help on your side right away can help you feel confident after a collision.
A lawyer can help you review all the steps you should take following a cargo truck wreck. Just call (469) 998-4069 and begin discussing your situation with our team.
Let Us Investigate Your Cargo Truck Accident
We know how to dig into the causes of a cargo truck accident in Wylie. Reviewing the causes of your crash is very important because Texas uses comparative negligence laws for collisions throughout the state. This means that drivers receive compensation based on their percentage of liability for the collision.
Drivers who are more responsible for a collision receive a smaller amount of compensation. We understand how to show that someone else caused your accident. We can focus on demonstrating that a truck driver caused your collision by:
Driving while fatigued or distracted
Driving after drinking alcohol or using illegal drugs
Ignoring the speed limit
Changing lanes or backing up without checking their blind spots
Swerving between lanes
Driving in a reckless way
However, not all cargo truck accidents in Wylie are caused by truck drivers. Other parties may therefore have liability for some or all of the damages.
Some of these collisions are caused by:
The Trucking Company
Trucking companies have a responsibility to ensure their vehicles are in good condition. Unfortunately, some companies won't perform appropriate maintenance work. This can end up leading to an accident here in Wylie.
We have the resources to take on large trucking companies for you.
The Truck Manufacturer
Sometimes, truck manufacturers end up making a truck with major defects. Sometimes, these defects can lead directly to an accident. For example, a defect in the braking system could prevent a truck from stopping in time to avoid an accident here in Wylie.
Talk to a Wylie Cargo Truck Accident Lawyer Today
Contact us if you want help after a cargo truck accident in Wylie. Our experienced personal injury attorneys are ready to put you first after an accident. It's very easy to contact our cargo truck accident lawyers in Wylie. You can reach us if you call (469) 998-4069. You can also complete our online contact form.
Discuss your legal needs right now with a free consultation.
Frequently Asked Questions