Wylie Tailgating Accident Lawyer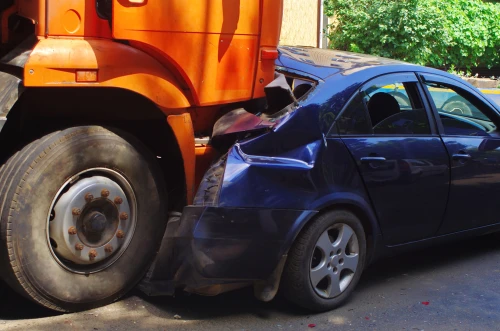 Tailgating drivers are not just a nuisance but dangerous as well. All drivers on the road need to ensure that they are keeping an adequate distance between themselves and their fellow drivers. Truck drivers especially need to follow this rule when they are on the road. Truck driving accidents are devastating for the people inside of passenger vehicles. Truck drivers must practice defensive and safe driving to prevent accidents from happening.
While rear-end collisions between two passenger vehicles do not always result in catastrophic accidents, the same is not always true for trucks that rear-end other vehicles. If you were involved in a tailgating accident caused by a truck, you can hold the truck driver responsible for your damages and receive financial compensation.
Do not wait to contact a Wylie tailgating accident lawyer. Our team has attorneys ready to help you negotiate with the insurance company and fight for your case in court if need be. We have years of experience working with clients to exercise their right to compensation. Let us help you today. For a free consultation, call us at (469) 998-4069.
Defining Tailgating
Tailgating is when another vehicle follows too closely behind your vehicle. In many states, this is a traffic violation and considered to be lousy driving etiquette. Tailgating also causes many rear-end collisions due to the close proximity of the vehicles involved. When someone drives too close behind you, they will not have an adequate amount of time to stop or maneuver should something happen.
Trucks need ample space to slow down and brake completely. This need for space is due to the size and weight of a truck. There are too many variables on the road that make truck driving hazardous. Tailgating only exacerbates those issues. Truck drivers should know better than to tailgate passenger vehicles or any other vehicle for that matter.
The Texas Transportation Code § 545.062 requires that drivers on the road have a reasonable amount of space between each other. This includes truck drivers. Whether they are following other trucks or passenger vehicles, truck drivers must maintain a safe distance from other drivers to prevent any accidents from happening. Most experts recommend truck drivers have a three-second following distance. The following distance time should increase if there are road conditions that make driving unsafe.
Gather Evidence of Your Accident As Soon As Possible
To prove liability in a tailgating accident, you need to gather evidence quickly and accurately. After an accident occurs, make sure that you and others around you are safe and get immediate medical attention if anyone is seriously injured. Once the situation has calmed down, begin to document everything.
Call the police and have them arrive on the scene to make a record of the accident. You can request an accident report from the police later as evidence. Take pictures of the accident and the location of the accident. Remember to take down the information of the other party or parties involved, such as:
Their name
Their driver's license
Their phone number
Their license plate
Insurance policy
Check and see if there were any cameras in the area. If there were, obtain a copy of the surveillance footage that recorded your accident. If there were any witnesses, be sure to get their information and take down their statements.
Go to the hospital for treatment and retain all medical records, receipts, etc. You should also retain receipts for any vehicle repairs, property damage, lost wages, and more. These are all damages you can pursue compensation for.
Types of Compensation You Can Pursue
In Texas, the compensation you pursue is also subject to proportionate responsibility. Under this system, you can only seek compensation for damages if you are less than 50% responsible for your accident. If you are less than 50%, that percentage will reduce the settlement you receive. There are two types of damages that you can get compensated for. They are economic and non-economic damages.
Economic damages are damages that get calculated through receipts, bills, etc. These damages are almost always of a fixed amount. Some of these damages include:
Lost wages or reduced earning capacity
Vehicle repairs and property damage
Various medical expenses, prescriptions, treatments, hospital visits, etc.
Non-economic damages are not calculated through traditional means and generally have no cap. An attorney will assess the value of these damages for you, and the final amount will usually get decided by a jury. Examples of non-economic damages are:
Pain and suffering
Emotional trauma and mental anguish
Loss of consortium
Loss of enjoyment of life
Disability and disfigurement
Just because damage is not physical does not make it any less hurtful. Our tailgating accident lawyers will ensure that all of your damages, both economic and non-economic, are appropriately compensated.
Seek Help from a Wylie Tailgating Accident Lawyer
The truck accident lawyers at our firm will help you build a strong case to win your tailgating accident claim. The defense and the insurance companies will try to get you to settle for less. Never accept any offer before consulting a lawyer first. Their interest is in protecting themselves, not getting you fair compensation.
Recovering from an accident is difficult. We want you to focus on your recovery while we negotiate and fight on your behalf. We are committed to honesty and compassion in everything we do. We charge nothing upfront and have no hidden costs. If we do not get you compensation, you pay us nothing. Call us today for a risk-free consultation at (469) 998-4069.
Frequently Asked Questions