Wylie Improper Passing Accident Lawyer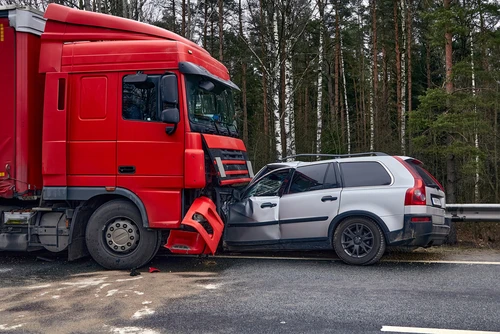 When passing on the road, all drivers need to be especially cautious. Truck drivers especially need to have extra care as the large size and weight of trucks means more blind spots and difficulty maneuvering. Truck accidents are deadly and will often result in death or severe injury for others involved. When a driver improperly passes on the road, they are putting others around them at risk.
If you were involved in an improper passing accident caused by another driver, you should not have to pay for your damages. Hold the at-fault party responsible and seek compensation. A Wylie improper passing accident lawyer can help.
Our team of experts will help you fight for compensation every step of the way. We operate on compassion and understanding. Our goal is to help you recover and get the best settlement possible. We do not charge upfront and have no hidden costs. Call us today at (469) 998-4069 for a free consultation.
Examples of Improper Passing
On the highway, passing on the right or left shoulder is allowed only under very specific circumstances. On general principle, passing this way should not be done unless you are absolutely sure you are doing so lawfully and without any significant risk. Drivers should always strive to avoid passing on either side shoulder.
On the Highway
For the right shoulder, passing is allowed only for:
Stopping, parking, or standing
Slowing down before turning right
Accelerating before entering traffic on the main lane
Passing a vehicle that is stopped, slowed down, suffering mechanical issues, or preparing to turn left
Letting a fast driver pass
Avoiding a car accident
Following traffic instructions that specify to do so
Passing on the left shoulder is only allowed when:
Slowing down or stopping if there are mechanical issues that do not allow safe movement to the right side of the road
Avoiding an accident
Following traffic instructions that specify to do so
The exemptions to these rules are on-duty police officers, emergency services, and cyclists. All other drivers must follow these rules strictly. These rules exist to minimize risk and ensure the safety of all drivers that share the road.
On the Streets
Examples of improper passing on the streets include:
Failure to yield the right-of-way
Not checking blind spots
Trying to pass in a no-passing zone
Neglecting to signal when changing lanes
Passing while driving through an intersection
Drivers of trucks and passenger vehicles need to be mindful about how and when they pass. Passing can be a dangerous maneuver, depending on the size and weight of the car or truck involved. Neglecting to take proper safety measures to prevent an accident can put that driver at fault for any accident that happens.
Types of Damages and Proportionate Responsibility
In Texas, at-fault parties get determined through a system of proportionate responsibility. Texas Civil Practice and Remedies Code Chapter 33 states that you can only pursue compensation for damages if you are less than 50% responsible for the accident. Furthermore, your settlement will get deducted based on the percentage you are found accountable for the accident.
There are two types of damages you can pursue compensation for, economic and non-economic. The main difference between the two types of damages is the amount that you will receive for them.
Economic Damages
Economic damages are fixed amounts you can receive compensation for. They usually include:
Lost wages
Property damage and vehicle repair
Medical bills, hospital visits, physical therapy
Prescriptions
Remember to keep your receipts, bills, and invoices for all of these damages. Evidence is necessary to prove all the damages you sustained. Before filing your claim, you should finish all of your medical treatment first. This way, you will know the exact amount of all your medical expenses and get every one of them covered. If you file your claim before your treatment finishes and receive compensation, you can end up paying out of pocket for the remainder of your treatment that did not get covered in the settlement.
Non-Economic Damages
When it comes to non-economic damages, there is no set dollar amount. The compensation you will receive for them usually gets decided by a jury. Typically, the types of damages that are non-economic include:
Pain and suffering
Emotional trauma and mental anguish
Loss of consortium
Loss of enjoyment of life
Disfigurement
Getting an attorney to calculate the value of these damages accurately will help you fight against insurance companies trying to downplay your situation.
Get Help from a Wylie Improper Passing Accident Lawyer
Accidents caused by improper passing are serious. They can cause severe injuries and damages to all parties involved. For trucks, the chances of severe injury and even death are significantly higher for those inside passenger vehicles. All drivers, especially truck drivers, must take proper care to pass legally and safely. Any negligence is inexcusable.
The initial offer made by insurance companies does not benefit you. Do not let them undermine you and your damages. Consult with expert legal representation first so you can make the best decisions for your case.
Getting into an improper passing accident is bad, but worse still is having to pay for someone else's mistake. Our Wylie car accident lawyers are experts in improper passing accident cases and will help you negotiate with the insurance companies and fight your case in court. Your recovery is our goal. If you do not receive compensation, you pay us nothing. Contact us today at (469) 998-4069 for a free consultation.
Frequently Asked Questions