Wylie Semi-Truck Accident Lawyer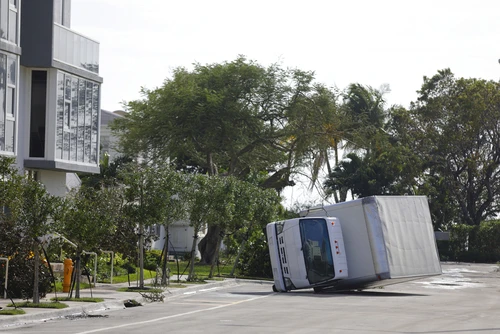 Semi-trucks are one kind of large truck in the U.S. These vehicles are involved in a lot of accidents around the country every year, according to the Federal Motor Carrier Safety Administration (FMCSA). Large trucks were involved in over 499,000 accidents that were reported to the police in the year 2018.
Semi-truck collisions are major events here in Wylie, Texas. Individuals struck by semi-trucks often face extensive vehicle damage and injuries. These events also result in very high expenses that can feel difficult to pay.
Fortunately, you can get help after a collision from a Wylie semi-truck accident lawyer. Our personal injury attorneys are standing by to assist you right away. We'll take steps to help you get compensation to cover all of your losses. Just contact us by calling (469) 998-4069.
Expenses for Semi-Truck Crashes in Wylie
It's important to establish your losses after a semi-truck collision here in Wylie. You can only receive damages for losses directly caused by your accident. We are here to review all the expenses tied to your accident.
We can help you get coverage for your:
Economic Losses
Many drivers receive compensation for economic losses after a semi-truck accident. These losses are tied to items with clear-cut costs. For example, you can receive economic damages to cover your:
Emergency medical care
Time in a hospital
Medical tests and procedures
Vehicle repair expenses
Time off at work
For many drivers, economic damages are easy to calculate. Make sure that you keep all of your medical bills and paperwork from the repair shop after a collision. Your truck accident lawyer can use this paperwork when building your claim.
Non-Economic Losses
You can also receive non-economic losses after some semi-truck crashes in Texas. These losses are not directly tied to bills and other expenses. Instead, they deal with things like your pain, suffering, and mental anguish.
We know how to calculate the value for your non-economic losses after a collision involving a semi-truck here in Wylie. We're ready to provide you with an estimate of the compensation you could receive from the insurance company after your collision.
Reporting Your Accident Is Important for Preserving Key Details for Your Claim
It's important that you report your truck accident to the police in Texas. Reporting your accident to the police creates an official paper trail that shows the accident happened. Police officers can come out to the scene of the accident and investigate what happened.
For example, some semi-truck accidents in Wylie are caused by drivers who are impaired by alcohol or drugs. Police officers can perform blood alcohol content (BAC) testing at the scene of an accident. The results of these tests can serve as evidence after a semi-truck accident.
Find out more about the steps you should take after a semi-truck accident in Wylie by contacting members of our team right now.
Establish Liability for a Semi-Truck Accident in Texas
Our team is ready to open an investigation into the causes of your semi-truck accident in Texas. It's very important to take this step as you can get compensation for your losses if someone else caused the accident. We know how to investigate by:
Speaking with eyewitnesses who saw the accident
Reviewing the scene of the accident
Going over the police accident report
Working with accident reconstruction technicians
Based on our findings, we can work to show that your accident was caused by:
The Semi-Truck Driver
Many semi-truck accidents in Wylie are caused by semi-truck drivers. These drivers can cause crashes if they do not operate their vehicles in a reasonable way. They may make dangerous driving decisions if they are distracted or fatigued. Some drivers will:
Exceed the speed limit
Swerve between lanes
Back up improperly
Fail to check their blind spots
We're here to assess all possible reasons for your accident. This can help us prepare to submit a claim for you as we work to bring you compensation.
The Semi-Truck Company
The trucking company that owns the semi-truck could be at-fault for your accident in Wylie. These companies can cause accidents if they hire inexperienced or dangerous drivers. They also bear responsibility for accidents caused by improper truck maintenance.
The Semi-Truck Manufacturer
Some semi-trucks operate with severe defects. These defects are often part of the manufacturing process. A truck that was manufactured with faulty brakes, for example, could end up causing an accident. We're ready to review the causes of all accidents in our area if you call us at (469) 998-4069. Reach out to a semi-truck accident attorney in Wylie right now.
Resolve a Semi-Truck Accident Claim in Wylie
You are not on your own if a semi-truck hits you in Wylie. Members of our team are standing by to assist you with all aspects of your claim, starting right now. As we mentioned, we're ready to investigate the causes of your accident. We can also:
Handle communication with the truck driver and trucking company
Negotiate with insurance agents on your behalf
Focus on resolving your claim outside of court
Help you file a lawsuit in some situations
You should know that many drivers decide to settle their claim after a semi-truck accident. Settling a claim allows you to stay out of court. This means you won't face court fees. You can also get compensation more quickly with a settlement in many cases.
However, insurance agents sometimes refuse to offer you a fair settlement amount. They may claim that you caused the accident or that you weren't hurt in the collision. We can help you file a lawsuit in this situation. Find out more by contacting us today.
Work with a Wylie Semi-Truck Accident Lawyer Now
Our team is ready to help you get damages after a semi-truck accident in Wylie. We'll handle all aspects of your claim while you focus on recovering from your injuries. Find out more about how we'll help you with a risk-free consultation. Our personal injury attorneys in Wylie are ready to put you first after an accident.
Contact us by calling (469) 998-4069 or filling out our online contact form right now.
Frequently Asked Questions