Wylie Uninsured Motorcycle Accident Lawyer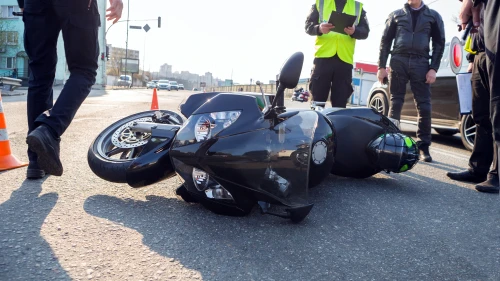 Motorcycles are quick and efficient vehicles, but they can cause serious accidents on the road. All motorcycle riders need to carry insurance, but what happens when they are uninsured? Do not let an uninsured motorcyclist deter you from seeking financial compensation for your damages. If you were involved in a motorcycle accident with an uninsured rider in Wylie, get help from one of our lawyers.
Assigning negligence in an accident is no easy task, but you do not have to do it alone. We offer support to all of our clients to help get them through this tough time. Our team has experience in handling cases with uninsured motorists. We will help get you the compensation that you deserve. Call us today for a free consultation at (469) 998-4069.
What to Do After a Motorcycle Accident
After an accident occurs, make sure everyone is okay. The immediate priority is to prevent any loss of life. If you or anyone else is seriously injured, get help immediately from emergency medical services.
Gather as much evidence as possible. Write down the information of everyone involved. Take pictures of everything involved in the accident. Pictures of your injuries, property damage, accident location, and any other damage are essential, no matter how small. Even if something does not seem important, take a picture anyway. Especially since the motorcyclist is uninsured, having every bit of evidence only helps your claim even more.
Do not forget to call the police. The police will make a report of your accident, so a record of it happening is on file. You can request a copy of that report to help prove your claim.
The uninsured party may try to flee the scene. While you should not try to detain or fight the fleeing party, try and get a picture of their license plate or face as quickly as possible. If you cannot do so, see if there are any witnesses around or surveillance cameras that may have recorded the accident.
Never accept any money or agree to any deal with the uninsured party. They may try to offer you cash to compensate for your damages. Even if the amount seems reasonable, hold off until you talk to a lawyer. If you agree to take the money, it may help the uninsured party avoid any legal ramifications or obligation to pay. You do not know the actual amount of your damages right after an accident, and you could end up with way less than what you are entitled to.
Remember to keep all of your bills, receipts, etc. These will help prove the costs for your economic damages. Losing these can prevent you from getting fully compensated.
Types of Damages
Damages have two distinct categories, economic and non-economic. You can pursue both when you file a claim, but the amounts for each get assessed differently.
Economic damages have a set dollar amount proven through financial documentation. These types of damages include:
Lost wages or reduced earning capability
Medical bills, hospital visits, treatments, prescriptions, etc.
Vehicle repairs and property damage
Non-economic damages do not have a set dollar amount. A lawyer will help you accurately value these damages. Juries will usually decide the final amount that gets awarded. Non-economic damages include:
Loss of consortium
Loss of enjoyment of life
Pain and suffering
Emotional trauma and mental anguish
Disfigurement
Both types of damages are equal in severity. You should receive a settlement for all damages you incurred during your accident, regardless of whether the at-fault party is insured or not. Our lawyers know how to handle uninsured motorcycle accidents and can inform you of all the legal options you can take.
Statute of Limitations
According to the Texas Civil Practice and Remedies Code §16.003, you only have two years to file a claim for your accident. Once two years have passed, there is very little you can do under the law to seek compensation. It is imperative that you remain aware of this deadline to file. Believe it or not, many people have filed too late and received nothing for their injuries. They were left to pay out of pocket for damages that were not their fault.
Two years can pass quickly. Do not let yourself fall victim to time. Evidence gets weaker as time passes. You can lose important documents, and witness memory can fade. While rushing into filing a claim is not a smart option; neither is waiting too long. Consult with an attorney to organize all of your evidence and to file your claim at the right time.
Get in Touch with a Lawyer Today
Do not pay out of pocket for damages caused by a negligent uninsured motorcyclist. If you were not at fault for your accident, fight back and get a fair settlement. Making a claim against an uninsured party can get confusing, but we will negotiate and fight for you. We want you to focus on what matters most, recovery. Allow us to handle your claim.
We are upfront and honest in everything we do. For a no-risk free consultation, call us today at (469) 998-4069 to learn more about what we can do for you.
Frequently Asked Questions