Wylie Negligent Motorcycle Rider Accident Lawyer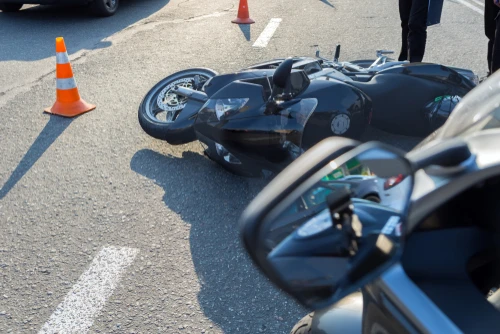 Motorcycles are exhilarating vehicles to ride. They are fast, powerful, and part of the American cultural identity. While motorcycles are fun to zoom around on, they can wreak havoc on the road when operated negligently. Motorcycle accidents are destructive, deadly, and can result in severe injury or death.
People who ride motorcycles must exercise extreme caution. The lightweight and speed of a motorcycle make controlling them extremely difficult. This lack of control is the primary reason why accidents occur between motorcycles and other vehicles.
Has a negligent motorcycle rider caused your accident? Our team of Wylie negligent motorcycle rider accident lawyers can help you with your claim. With many years of service and experience, our law office has helped hundreds of clients get compensated for their injuries. Allow us to negotiate and fight on your behalf. Call us today at (469) 998-4069.
Why Motorcycle Accidents Happen
Motorcycles are popular with younger people. While many bikers are old, a great majority of them are also young adults. Research has shown that young drivers typically cause or get involved in road accidents more frequently than older drivers. While not all young drivers are irresponsible, many of them simply lack the experience to drive effectively. When you combine that fact with how fast, unpredictable, and uncontrollable a motorcycle can be, it becomes apparent why motorcycle accidents happen when young riders are operating them.
Lane splitting is also another cause of motorcycle accidents. Lane splitting is when a motorcycle drives in between lanes to avoid traffic. Since motorcycles are small, they can bob and weave through cars and squeeze between cars in their lanes. When motorcycle riders do this, they get in extremely close proximity with other vehicles, which can cause an accident to occur. Lane splitting is only legal in California. All other states do not allow motorcycles to lane split.
The most common cause of motorcycle accidents by far is speeding. Speeding accounted for around 31% of all motorcycle accidents in 2018, according to the National Highway Traffic Safety Administration (NHTSA). The percentage of speeding involved in accidents for motorcycles is higher than those for trucks and passenger vehicles. Speeding on a motorcycle is very easy, and often motorcycle riders will lose track of how fast they are going on the road. Neglecting to follow speed limits is negligent and can have serious consequences.
Driving under the influence (DUI) also causes motorcycle accidents. Motorcycles are not exempt from DUI laws. DUI accidents can allow you to seek exemplary damages for your accident.
Statute of Limitations
According to Texas Civil Practice and Remedies Code §16.003, you only have two years to file a claim for your accident. Two years can pass very quickly, and you should not delay speaking to a lawyer to learn about all your options for compensation.
Gather evidence after your accident. Takedown witness statements, gather any surveillance footage if possible, and get a copy of the police report for your accident. Ensure that all the information you receive from the others involved in your accident is accurate and kept safe. Retain all medical records, bills, receipts, and other necessary documentation.
Evidence can easily get lost or deteriorate as time passes. Do not neglect how fast two years can go. The longer you wait, the weaker your case will become. Keeping track of your evidence and all of the legal deadlines you face is a daunting task, but you do not have to do it alone. Talk to our team to learn more about how we can help you get your claim started to get the best settlement possible.
Motorcycle Accident Injuries
There are many injuries you can sustain from a negligent motorcycle rider. They include:
Spinal cord injuries
Traumatic brain injury (TBI)
Cuts and burns
Broken bones and fractures
Loss of limb
These are only a few of the injuries that can result from a motorcycle. You can also suffer psychological injuries directly caused by your accident. Psychological injuries are just as serious as physical ones and can continuously affect you throughout your life. All of these various injuries lead to damages which you can pursue compensation for. The two categories of damages are economic and non-economic.
Economic damages have a set monetary value. They get proven through receipts, bills, invoices, and other financial documents. Medical expenses, vehicle repairs, property damage, and lost wages all count as economic damages.
Non-economic damages do not have a set monetary value. A lawyer needs to assist you in determining the value of your non-economic damages. Loss of consortium, loss of enjoyment of life, disfigurement, pain and suffering, and mental anguish fall under this category.
Talk to a Wylie Negligent Motorcycle Rider Accident Lawyer Today
Motorcycles can provide effective and reliable transportation to people when ridden correctly and carefully. Negligent motorcycle riders can cause accidents on the road, which leads to devastating consequences. Insurance companies will try and get you to settle your case for less than what you truly deserve. Before accepting any offer, consult with a lawyer first.
Our team of motorcycle accident lawyers can hold the negligent rider responsible for your damages. We do not charge any upfront fees and have no hidden costs. We are honest in our work and want to help you get on the road to recovery. Allow us to handle the negotiations so you can focus on getting better. Call us today for a free consultation at (469) 998-4069.
Frequently Asked Questions