Wylie Blind Spot Accident Lawyer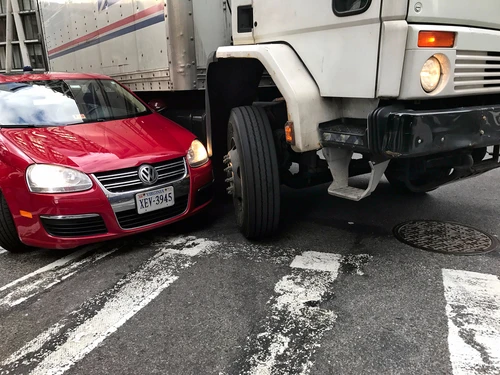 You could sustain serious injuries if you were involved in a blind spot accident in Wylie, Texas. These accidents can also leave your vehicle with extensive damage. The costs for vehicle repairs and medical care can rise quickly after a truck accident.
Fortunately, you can get legal help in your corner right away by contacting a Wylie blind spot accident lawyer. You can reach us if you call (469) 998-4069. We'll focus on bringing you compensation for all of your losses, either by settling your claim or helping you file a lawsuit.
We Offer Fast Help After a Wylie Blind Spot Accident
Members of our team know that a blind spot accident in Wylie can feel very stressful. We are ready to step in right away to help you get back your peace of mind. Members of our team know what to expect in the aftermath of a blind spot accident and we're ready to:
Investigate the causes of your accident
Speak to witnesses before they forget what happened
Handle all communication with insurance agents
The experts generally recommend that you get legal help before you speak with insurance companies after a truck accident in Wylie. Insurance adjusters are primarily interested in their company's bottom line. This means they can try to downplay the severity of your injuries or even try to get you to admit fault for an accident.
We'll step in right away to deal with insurance representatives on your behalf. We'll also provide you with personalized guidance about the steps you should take after you are hit by a large truck here in Wylie.
Losses Associated with Wylie Blind Spot Accidents
A blind spot accident in Wylie can leave you facing major expenses. We are here to help you seek compensation for your losses. This includes your medical costs, such as:
Emergency medical treatment
A ride in an ambulance
Time in a hospital
Medical tests and procedures
Rehabilitation
Medication
We are also prepared to help you seek compensation to cover the costs to repair or replace your vehicle after you are struck by a large truck. You can get damages to cover your lost wages at work and your diminished earning potential.
A truck accident attorney can even help you get damages to cover your pain and suffering. These losses are considered "non-economic" damages. We can use formulas to calculate the amount of compensation you'd get for these losses.
Your Options After a Blind Spot Accident in Wylie
You have several legal options if you were hurt in a blind spot accident in Wylie. Members of our team can discuss your legal situation with you after a collision. Many drivers in your situation will choose to settle their claim out of court. Accepting a settlement can:
Help you avoid court fees
Allow you to get compensation more quickly
Our team knows how to handle insurance representatives for you after a crash. We can investigate your accident and work to show that the truck driver was at-fault for the wreck. We'll also focus on showing that all of your losses were caused directly by the crash.
We can review all settlement offers made by insurance agents here in Wylie. We'll reject offers that are not fair to you and continue negotiations with the insurance company. Our goal will be to help you get the damages you want to recover from all of your losses. We can also help if you are interested in taking your claim to court. You have the ability to file a lawsuit against the driver who hit you in many cases.
Facts About Large Trucks and Blind Spots
We use the term "blind spot" to refer to areas around a vehicle where a driver cannot see other vehicles, pedestrians, or even bicyclists. Most vehicles have a few small blind spots that they need to check before changing lanes, making a turn, or backing up.
Commercial trucks – like semi-trucks – have larger blind spots due to their size. These trucks have blinds spots:
Ahead of their front bumper
Behind the rear of their trailer
On both the driver's and passenger's side
According to the Federal Motor Carrier Safety Administration (FMCSA), drivers should be careful when driving in a large truck's blind spot. You can often identify these blind spots while driving by paying attention to the location of the trucker's mirrors. If you cannot see any of the truck's rear-view mirrors, you are likely in a blind spot.
Driving in a blind spot could put you at risk for experiencing a truck accident. Truck drivers are expected to check their blind spots when possible, but sometimes these drivers do not take necessary precautions. Contact us at (469) 998-4069 if you were struck by a truck driver. Our Wylie blind spot accident lawyers are ready to help you.
Types of Blind Spot Accidents in Wylie
Blind spot accidents in Wylie often involve very large trucks. There are a number of common crashes that occur when trucks do not see another vehicle in their blind spots. Many of these collisions occur if a truck moves over into a lane that is already occupied, striking another vehicle in the side.
We also see a lot of rear-end crashes involving blind spots in Wylie. This is because large trucks have a blind spot ahead of their front bumper. They may not see vehicles that are in front of them. If these vehicles stop suddenly, a trucker may end up striking them from behind.
Our truck accident lawyers in Wylie are here to help you after any kind of collision. Reach out to us today for comprehensive legal assistance.
Speak to a Wylie Blind Spot Accident Lawyer Today
Don't wait to get the legal help you want if you were hit by a truck in Wylie. Start working with a blind spot accident lawyer in Wylie right away. Our team is prepared to help you with all aspects of your case. You can learn more by calling us at (469) 998-4069 or filling out our online contact form.
Take steps to get damages for your losses by contacting us to get a free consultation.
Frequently Asked Questions