Wylie Commercial Drivers Accident Lawyer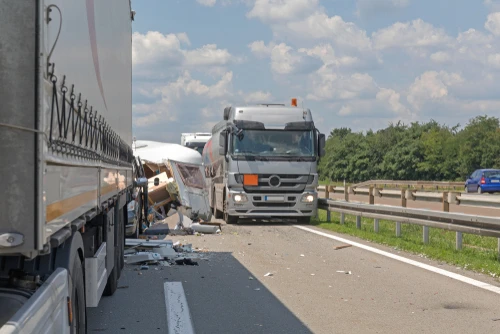 Whenever you hit the road, you share it with hundreds of other drivers each day. Many of the drivers on the road are commercial drivers that transport people, cargo, packages, and other materials throughout America. Wylie has plenty of commercial drivers that come in and out of the town every single day. While many of these commercial drivers are good at what they do, sometimes accidents still happen due to negligence.
Commercial vehicle accidents are very dangerous. The size and weight of most commercial vehicles typically render them more protected than the average passenger vehicle. Due to these size and weight differences, commercial drivers need to be extra cautious when driving around others.
If you were involved in an accident caused by a commercial driver, you can seek compensation. Do not find yourself in a position where you have to pay for the mistakes of others. Hold the at-fault party accountable and get a settlement that accurately reflects your damages. Our Wylie commercial driver accident lawyers can fight on your behalf and get you the settlement you deserve. Contact us at (469) 998-4069 today for a free consultation.
Why Commercial Vehicle Accidents Are Dangerous
Commercial vehicles are larger and heavier than your standard sedan or compact car. The size and weight of commercial vehicles such as trucks can cause devastating accidents to occur. On average, injuries and fatalities for commercial vehicle accidents usually affect occupants inside of passenger vehicles. The truck driver is more likely to come out unscathed as opposed to the other parties involved.
Some of the injuries you can sustain from commercial vehicle accidents are:
Broken bones and fractures
Dismemberment
Cuts and burns
Neck and head injuries
Traumatic brain injury (TBI)
Spinal cord injuries
Wrongful death
These injuries are severe and can cause life long health issues. Getting the assistance of a commercial driver accident attorney will help you get the proper compensation to cover the costs of these injuries.
Standards for Commercial Drivers
There are various types of commercial vehicles that commercial drivers operate. Some of them are:
Limousines
Trucks of varying sizes
Cargo vans
Tractor-trailers
Passenger buses
All commercial drivers must have a permit to operate their vehicles. There are several classes of permits that are required based on the type of vehicle, size, weight, and carrying capacity. There are also endorsements that drivers must get if they transport people, animals, chemicals, and hazardous or potentially dangerous materials. These permits and endorsements ensure that the driver knows the rules and regulations for operating their vehicle, so ignorance of any negligent behavior is not an excuse.
In addition, all drivers should be vetted and tested by their companies to ensure they are responsible and retain a clean driving record. If a company fails to have proper hiring standards that negatively impact others on the road, the courts may hold them responsible for the accident.
Statute of Limitations
According to the Texas Civil Practice and Remedies Code §16.003, you only have two years to file a claim for your accident. Two years seems like a lot of time, but it can pass very quickly. It is best to get in touch with an experienced car accident lawyer to start organizing and building your case.
As time passes, evidence can deteriorate. You can lose important medical records, bills, and witnesses to the accident can forget what transpired. The weaker your evidence becomes, the less likely you will get a settlement that accurately represents the totality of your damages. Waiting to start your claim only hinders your ability to get the proper amount of compensation you deserve.
Types of Damages
The types of damages you can seek compensation for are classified as either economic or non-economic. The difference between the two types is primarily in how their values get assessed.
Economic damages get assessed through bills, receipts, pay stubs, and other financial documents. These damages typically include:
Lost wages or reduced earning capability
Medical expenses
Vehicle repairs
Property damages
Non-economic damages refer to damages that do not have a concrete dollar amount attached to them. These damages are:
Pain and suffering
Mental anguish and emotional trauma
Disfigurement
Loss of consortium
Loss of enjoyment of life
Permanent disabilities
In addition to these damages, a court can also award exemplary damages if the at-fault driver was incredibly negligent or acting out of malice. These damages are punitive and meant to punish the at-fault driver for their wrongdoings. Exemplary damages can award you additional compensation. An accident caused by a driver who was driving under the influence usually results in exemplary damages awarded to the victim.
Talk to a Wylie Commercial Drivers Accident Lawyer Today
The initial offer made to you by the insurance companies will never be fair. They will offer you the bare minimum to protect their own interests. Never accept any offer without first consulting with a lawyer. You do not have to go through this challenging time alone.
Our team of commercial driver accident lawyers will help you seek compensation for both economic and non-economic damages. We care about your recovery and want to help you get the best settlement possible. We do not charge upfront and have no hidden costs. If we cannot get you compensation, you pay us nothing. Learn more about all of your options through a free consultation at no risk to you. Call us today at (469) 998-4069 to set up an appointment.
Frequently Asked Questions