Wylie Fuel Truck Accident Lawyer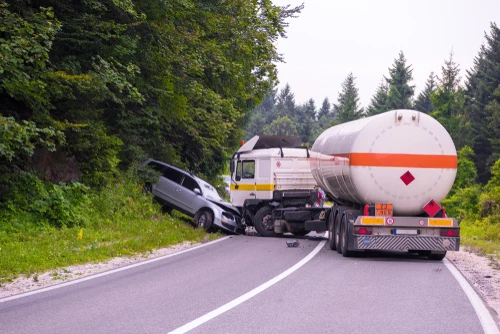 You can contact us if you were struck by a fuel truck in Wylie, Texas. We'll get to work on investigating your accident right away. Our team will work to show that someone else caused your accident and that the accident led to your injuries.
Allow us to work to bring you compensation for all of your losses. Get the legal help you want today from a Wylie fuel truck accident lawyer. Call us at (469) 998-4069 and we'll discuss your legal options for resolving your claim.
Take These Steps After a Fuel Truck Accident in Wylie
It's important that you take the right steps after you are struck by a fuel truck here in Wylie. The experts recommend that you stop after a collision with a fuel truck. In fact, you can face charges for a hit and run if you leave without stopping.
After you stop, make sure that you:
Contact the police and tell them about your accident
Take pictures of your injuries and vehicle damage
Get contact information from the truck driver and witnesses
You should also seek medical care if you were hurt in a fuel truck accident. We know that these accidents are often very serious, especially if the accident results in a spill of the truck's contents. Getting medical care right away helps to show that the accident caused your injuries.
Finally, make sure that you reach out to a Wylie fuel truck accident lawyer. Getting legal help on your side can boost your peace of mind after an accident. We're prepared to walk you through all the steps you should take after a collision.
Damages for a Wylie Fuel Truck Accident
Our team focuses on helping you get compensation for all of your losses after a fuel truck collision in Wylie. We know how the legal system in Wylie works. We're also familiar with the kind of compensation other drivers in your situation have received for their losses.
We can work to bring you damages for your:
Current and future medical expenses
Time off at work and lost earning potential
Vehicle repairs
Pain and suffering
Our personal injury lawyers will focus on showing that all of your losses were caused directly by your accident. We'll also take steps to show that another driver caused your accident. You can get partial compensation for your losses if you bear a percentage of responsibility for the accident. However, you get more compensation if someone else was at-fault for the collision.
Ways to Resolve a Fuel Truck Accident Claim
Not all fuel truck accident clams in Wylie are resolved in the same way. Drivers can choose to:
Settle their claim out of court
File a lawsuit against the driver who struck you
In most cases, it's advisable that you settle your claim out of court. This allows you to avoid court fees. It can also help you get compensation more quickly for your losses. However, we're ready to discuss the best way to handle your specific claim when you contact us.
We are also ready to take charge of negotiations with insurance agents after a fuel truck collision. We know how to stand up to insurance agents on your behalf. We'll work to take your claim to court if insurance representatives refuse to treat you fairly in Wylie.
Hazards Associated with Fuel Truck Collisions
Fuel trucks are a special kind of cargo truck that carries fuel. There are several different kinds of fuel used around the country. Many people think first of gasoline when they consider fuel. However, there are other examples of fuel, including diesel fuel.
Fuel is usually transported in large cylindrical trucks. These trucks often transport fuel in a liquid form. If the truck is now loaded properly, this can cause serious issues. Trucks with an improper amount of fuel can end up tipping over, as the fuel can "slosh" around in the inside of the tanker.
These vehicles are also very large and very heavy. Many drivers have a hard time handling a fuel truck. They can lose control of their vehicle, especially if they are inexperienced or improperly trained. Finally, these trucks have a number of blind spots.
These factors can increase the odds of a fuel truck crashes occurring in Wylie. All fuel truck accidents are examples of commercial truck accidents. There were almost 40,000 commercial vehicle accidents in Texas in 2019, according to the Texas Department of Transportation (TxDOT). We're here to help after any of these collisions.
Wylie Fuel Truck Crashes and Injuries
Fuel truck crashes have a reputation for causing serious injuries here in Wylie. These accidents involve very large vehicles that can crush smaller passenger vehicles.
This can lead to the "normal" injuries we associate with truck accidents, such as:
Broken bones or fractures
Internal injuries or organ damage
Head or brain injuries
Injuries to the back, neck, or spine
However, there are often other injuries associated with fuel truck collisions. These injuries often occur if the fuel spills at the time of an accident. Most forms of fuel are flammable and explosive in the right conditions. A fire could easily start after a fuel truck accident, leading to burns or smoke inhalation injuries.
Ensure that you get treatment for any injuries you sustained in a fuel truck accident. Keep track of your medical expenses after a wreck so that one of our personal injury attorneys can help you get damages to cover all of your losses.
Speak with a Wylie Fuel Truck Accident Lawyer
Don't wait to get legal assistance after a fuel truck collision in Wylie. Find out how to get compensation after your accident by contacting us right now. Our fuel truck accident lawyers in Wylie are standing by to offer you advice. Find out more with a risk-free consultation.
You can easily work with our team to get damages to cover your losses. We'll start working on your claim if you complete our online contact form or call us at (469) 998-4069.
Frequently Asked Questions