Wylie Spillage of Contents Accident Lawyer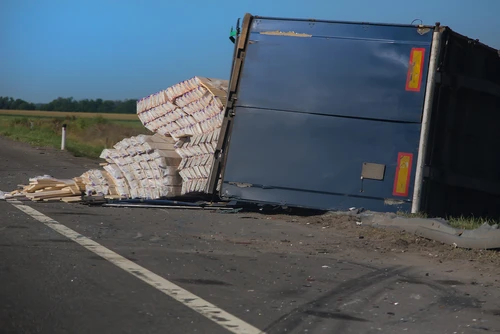 Trucks travel throughout the country. The cargo they carry can range from merchandise at your local big-box store to hazardous materials. Every truck driver must ensure that the spillage of contents does not happen. When trucks spill their contents onto the road or near commercial areas, accidents resulting from that can be devastating.
If the spillage of contents caused your accident, you can seek financial compensation for your damages. Liability for your accident can be hard to determine. There are many factors as to why truck contents spill onto the road. Finding a lawyer experienced in spillage of contents accidents can help you collect evidence, prove negligence, and negotiate with insurance companies.
Our Wylie spillage of contents accident lawyers are here to help. We have years of experience and have been helping clients for years reach the settlement they deserve. Do not let the defense or insurance companies bully you into settling for less. You should not have to pay for the damages caused by the at-fault party.
For a free consultation, call us today at (469) 998-4069.
Negligence and Improperly Secured Cargo Cause Spillage of Contents
Truck contents spill onto the road due to improperly secured cargo. Trucks that carry cargo must always ensure that it is stored safely and securely. Drivers and loaders must account for the fact that the road will not always be kind to them. Traveling on the road will shift and rattle cargo around, especially if the road conditions are not acceptable. Flatbed trucks need extra attention to ensure that cargo remains in its designated area. Due to the flatbed design, the open surface on which cargo rests puts it at higher risk of spillage.
The negligence of a truck driver or trucking company directly contributes to the spillage of contents onto the road. Truck drivers should always dedicate their attention to the road, never drive tired or under the influence, and always drive defensively with others' safety in mind. Trucking companies need to ensure that their trucks are in good operating condition and that all safety measures get set in place.
Types of Dangerous Cargo
There are many types of dangerous cargo. Here is a shortlist of dangerous cargo that frequently gets transported:
Lumber
Construction materials
Weapons
Chemicals
Biohazardous materials
Gas
Flammable items
Some cargo may seem traditionally dangerous, while others seem relatively benign. After all, how dangerous can lumber truly be? While the dangers of weapons or chemicals spilling are obvious, how can something like lumber be deadly? Even seemingly benign cargo can be dangerous when they spill out of a moving truck. Lumber can crush vehicles, burst through windshields, and cause severe damage. This is why all cargo, regardless of whether it is hazardous or not, should be appropriately secured to prevent spillage.
Types of Damages
In order to prove your damages, you need to collect evidence after the accident occurs. Take pictures, get witness statements, and check to see if any CCTVs in the area taped the accident. Call 911 so the police can file a report which will prove the accident took place. When you go to the hospital, retain all medical records and bills. It is extremely important not to neglect to collect evidence as it will only strengthen your claim and help you get a settlement that accurately reflects the damages you sustained.
You can pursue compensation for two types of damages in your claim, economic or non-economic. The difference between the two is how the value for each gets determined. Accidents almost always involve a combination of both economic and non-economic damages that you can win in your settlement.
Economic damages are damages that get assessed through invoices, bills, receipts, etc. These types of damages typically include:
Lost wages or reduced earning capacity
Hospital visits, emergency room visits, medical bills, prescriptions
Vehicle repairs and property damage
Non-economic damages are damages with no monetary value attached to them. The amount of compensation you will receive for non-economic damages usually gets determined by a jury. An experienced car accident lawyer can help value your non-economic damages. These damages usually include:
Loss of consortium
Loss of enjoyment of life
Pain and suffering
Mental anguish and emotional trauma
Disfigurement
Talk to a Wylie Spillage of Contents Accident Lawyer Today
Under Texas Civil Practice and Remedies Code §16.003, you have two years to file a claim for your accident. While this may seem like a lot of time, evidence can quickly degrade when you delay. It is essential to get in contact with strong legal representation to ensure that you get fair compensation. Insurance companies will give you an initial offer that may seem tempting, but do not accept. Do not talk, sign, or agree to anything or anyone without first getting professional advice from one of our spillage of contents accident lawyers.
The defense and insurance companies do not have your best interest in mind, but we do. We operate with transparency, honesty, and compassion. Our goal is to get you the best settlement possible so you can get yourself onto the road to recovery. We do not charge upfront and have no hidden costs. If we do not get you compensation, you pay us nothing.
Our team is ready to help. We know that this is a challenging time for you and want to help you pursue justice for your accident. Learn more about all of your options. You are not alone. Call us today risk-free at (469) 998-4069 for a free consultation.
Frequently Asked Questions