What Happens to Your Body in a Head-On Collision?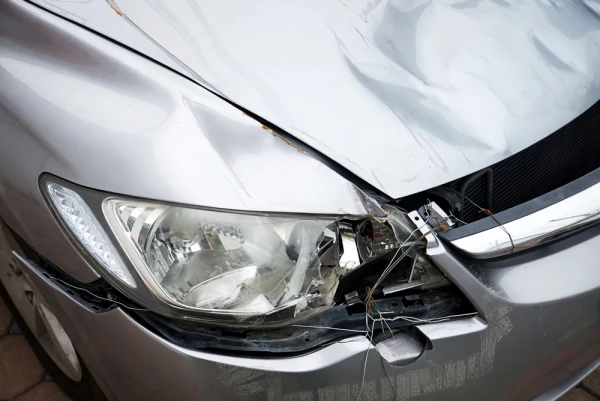 Head-on collisions make up about 10% of deadly accidents each year, according to the Insurance Information Institute (III). Head-on crashes can cause a lot of damage to your body. Here's what happens and how to handle it.
Your Body in a Car Accident
Kinetic energy is what an object has while it's in motion. When you're driving, you and your car have kinetic energy. When you stop your vehicle, the kinetic energy transfers to your brakes.
In an accident, kinetic energy transfers to whatever the car hits. This could be a stationary object or another car. The hit object will either absorb the energy or transfer it back to the car.
Unfortunately, a car cannot absorb all of the kinetic energy during a crash. Your body will absorb some of the energy and suffer damage.
What Happens to Your Body in a Head-on Collision
After your car collides with the front of another vehicle, your body keeps moving forward. Then, your body will hit some part of the inside of your car. You might hit your seat belt, airbag, or the car's interior.
The impact of the head-on collision can hurt your body in several ways:
The seat belt can fracture your collarbone.
If the accident happened at high speeds, your ribs might break.
Further impact can injure the lungs.
If the force damages the space between your lungs and ribcage, air can develop, causing a collapsed lung.
The accident can also force your ribcage into your lungs.
Wearing a seat belt improperly can cause stomach, liver, or spleen injuries.
Airbag Injuries
Airbags can save lives during a head-on accident. But the force of an airbag can also cause injuries. When your car deploys the airbag in an accident, it's supposed to push your head and body. It also starts deflating immediately to absorb much of the impact.
Injuries that an airbag can cause include:
Facial cuts, burns, or broken bones
Blindness if the airbag hits your eyes
Broken ribs or other chest injuries
Whiplash injuries
Spinal injuries if the airbag throws your head back
Collapsing Cabin
During a high-speed head-on crash, the car's front area might collapse. This can seriously injure you and other first-seat occupants. The cabin collapse can cause broken bones or worse.
Head-on collisions injuries are often life-threatening. If another driver crashed into you, get medical attention right away. You could have injuries that will worsen with time.
Other injuries you might have during a head-on collision include:
Broken neck
Torn muscles, tendons, or ligaments in the spine
Herniated disc
Back vertebrae fractures
Traumatic brain injuries
Head-on collisions can leave you with paralysis or other permanent disabilities. If you did not cause the accident, you should not have to pay for the costs.
Car Accident Safety Features and Injuries
Today's cars are safer than ever. Manufacturers design cars with safety features meant to absorb as much impact as possible. If you get into an accident, your car should help protect you.
Although cars are safer, they aren't perfect. Even in a modern car, the sudden impact of a head-on collision can cause serious injuries. Your body is just not designed to endure the effects of an accident. Your delicate organs can easily get damaged during a crash.
What to Do After a Head-on Collision
You might have legal rights after a head-on crash. If another driver was at fault, you should not have to pay. Here are some ways you can protect yourself.
Get Medical Treatment Right Away
Don't wait to get your injuries treated after a head-on collision. Since most head-on crashes are very severe, you'll probably need emergency medical attention.
Keep Records of Your Treatment
Keep up with all doctor appointments and treatment advice. If you don't follow your doctor's orders, the insurance company might use it against you.
Keep track of all medical records and bills. You might have one folder where you save all documents in one place. Save other receipts or other documentation of your other damages, too.
A head-on collision lawyer can help you gather the right evidence after your accident. They can calculate your damages so that you know what settlement you deserve. To get a FREE consultation with an experienced lawyer, call (469) 998-4069 or contact us online today.
What a Head-on Collision Does to Your Body Long-term
Don't discount how severe a head-on crash has been for you. Even minor accidents can leave victims with long-term issues. Serious accident injuries can last a lifetime.
You might have chronic or long-term issues like:
Permanent paralysis
Permanent scarring or disfigurement
Loss of limbs
Brain damage
Mental health disorders
Post-traumatic stress disorder (PTSD), anxiety, and depression are common issues after an accident. Note all of the ways the accident has impacted your life. You might be entitled to compensation for what you've suffered.
Damages You Can Claim in a Head-on Collision Case
If the other driver caused your accident, they are liable for the damages. You can file an injury claim with their insurance company. You can include the following costs in your claim.
Economic Versus Non-Economic Damages
Economic damages include losses like:
Medical bills
Prescription medications
Physical therapy
Rehabilitation
Lost wages
Vehicle repairs
You'll need to prove these damages through medical bills and other documents. Your head-on collision lawyer can help you do this. Consider all current and future medical treatments that you will need.
Non-economic damages are those that affect your quality of life. Examples include:
Physical pain and suffering
Mental anguish
Loss of enjoyment of life
Loss of consortium
In Texas, there is no cap on non-economic damages. Your lawyer can help put a dollar amount on these damages and include them in your claim.
Speak with a Head-On Collisions Lawyer for Free Today
If a head-on collision left you injured, don't wait to get the help you need. Our car accident lawyers can match you with the best attorney for your case. Plus, there is no charge unless we win you money.
To get started with a FREE consultation, call us at (469) 998-4069 or contact us online today.
Frequently Asked Questions