Frisco Cargo Truck Accident Lawyer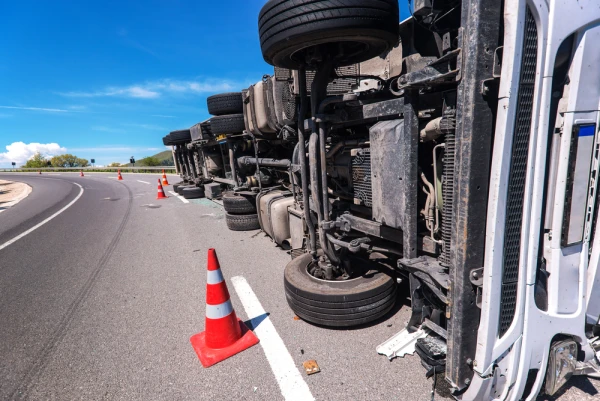 Cargo trucks are common on Texas highways. These large vehicles transport cargo from ports and shipping yards to warehouses, factories, construction sites, and retail businesses. They play a vital role in the economy and help create jobs.
Despite these benefits, cargo truck accidents claim the lives of thousands of people every year. According to the Federal Motor Carrier Safety Administration (FMCSA), large trucks were involved in 112,000 injury crashes in 2018. They were also responsible for over 5000 fatalities that same year.
If you're hit by a cargo truck, you may suffer catastrophic injuries. Accident victims often experience paralysis, nerve damage, chronic pain, and neurological problems after cargo truck accidents. In many cases, their injuries prevent them from living a normal life.
It's important to explore your legal options after a cargo truck accident. You may be eligible for damages in a settlement, which can cover medical and other expenses. Dial (469) 998-4069 now to make an appointment with a Frisco, TX accident lawyer. Consultations are 100% free and confidential.
The Size of Cargo Trucks
Cargo trucks come in many different shapes and sizes. However, the most common cargo trucks are tractor-trailers. Also known as semi-trucks, big rigs, and 18-wheelers, these large vehicles have multiple axles and the capacity to haul up to 80,000 pounds of freight.
Often, cargo trucks can exceed this weight limitation to transport larger or heavier cargo. In these situations, the transport company obtains a special permit for an oversized load, also known as a wide load. The oversized load vehicle must display safety flags, follow extra safety rules, and be accompanied by escort vehicles.
A large cargo truck may be 13 feet tall, 8.5 feet wide, and 70-80 feet long from the front of the cab to the end of the trailer. If the vehicle is hauling liquid cargo, such as gasoline or milk, it will use special tanks instead of cargo trailers. This type of cargo truck is known as a tanker truck.
Cargo Truck Accident Injuries
Unfortunately, minor cargo truck accidents are rare. Due to their size and weight, these vehicles inflict serious damage even when moving at low speeds. Accident victims often require surgery, physical therapy, or rehabilitation to recover.
Common motor vehicle crash injuries associated with cargo truck accidents include:
Head injuries, such as traumatic brain injuries (TBIs)
Neck injuries, including whiplash
Spinal cord injury and nerve damage
Internal bleeding and damage to internal organs
Cuts, burns, and bruises
Broken bones
Many cargo truck accident victims also experience severe psychological trauma, especially if the crash resulted in a fatality. PTSD and other mental health issues are common.
Causes of Cargo Truck Accidents
In general, commercial drivers who operate cargo trucks are safe and responsible. These drivers require special training and must pass exams to earn a commercial driver's license before they can drive a large cargo truck.
Unfortunately, they are still prone to making mistakes and causing accidents. Cargo truck drivers may become tired, impaired, or experience other issues that cause them to lose control of their vehicles. Other cargo truck accidents happen because of the recklessness of other drivers.
Some of the leading causes of cargo truck accidents include:
Stopping Distance
Due to their massive size and uniquely engineered braking system, cargo trucks can't stop quickly. Once a driver hits the brakes, it takes the truck several seconds to come to a complete halt.
Depending on the speed, it may take the truck the distance of two football fields to stop. Many cargo truck accidents happen because the driver can't stop in time to avoid a hazard in the road.
Blind Spots
Blind spots are another source of many cargo truck accidents. For the average cargo truck, the driver has blind spots 50 feet behind their truck, 30 feet in front, 1 lane to their left, and 2 lanes to their right. The driver cannot see any object in these areas.
If another driver passes improperly and lingers in the truck's blind spots, it can lead to an accident. The cargo truck driver may hit this car because they don't see it or cause an accident by swerving suddenly to avoid it. Whenever you approach a cargo truck on the road, use caution. Remember, if you can't see the driver, the driver can't see you!
Driver Impairment
Driver impairment also causes cargo truck accidents. Driving a cargo truck is difficult work, so drivers may become exhausted or use drugs or alcohol to cope with stress. Unfortunately, this impairs their perception, physical coordination, and reaction time. An impaired driver cannot operate a cargo truck safely. They may cause fatal accidents.
Fallen Cargo
Cargo trucks are also responsible for accidents if they spill their cargo. This can happen if the cargo isn't secured properly and shifts during travel. Cargo can also come loose due to mechanical failure, such as rusted locks breaking open.
Fallen cargo can cause accidents both directly and indirectly. In a direct accident, the cargo hits another vehicle. In an indirect accident, it causes a crash by creating an obstruction in the road. Other drivers may have a collision when they steer or brake to avoid the fallen cargo.
Hazardous Driving Conditions
Finally, many cargo truck accidents occur due to hazardous driving conditions. This includes bad weather and surface damage like potholes. These conditions can cause the cargo truck driver to lose control of their vehicle.
Bad weather conditions can also obstruct the driver's view. If there is heavy rain, snow, or fog, a cargo truck driver may have an accident because they are unable to see other drivers on the road.
Determining Liability in a Cargo Truck Accident
Determining liability in a cargo truck accident may be more difficult than other accidents. This is because the driver's employer may share liability.
For example, the driver's employer usually owns the cargo truck. They are responsible for inspection and maintenance. If mechanical problems cause an accident, the employer would be held liable.
If you have questions about liability or any other aspect of cargo truck accidents, don't wait. Call our Frisco, TX accident lawyers now at (469) 998-4069 for a free consultation.
Frequently Asked Questions