Frisco Semi-Truck Accident Lawyer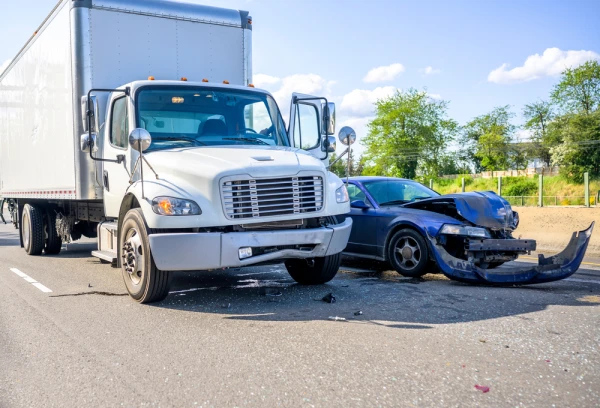 You can get legal help on your side if you were hit by a semi-truck in Frisco, Texas. Just reach out to a member of our team to start working on your claim. We're ready to help you get compensation for your:
Medical expenses
Wages lost at work
Diminished earning potential
Costs to repair your vehicle
Get the help you want by contacting a Frisco semi-truck accident lawyer. Allow us to assess your specific legal needs right now. Just call (469) 998-4069.
Learn More About Semi-Truck Accidents Right Now
Semi-truck accidents are very serious events. Semi-trucks are large, commercial vehicles. They weigh a lot more than most passenger vehicles. When they strike other vehicles, they can cause extensive damage and injuries. You might use other terms to refer to semi-trucks. Some people call these vehicles:
Tractor-trailers
18-wheelers
Big rigs
We mentioned that semi-trucks are commercial trucks. The Texas Department of Transportation (TxDOT) keeps track of the number of commercial vehicle accidents that happen every year. In 2019, there were a total of over 39,000 total commercial vehicle crashes.
Your Options After a Frisco Semi-Truck Accident
You may feel unsure what to do after a semi-truck collision in Frisco. We're here to help you figure out what steps to take after your accident. You don't have to wait to get help on your side. In fact, you can start working with a truck accident lawyer right now. Find out more by calling (469) 998-4069.
In addition to reaching out to a lawyer, it's suggested that you:
Notify the police about the collision
Get medical care if you were hurt
Talk to eyewitnesses and the truck driver
Take pictures of the scene of the accident and your injuries
Taking these steps can improve your peace of mind after an accident in Frisco. It's also important to notify your insurance company after an accident. However, you may want to get legal help on your side before reaching out to insurance representatives. Discuss each step of your legal claim by contacting us right now.
Losses Associated with Frisco Semi-Truck Accidents
You can face quickly rising expenses if you were struck by a semi-truck in Frisco. Often, your vehicle must experience major damages. In some cases, a truck accident could even total your vehicle. The insurance company for the driver could end up covering these losses.
You can also receive compensation for your medical expenses after a semi-truck accident in Frisco. You may face healthcare costs associated with:
An ambulance ride or emergency care
Time spent recovering in a hospital
Medical tests and procedures
Physical therapy and rehabilitation
All of these expenses are considered your economic losses. You may also experience non-economic losses after a Frisco semi-truck accident. These losses are tied to things like your pain and suffering. You can receive compensation for both economic and non-economic losses in Texas.
Start Working Immediately on a Truck Accident Claim
After an accident, you may want to begin working to get compensation quickly. You don't have to wait to reach out to a Frisco semi-truck accident lawyer. Members of our team know you might have immediate questions about your case.
You want to move quickly, as Texas has a statute of limitations on truck accident claims. Generally, you have two years to seek compensation after an accident. However, you may have less time if the accident involved a government vehicle or employee. In this case, you could only have six months.
We're ready to assist you right now. You can contact us to begin an investigation into your accident. Note that you may only get compensation for your losses if we show that someone else caused the collision. We can assess fault for your accident by:
Questioning all witnesses
Requesting access to your police report
Working with accident reconstruction teams
We'll also take steps to show that the accident caused all of your injuries. This can allow you to get compensation with a settlement from the insurance company. We're also prepared to help if you want to file a lawsuit in court against the driver who hit you.
Talk to a Frisco Semi-Truck Accident Lawyer Today
Begin working to get compensation if you were hit by a semi-truck in Frisco right now. We're standing by to help you with your claim. You can reach us easily if you call (469) 998-4069. You could also complete our online contact form. Our semi-truck accident lawyers in Frisco are prepared to handle your case.
You can begin getting answers to your legal questions with a free consultation.
Frequently Asked Questions