Frisco Passenger Vehicle Accident Lawyer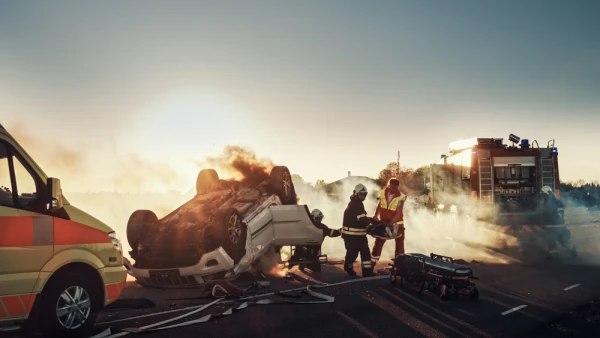 Car accidents happen every day. Whether minor or major, collisions involving passenger vehicles can ruin your day. A passenger vehicle accident can result in property damage, injuries, or even death.
According to data provided by Thrillist, the odds of dying in a car crash in Texas are 1 in 7,820. Injury accidents are even more common. Drivers in the Lone Star State are more likely to be injured in a passenger vehicle accident than a violent crime.
That's why it's more important than ever to follow safe driving practices, obey traffic laws, and carry proper auto insurance. If you're involved in a passenger vehicle accident, you or your passengers may suffer lifelong, debilitating injuries. By doing your part to prevent a passenger vehicle accident, you can help save lives.
At our Frisco, TX law office, we understand what accident victims go through. Our lawyers have assisted with a number of passenger vehicle accident cases. We can answer all your questions about liability, compensation, and settlement options. Call (469) 998-4069 now for a complimentary consultation. If we don't win your case, you won't be billed.
Types of Passenger Vehicle Accidents
Passenger vehicles, including cars, pickup trucks, SUVs, and buses, can be involved in a wide variety of accidents.
Minor accidents with slow-moving vehicles may result in negligible cosmetic damage to a vehicle, while major crashes at high speeds can lead to fatalities. Most passenger vehicle accidents fall somewhere in between.
Multiple factors can contribute to passenger vehicle accidents. The following factors increase accident risk for passenger vehicles:
Driving under the influence of drugs or alcohol
Drowsy driving or falling asleep behind the wheel
Distracted driving, such as texting and driving
Reckless driving like speeding, tailgating, or changing lanes improperly
Failure to check blind spots
Hazardous weather
Bad road conditions, such as potholes or objects in the road
Mechanical failure
Often, multiple risk factors are present at once. In many accidents, the drivers of both vehicles share liability for the crash. However, some passenger vehicles are caused by a single driver's negligence or recklessness.
Scenarios involving bad weather, hazardous road conditions, or mechanical problems may have no clear liability. The drivers involved in these passenger vehicles may be able to seek damages from the city or property owner responsible for maintaining the roads. When mechanical problems cause a passenger vehicle accident, the manufacturer may be liable.
Depending on the speed and angle of impact during a crash, passenger vehicle accidents may be any of the following:
Side-Impact Collisions
A side-impact collision, also known as a t-bone collision, occurs when one car strikes the side of another, forming a "T" shaped angle. These passenger vehicle collisions are common near intersections and driveways where cars traveling in opposite directions are more likely to cross paths.
Rear-End Collisions
Rear-end collisions often occur on city streets, highways, and in parking lots. Often, these collisions are a direct cause of tailgating. When a passenger vehicle is following too closely behind another car, they don't have enough room to brake safely. They may collide with the vehicle in front when the other driver slows down.
Head-On Collisions
Head-on collisions are among the most frightening types of car accidents involving passenger vehicles. In a head-on collision, both vehicles collide with a full-forward impact force. These accidents often occur due to illegal passing on highways. Although front-impact airbags can help, head-on collisions are frequently fatal.
Rollover Collisions
Rollover collisions also carry a higher risk of severe injury and death. This is because most passenger vehicles aren't designed to carry weight on their roofs. The car's roof may buckle under the weight of the lower vehicle. In other rollover accidents, a passenger vehicle may also skid and crash into other cars or stationary objects.
Common Passenger Vehicle Accident Injuries
If you're involved in an accident with a passenger vehicle, you may experience a variety of injuries from mild to severe. These injuries may require surgery, physical therapy, and long-term rehabilitation. Sadly, some car accident victims are permanently disabled.
In the aftermath of a passenger vehicle accident, you may be unable to work or lead a normal life. Some victims suffer chronic pain. Others experience coma, neurological damages, or persistent vegetative states. Passenger vehicle accidents can also exacerbate pre-existing conditions.
Common injuries after a passenger vehicle accident include, but are not limited to:
Neck injuries, such as whiplash
Head and brain injuries
Spinal cord injury, nerve damage, and paralysis
Internal bleeding and organ damage
Cuts, burns, and broken bones
Passenger vehicle accidents can also be very traumatic, especially if they result in fatalities. Survivors may experience PTSD and other mental health issues. Accident victims may need therapy or other psychological interventions.
Due to these accidents, victims may have high medical bills. Even with insurance, this can create a financial burden for many families. That's why it's important to explore your settlement options with a passenger vehicle accident lawyer.
What to Do After a Passenger Vehicle Accident
If you're in a passenger vehicle accident, the Texas State Department of Transportation (TxDOT) offers valuable tips to handle the aftermath of the crash:
First, check for injuries. Call an ambulance if anyone in your car or the other vehicle needs emergency medical attention. Don't try to move someone with a severe injury unless they are in additional danger, such as a vehicle fire.
If possible, move your vehicle to the side of the road or pull into a parking lot. Make sure you're not blocking traffic.
Exchange contact information and insurance information with the other driver. Be sure to get their driver's license information and license plate, too.
As long as it's safe to do so, take photos and videos of the accident scene. Highlight damage to all vehicles as well as environmental damage, like skid marks or broken guardrails. This can help determine liability.
If you suspect the other driver is intoxicated or if they try to flee the scene, call the police. You also need to call the police if there are serious injuries or fatalities, or if one of the passenger vehicles involved in the crash cannot be moved.
Finally, call our Frisco, TX law office at (469) 998-4069 for your free consultation with an accident lawyer.
Frequently Asked Questions