Frisco Rollover Accident Lawyer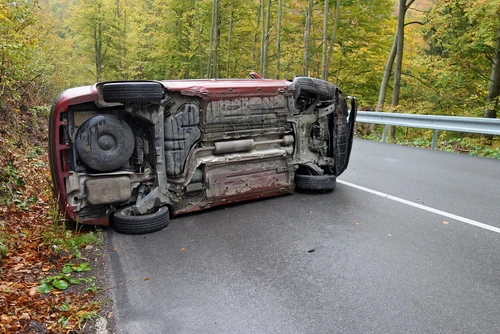 Rollover accidents that happen in Frisco are incredibly serious. Victims are often left with catastrophic injuries or killed, and the emotional trauma from this type of accident can last for a long time. If you or a loved one was injured in this type of accident, a Frisco rollover accident lawyer can provide the vital legal assistance you need.
If someone else was at fault for your rollover accident, you may be eligible for compensation to cover the costs of your medical bills, lost wages, and more. Our Frisco rollover accident lawyers believe that you deserve fair and proper representation after an accident you did not cause.
Let us give you a FREE consultation and match you with the best attorney for your situation so they can pursue the recovery you deserve. Call (469) 998-4069 today to get started.
Why Rollover Accidents Happen in Frisco
A rollover accident happens when a vehicle in the collision rolls onto its roof or side. A vehicle may roll over itself multiple times before stopping. The vehicle's driver and/or passengers may be ejected from the vehicle during the crash or the rollover.
Many different conditions may lead to rollover accidents. Some of the most common causes include:
High rates of speeding, especially over 55 miles per hour
Side collision from another vehicle in the accident
Vehicles with high centers of gravity, such as pickup trucks and SUVs
Tire blowouts
Driving while distracted or under the influence of drugs or alcohol
Extra weight from multiple passengers
Sometimes, rollover accidents also happen when one driver swerves to avoid another driver. This type of collision typically involves multiple drivers, which means more than one party may be partially at fault for the accident.
No matter what caused your rollover accident in Frisco, if another driver was at fault, you may be entitled to compensation for your damages. You should not have to bear the burden of medical bills and other costs that resulted from another driver's negligence on the road.
A lawyer can help you file a claim to pursue the fullest compensation possible. Call (469) 998-4069 to get a FREE consultation with the best car accident lawyer for your case.
Common Injuries from Frisco Rollover Accidents
Due to the extreme nature of rollover accidents, serious injuries are very common. Victims may suffer injuries like:
Traumatic brain injuries
Spinal cord injuries
Soft tissues injuries
Broken bones
Burns
Severe lacerations and
Death
Injuries may also lead to permanent scarring or disfigurement that causes pain and suffering for the rest of a victim's life. These types of injuries can also lead to enormous medical bills, long-term treatment, disabilities, and lots of missed work time. All of these factors will need to be considered when building a personal injury claim.
After your accident, it's vital that you get medical treatment right away. If your injuries are very serious, have someone call an ambulance for you. If you are well enough to stay at the scene, be sure to see a doctor that same day or at least within 24 hours of the accident.
If you wait too long to see a doctor, it can negatively affect your case. The insurance company might use it as an excuse to pay you less, as they can claim your injuries were not as serious as you said or that you saw the doctor for something unrelated to the accident. If you have any questions about your medical care after the accident, an experienced lawyer can help answer them.
How to Prove Liability in a Rollover Accident in Frisco
All injury cases in Texas depend on the concept of negligence. Drivers in Frisco have a duty of care to drive safely and protect other drivers from harm. When a driver is careless or does something that causes harm, it's known as negligence. The negligent party in an accident is liable for the damages that result.
To have a successful rollover accident claim, you will need to demonstrate the following elements of negligence:
The other driver had a duty of care to you.
The driver breached their duty of care by driving carelessly or violating a traffic law, such as speeding or running a red light.
The driver's breached duty directly led to your rollover accident and your injuries (but not any pre-existing injuries you had before the accident).
You suffered damages as a result of your physical injuries from the rollover accident.
You will need to provide evidence to demonstrate each of these points. This is not easy to do alone, so we highly recommend working with a Frisco rollover accident lawyer as soon as possible. They can help you begin working on your case and gathering information to show what happened.
Don't Wait to Get Help with Your Rollover Accident Claim
After a rollover accident happens in Texas, you have limited time to bring a case for compensation. Under Civil Practices and Remedies Code section 16.003, you must file a personal injury case within two years of the date of the accident. If you miss that deadline, you will likely lose all potential to recover damages.
In legal terms, two years is not a lot of time, and it goes quickly. That's why it's best to get started as soon as you can. Contact an experienced and trusted rollover accident lawyer in Frisco who can help you begin building your case and fighting for your rights.
Get a Free Consultation with a Frisco Rollover Accident Lawyer Today
To start protecting your rights immediately and has the best chance at full compensation of your damages, contact us today and we'll match you with the best rollover accident lawyer for your case. Our attorneys understand how important financial recovery is for you and your family after a rollover accident. Our number one priority is full compensation for the costs of your accident.
Contact us today and we'll give you a FREE consultation to go over the details of your accident and how we can help. We'll answer any questions you have, examine your case, and come up with a plan of action for your recovery. Call (469) 998-4069 today to set up a FREE consultation and case evaluation.
Frequently Asked Questions