Frisco Big Rig Accident Lawyer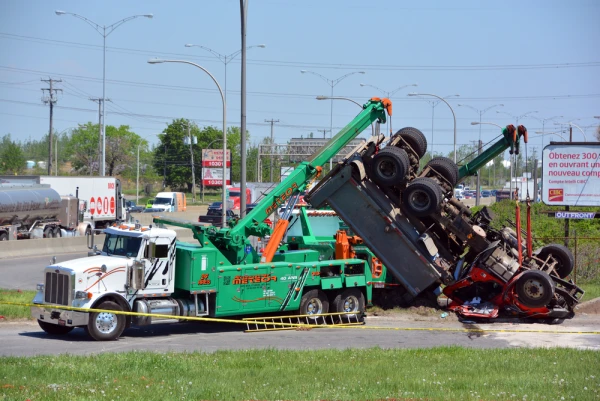 Today, there are more large trucks on the road near Frisco, TX than ever before. Vehicles like big rigs deliver valuable freight to businesses all across Texas. They are essential to the economy.
Unfortunately, more big rigs on the road means more accidents. Although most commercial truck drivers have extensive training and experience, even the safest big rig driver can still be involved in a devastating accident. Due to their size, big rigs inflict serious property damage and cause severe injuries. Many accidents are also fatal.
If you've been involved in an accident with a big rig, you could suffer lasting injuries. Even with insurance, your medical bills after a big rig accident may be very high. That's why it's important to explore your legal options for a settlement.
Call (469) 998-4069 today to request a free consultation with a Frisco big rig accident lawyer. Our legal team has helped many drivers just like you receive compensation for damages after a big rig accident. We'll answer your questions and help you determine your next steps. If we take your case, you won't be billed for our services unless we help you win.
What a Big Rig Is
A big rig is another name for a semi-trailer truck. Also known as tractor-trailers, semis, and 18-wheelers, these vehicles are used to haul freight cargo over long distances. Big rigs usually run on diesel and are designed to carry up to 80,000 pounds in a single load.
According to Hot Cars, Texas is home to nearly one-third of the nation's big rig traffic. On average, there are 13 million big rigs on Texas highways at any given time. Only Florida and California have more big rig traffic. By one estimate, big rigs in the United States travel 140 billion miles every year.
Big rigs can vary in size. However, the average big rig has the following dimensions:
13 feet tall
8.5 feet wide
70-80 feet long
In some circumstances, big rigs can exceed these dimensions and haul heavier cargo. These vehicles — known as "oversize loads" or "wide loads" — require special permits, warning flags, and escort vehicles.
Big Rig Accident Injuries
In an accident, large trucks like big rigs can deliver an impact force that's 20-30 times more powerful than a smaller vehicle. Even a minor accident involving a big rig truck can lead to severe injuries or fatalities.
According to the Insurance Institute for Highway Safety (IIHS), over 4,100 people died in fatal accidents involving big rigs in 2018. Only 16% of deaths occurred among truck drivers and truck occupants. The remaining fatalities consisted of occupants of other cars (67%) or nearby pedestrians, motorcyclists, or bicyclists (15%).
After a big rig accident, victims may have a long road to recovery. Survivors can become partially or fully paralyzed. Many people also suffer severe neurological damage from head injuries. Big rig accident victims may experience memory loss, cognitive impairment, personality changes, coma, or persistent vegetative states as a result of their injuries.
Additionally, big rig accidents may suffer the following injuries:
Cuts, bruises, and broken bones
Burns or other disfigurements
Internal bleeding or organ damage
Neck injuries and spinal cord injuries
Big rig accidents can also be psychologically traumatizing, especially if fatalities occurred. PTSD is common after these accidents. Some victims require years of therapy to return to a normal life after a big rig accident. Many cannot return to work or enjoy hobbies. Big rig accident injuries can become a financial and emotional strain for many survivors' families.
Most Common Types of Big Rig Accidents
Certain types of big rig accidents are more common than others. These accidents include:
Jackknifing
Jackknifing occurs often as a result of improper brake maintenance, tire traction problems, or slippery road surfaces. When a big rig jackknifes, the cab skids in one direction and the trailer skids in another. This causes the vehicle to "fold" in a shape resembling a jackknife, hence the colorful name.
T-Bone Collisions
T-bone collisions, also known as side-impact collisions, occur when a big rig hits the side of another vehicle. These accidents are more common in intersections or driveways where cross-traffic intersects. A T-bone collision involving a big rig can send the other vehicle sliding dangerously out of control, leading to grave injuries or fatalities.
Rollover Accidents
Rollover accidents can occur as a result of a T-bone collision or other types of accidents. In some rollover accidents, the big rig itself becomes imbalanced and tilts over. In other accidents, the big rig causes another vehicle to rollover. These accidents can be deadly because the top of most vehicles is not designed to sustain significant weight.
Rear-End Collisions
Rear-end collisions involving a big rig usually occur as a result of tailgating. When another vehicle isn't giving the big rig enough space, they may collide with the truck's trailer when the truck driver slows down or stops. Due to the size of the big rig, some small cars may slide under the trailer. This can lead to serious injuries or fatalities for the car's passengers.
Big Rig Accident Causes
Big rig accidents can have a variety of causes. These accidents can occur due to human error, mechanical failure, or environmental hazards. For example, accident rates tend to rise during bad weather. Some of the causes of big rig accidents are:
Fallen cargo or spillage of contents
Uneven road surfaces, like potholes
Mechanical failures
Reckless driving, such as speeding or tailgating
Drunk driving and driving under the influence
Drowsy driving
Blind spots
Reduced visibility due to heavy rain, fog, or snow
Call Now for a Free Big Rig Accident Lawyer Consultation
If you're involved in a big rig accident, you're not alone. You have rights as a victim. Contact our Frisco, TX law office today at (469) 998-4069 for answers to all your big rig accident questions. We'll help you determine your next steps and discuss your options for compensation.
As always, consultation calls are 100% free and confidential. Call now.
Frequently Asked Questions