McKinney Big Rig Accident Lawyer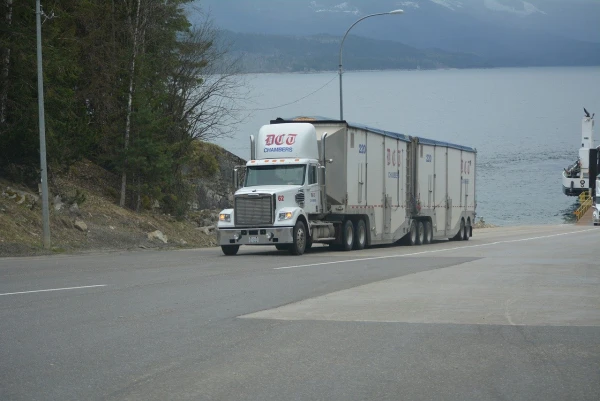 The worst car accidents in McKinney, TX often involve big rigs. Due to their size and weight, these powerful commercial trucks can deliver serious damage to other vehicles. If you get hit by a big rig, you and your passengers may suffer severe injuries. Big rig accidents can also be fatal.
In 2017, the Federal Motor Carrier Safety Administration (FMCSA) logged over 450,000 crashes involving big rigs. There were approximately 344,000 injuries and 4,237 deaths associated with big rig accidents. 63% of all reported large truck crashes involve two or more vehicles.
Unfortunately, people in cars receive the worst injuries in big rig accidents. Truck drivers are protected by their vehicle's size. The average big rig is approximately 14 feet tall, 8 feet wide, and 70 feet long. When carrying a full cargo load, a big rig can weigh as much as 80,000 pounds.
Even when there are no fatalities, a big rig accident can dramatically disrupt your life. Your car may be damaged beyond repair. Your injuries may require hospitalization, surgery, and physical therapy. Often, big rig accident victims can't work. They may become disabled due to their injuries.
If you or someone you love is injured in a big rig accident, you could be eligible for a large settlement. Discuss your legal rights with a McKinney, TX accident lawyer today. Dial (469) 998-4069 to schedule your free consultation. You won't pay anything unless we help you win compensation.
Why Big Rig Accidents Are So Dangerous
Big rigs are also known as 18-wheelers, semi-trucks, and tractor-trailers. These commercial transport vehicles are vital to Texas' growing economy. Without big rigs to haul consumer goods and raw industrial materials, commerce would become stifled.
There are two million big rig trucks operating in the United States. Trucking is a growing industry that employs an estimated 8 million people. With this many big rigs and commercial drivers on the road, the accident rate is expected to increase in the coming years.
Due to their large size and weight, big rigs are more difficult to drive than cars. Commercial drivers must undergo extensive training and pass a special licensing test before they can drive a big rig. Although they make safety a priority, many big rig drivers are still responsible for accidents.
A big rig can't maneuver easily or stop quickly. If the driver encounters a problem, they may cause an accident because they can't avoid it in time. Big rigs often slide off the road, roll over, jackknife, or collide with other vehicles. Multi-car accidents are common.
Big Rig Accident Injuries
Due to the vehicle's size and weight, even a minor big rig accident can cause major injuries. Often, accident victims require months or years of medical care before they fully recover. Some never do. A big rig accident victim may suffer paralysis, brain damage, and other health problems that prevent them from living a normal life.
In many cases, victims require multiple surgeries. They may need physical therapy or in-home medical care as well. After a big rig accident, many families are burdened with serious medical debts and struggle to make ends meet. Big rig accidents can prevent a person from holding a job, going to school, or living a normal life.
Common big rig accident injuries include:
Head Injuries: Victims may suffer concussions, skull fractures, facial cuts, or traumatic brain injuries (TBIs). With TBIs, the victim may experience coma, memory loss, and severe neurological impairments.
Neck and Spinal Cord Injuries: This includes whiplash, nerve damage, damaged vertebrae, and partial or full paralysis. Victims may experience chronic pain.
Superficial Injuries: Though superficial injuries may not last as long as other types of big rig injuries, they can be very painful. These injuries include cuts, bruises, and burns.
Broken Bones: Victims may suffer broken bones as well as compound fractures. They may require surgery and physical therapy to heal.
Internal Injuries: Internal bleeding, collapsed lungs, punctured intestines, and other damage to internal organs can occur as a result of a big rig accident. Tragically, many victims later die due to these injuries.
Psychological Injuries: A big rig accident can be deeply traumatic. Victims often experience PTSD, depression, and anxiety. They may require years of therapy and struggle with phobias or addictions.
Four Common Causes of Big Rig Accidents
Unfortunately, you can't always prevent a big rig accident. However, understanding what causes a big rig accident can help you reduce your risk. Common causes of big rig accidents may include:
1. Mechanical Problems
When a trucking company doesn't perform regular inspections, maintenance, and repairs, mechanical problems can lead to accidents. Big rigs can experience issues like engine problems and brake failures that lead to crashes.
2. Fatigued Driving
Driving a big rig can be a stressful job. Commercial drivers work long hours and often drive at night. Even with regularly mandated rest periods, big rig drivers are prone to fatigue. Studies indicate that fatigued driving is equivalent to drunk driving. A fatigued driver may cause an accident due to loss of motor control, reduced reaction time, and impaired judgment.
3. Dangerous Driving Conditions
Dangerous driving conditions, including bad weather and poor roads, also contribute to big rig accidents. Hazards like ice, flooding, fog, and potholes impact safe driving ability. Big rig drivers experience reduced visibility and may struggle to control their vehicles. This causes severe accidents.
4. Blind Spots
Big rigs have large blind spots. If you're approaching a big rig, look for the driver. If you can't see them, they can't see you! When you're a big rig's blind spots, you risk getting hit when the big rig turns or changes lanes. Always maintain a safe distance, pass on the left, and don't linger in the truck's "No Zones."
Free Legal Consultations for Big Rig Accidents
If you're involved in a big rig accident in McKinney, TX, seek help from an accident lawyer. Call (469) 998-4069 for a complimentary consultation. Remember, if we don't help you win your case, you won't pay!
Frequently Asked Questions