McKinney Truck Accident Lawyer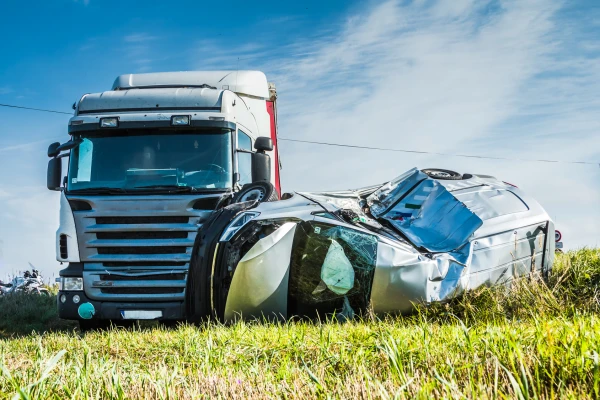 Semi-trucks and 18-wheelers are large vehicles that can cause horrific injuries in traffic accidents. Other vehicles can also be seriously damaged in a truck accident. You know how serious the situation is if you or a loved one are involved in a truck accident in McKinney.
Many people assume that getting compensation after a truck accident will be simple. After all, trucking companies typically carry high insurance policies. However, insurance agents can fight to deny your claim if you try to face them alone.
Working with a McKinney truck accident lawyer can increase the odds that you'll win your truck accident lawsuit. Our team of legal professionals has experience winning cases for truck accident victims. We can take on your case today.
Common Causes for Truck Accidents in McKinney
Truck accidents are becoming increasingly common in McKinney, Texas as the number of large vehicles on the road increases. In fact, the Federal Motor Carrier Safety Association (FMCSA) tells us that there were more than 100,000 truck accidents that caused injuries in 2016 alone.
Truck drivers are to blame for many of these accidents, often because they are:
Tired
Drunk
Distracted
Breaking Traffic Laws
In some cases, the trucking company holds responsibility for the accident. Companies can cause accidents by neglecting vital maintenance or by assigning drivers unsecured or overweight loads.
Determining the cause of the accident can be difficult. You need a legal team that has the resources to investigate your case. A solid understanding of what happened in the accident will make it easier for you to win your lawsuit.
Truck Accident Injuries
Victims of truck accidents can face severe injuries. Our team of legal professionals has taken on cases for individuals with:
Cuts and Lacerations
Broken Bones
Brain and Neck Injuries
Damage to Organs
And More…
Many truck accidents also damage other vehicles, leaving you with high repair bills and no way to get around. Getting compensation for your bills can be difficult if you don't have help on your side. A truck accident lawyer can make sure everything is properly documented and recorded, increasing the odds that you'll get fair damages.
Winning a Truck Accident Lawsuit
You must be able to prove that the truck driver or the trucking company was responsible for the accident to win a truck accident lawsuit. Your lawyer will question witnesses and work with professional investigators to prove this fact.
Our team believes in providing tireless care to our clients. We will use the full breadth of our skills to make sure you are treated fairly. We strive to offer all truck accident victims:
Solid Legal Advice
The legal system can be complicated. We can help you understand what's going on by explaining your situation. We'll also assess any settlement offers you receive from the insurance company. These offers are often designed to look good, but they can short-change you on compensation if you are not careful.
Respected Negotiating Power
Your truck accident lawsuit may be handled outside of court, through a period of negotiations. Arguing with insurance agents takes skill and fortitude. We'll take care of the negotiation process for you, so you can focus on getting better.
Courtroom Experience
We'll be there for you if your lawsuit does go to court. Winning your case in front of a judge takes expert legal knowledge. Our team has experience helping clients win cases like yours. We'll apply our experience and skills to your case no matter what legal hurdles you're facing.
Our team understands what you're going through after a truck accident in McKinney. We believe every truck accident victim deserves honest help and support. That's why we operate with a "no win, no fee" policy. We won't ask for payment for legal fees unless we win your case or get you a satisfactory settlement.
McKinney Truck Accident Lawyers Are Here to Help
Truck accidents can upend your life in a matter of seconds and leave you with injuries that can take years to heal. You deserve help during your recovery. Let our team of McKinney truck accident lawyers provide you with the care you need. We'll take on your case and ensure that insurance companies don't take advantage of you. We're here for you right now with a FREE consultation.
Take charge of your future by filling out our online contact form or calling (469) 998-4069.
Frequently Asked Questions