McKinney Head-On Collisions Lawyer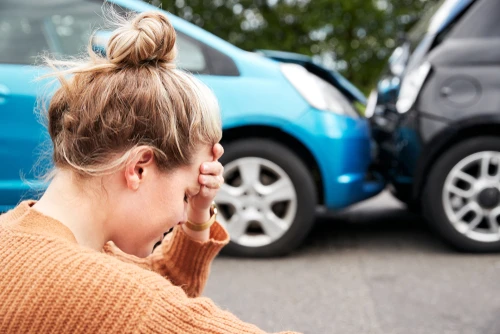 Head-on collisions can happen at any time McKinney—and they can easily become deadly. If you were injured or a loved one was killed in a head-on collision, you should not have to pay for the at-fault driver's mistakes. A McKinney head-on collisions lawyer can help you seek recovery for what was lost.
Head-on collisions are crashes where the fronts of two vehicles collide. The impact of a head-on collision can be devastating. Our Dallas car accident lawyers are dedicated to fighting for victims and their families. If you were impacted by this type of crash, we're here to help you pursue compensation.
While we know that money can never fully make up for what happened in the accident, it can assist you in covering your costs and beginning the healing process. We'll be by your side every step of the way, handling the legal details, so you can focus on physical and emotional recovery. Call us today at (469) 998-4069 and we'll give you a FREE, no-obligation consultation to discuss the details.
Why Head-On Collisions Happen in McKinney
Head-on collisions are some of the most tragic accidents that happen in McKinney and throughout Texas. According to facts and statistics on highway safety from the Insurance Information Institute (III), head-on accidents made up about 10% of total fatal crashes in 2017.
Here are some of the most common reasons why head-on collisions happen in McKinney.
Lack of Median or Clear Divider
They are especially common in places where roads or highways are not divided by a median or some other marker that clearly splits the roadway.
Major highways that go through McKinney are clearly divided, but there are many minor and older roadways, such as farm-to-market roads that were created when Texas was more rural, that greatly increase the risk of head-on accidents. Modern GPS apps will often send drivers through these roads to avoid traffic and decrease travel time. If the roads are not updated, maintained, or well-lit at night, collisions are more likely to occur.
Highway 380 has especially been a source of concern in Collin County as it becomes more crowded while the population grows. Many drivers and passengers have suffered injuries or death due to serious accidents on this highway.
Impaired Driving: Alcohol, Drugs, or Other Substances
Unfortunately, alcohol and drug use are common reasons for head-on collisions.
Someone who is driving impaired is not fit to make safe driving decisions, and they may not even realize they are traveling on the wrong side of the road. Impaired reaction time can also mean that the driver isn't able to swerve out of the way when they see they are approaching other vehicles in the wrong direction.
Impaired driving can also result from over-the-counter medications that cause drowsiness. Anything that prevents a driver from driving safely should not be used in combination with the operation of a motor vehicle.
Tiredness and Fatigue
A head-on collision can also happen if the driver is low on sleep or otherwise fatigued. This is especially common during nighttime hours or with drivers who are on the road for a living, such as truckers.
Driving for long stretches can quickly become monotonous. If a driver begins to doze off, they can swerve into oncoming traffic and not wake up in enough time to get back onto their side of the road.
Distracted Driving
Everyone in McKinney should have their eyes on the road at all times. Unfortunately, distracted driving is too common and often a reason for serious accidents. Examples of distracted driving can include:
Using a cell phone to talk, text, send an email, or check a social media app
Eating or drinking while driving
Daydreaming
Talking to passengers or
Reaching to change the radio or put on music
Anything that removes a driver's mind and/or body parts from their task of driving can easily cause an accident.
Roadway Confusion
Sometimes, a head-on collision may result from a driver's confusion about whether or not a road is one- or two-way. They might drive in the middle of a road that they think is one-way or turn onto a road that they didn't realize was two lanes of opposing traffic. This can quickly become a hazardous situation and cause an accident.
It's vital to determine the cause of your head-on collision if you want to seek compensation, which is where a lawyer can be so helpful. Every situation is different, and the cause of your accident might not be as clear as it seems.
Our car accident lawyers are dedicated to researching all details of the accident to determine who was at fault. The liable party is often a single driver who was negligent, but there are cases where a manufacturer, company, or even government entity may also be at fault. To get a FREE consultation with an experienced McKinney head-on collisions lawyer today, call (469) 998-4069.
Damages Available in a McKinney Head-On Collisions Case
If you were not at fault for your accident, you should not have to pay for the costs. In a personal injury case in Texas, your losses are known as "damages." You can seek compensation for any damages that directly result from the at-fault driver's negligence in your accident.
Here are some of the most common damages a victim will face from a head-on collision accident.
Medical Costs
Medical expenses often make up the largest portion of any car accident case. You will want to keep track of all bills, receipts, prescription medication costs, and more from your accident to include in your claim.
Your lawyer will also work to calculate any future or ongoing medical costs that you can incur from your accident injuries.
Lost Wages
You can also claim the work time that you missed because of the accident. That includes any bonuses or promotions that you may have earned if you hadn't been involved in the crash.
Pain and Suffering
Not all damages are physical. A serious crash like a head-on collision can cause mental anguish, loss of enjoyment of life, depression, and other emotional damages. Your lawyer can help you determine the value of these losses and include them in your claim.
Punitive Damages
Sometimes, punitive damages are available in a McKinney head-on collisions case. Punitive damages and other exemplary damages are meant to punish the wrongdoer and discourage similar wrongdoing from others. Punitive damages are only available in certain circumstances, so you'll want to discuss the details with your lawyer.
Wrongful Death Damages
If you are on this page because you lost a loved one in a head-on collision, first, we are very sorry for your loss. You should know that you may be eligible to file a wrongful death claim and seek damages for your loved one's accident. Those damages may include medical expenses, pain and suffering the loved one experienced before they died, and funeral and burial costs.
Talk to a McKinney Head-On Collisions Lawyer for Free Today
If you or a loved one was impacted by a head-on collision in McKinney, don't wait to get legal help. Our Dallas car accident lawyers are here to help—starting with a FREE consultation.
There is no upfront fee to contact us or work with us. We work on contingency, so there is no fee unless we win for you. To learn more and schedule a FREE consultation with the best attorney for your situation, call us at (469) 998-4069 today.
Frequently Asked Questions