McKinney Distracted Driving Car Accident Lawyer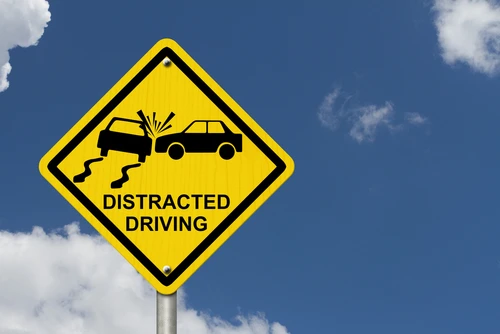 Anyone who drives a motor vehicle in McKinney should have their complete attention on the road ahead at all times. Every moment of inattention means an increased risk to everyone on the road. If you were injured because someone else was driving distracted, it's time to talk to a McKinney distracted driving accident lawyer about your legal options.
Our experienced car accident lawyers know what it takes to win. We can help you build a strong legal case to seek compensation for damages from the accident you did not cause. Call us today at (469) 998-4069 and we'll be happy to get you started with a FREE consultation.
What Distracted Driving Encompasses in McKinney
Distracted driving is defined by the National Highway Traffic Safety Administration (NHTSA) as an activity that takes a driver's attention away from driving.
The NHTSA outlines three different types of distractions drivers can face:
Visual distractions that remove eyes from the road
Manual distractions that remove hands from the wheel and
Cognitive distractions that remove minds from the task of driving
Cell Phones and Distracted Driving
Cell phones are especially dangerous distractions because they involve all three distraction types. Unfortunately, cell phone use while driving is way too common in McKinney and throughout Texas.
Texting while driving, checking email, checking social media, and messing with a GPS app are just a few very common ways that drivers become distracted by their phones on the road.
Although a simple check of the screen might not seem like a big deal, even a moment of missed attention can easily and swiftly result in an accident. When a driver takes their eyes off of the road for even five seconds, their vehicle can travel over the length of a football field in that short span of time
Other Types of Distracted Driving
Phones are not the only sources of distraction while driving. Someone can also have their attention diverted while performing activities like:
Eating or drinking something
Talking to passengers
Interacting with or trying to control children or pets
Checking or putting on makeup
Smoking
Watching a video or some other entertainment source in the vehicle
And more
Diligent drivers understand the risks involved with distractions and are careful to avoid doing anything that could harm themselves, their passengers, and others on the road.
Distracted Driving and Driver Liability in McKinney
If someone was driving while distracted and their distraction led to your accident, then they should be held liable for the damages they caused. The driver chose to drive distracted, which was negligent behavior that put you and others at risk.
If the driver was operating their personal vehicle, they will typically be personally liable, which means you can file a claim with their auto insurance company for compensation. However, in some situations, the liable party may be the driver's employer if they were on the job. Your distracted driving accident lawyer can look at the facts to determine where you should seek recovery.
Partial Fault and Liability in McKinney
Sometimes, more than one party is at fault for a car accident. In that case, Texas Civil Practices and Remedies Code section 33.001 would apply. This statute states that a claimant cannot recover damages if they are more than 50% at fault for the accident.
If there's a chance that you were partially at fault for the distracted driving accident, you probably still have the potential to recover damages. Before assuming one way or another, talk to an experienced driver in McKinney who can determine your legal options and fight for the rights you do have.
What You Need to Prove Distracted Driving Caused Your Accident in McKinney
Distracted driving is one of the leading causes of auto accidents in Texas, so lawyers who specialize in this area of law will know how to fight for you. Before you can seek compensation, you'll need to be able to prove that:
The other driver was distracted
Their distraction led to your accident and
You suffered damages as a result of the distracted driving
An experienced McKinney distracted driving accident lawyer will immediately begin investigating to gather evidence. They will know that information can become lost and memories can fade with time, so getting started right away is very important.
To show that the other driver was distracted, your lawyer will work to gather evidence like:
Cell phone records showing that the driver made a call or sent a message right before the accident
Social media or internet search history on the driver's phone
Eyewitness testimony from a passenger in the vehicle or another driver who saw the at-fault driver distracted
Physical evidence inside the car, such as food or drink containers or electronic devices
Brake or skid marks on the road that help show what happened before the crash
Data to show the driver's speed and braking patterns before the accident
Your lawyer may also consult certain experts to reconstruct the accident and fill in any information gaps about what occurred.
Talk to a McKinney Distracted Driving Accident Lawyer for Free Today
Even if you are sure that your accident was caused by another driver's distraction, it's not safe to assume that their insurance company will offer you a fair settlement. Most of the time, insurance companies will try to blame you or look for other ways to reduce your compensation. That's why it's so vital to speak with a lawyer as soon as you can.
To have the best chance of full recovery for your damages, talk to a lawyer who specializes in distracted driving accidents in the McKinney area. That's what we can provide for you. We know what it takes to build a strong claim and win this type of case. We also do not charge you a fee unless we win you money, so there is no risk to you in getting started.
To schedule a FREE consultation and get matched with the best lawyer for your case today, call us at (469) 998-4069. We can discuss the details of your accident and how we can help you pursue the money you need and deserve.
Frequently Asked Questions