McKinney Construction Truck Accident Lawyer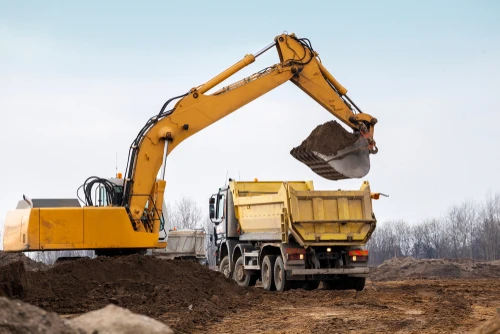 Recent reports show that major construction projects are coming in 2020, to meet the needs of McKinney's growing population. This includes new streets, more new homes, new parks, building a new City Hall, and new commercial properties. All that construction means there will be many more construction trucks of all types on the roads. More traffic usually means more accidents. If you find yourself injured after a crash with a construction truck, working with a McKinney construction truck accident lawyer could be a smart move.
Types of Construction Trucks
There are several different types of construction trucks, and given the nature of the business, not all trucks moving in and out of a construction site are owned by the same company. Not all of them are commercial vehicles, either. Whether a truck is privately owned, considered a passenger truck, or a commercial vehicle, the designation matters when it comes to an accident. Types of construction trucks include:
Large pickup trucks, generally owned by an individual, which may or may not be considered a commercial vehicle
Dump trucks — considered a commercial vehicle
Flatbed trucks — also a commercial vehicle
Cement mixers — also a commercial vehicle
Why do we mention commercial vehicles? Because commercial vehicles, their drivers, and the company that owns them must follow additional regulations. That big pickup that hit you as it was coming out of the construction site may also be covered by a commercial vehicle license and commercial insurance if its owner uses it to transport goods to and from the construction site.
If the driver just uses it to get to and from work, they may just have a regular license and individual insurance coverage.
Heavy Duty Construction Truck Laws
It's also important to know, if commercial vehicles are involved, that heavy-duty construction truck drivers and their employers must abide by an additional set of regulations over and above the normal traffic laws that you have to follow. For instance:
Drivers are required to ensure their cargo is properly secured.
Trucks must undergo regular inspections.
Trucks must have the right equipment.
Regular maintenance is required.
Drivers have to undergo pre-employment testing, regular physicals, and road tests.
Drivers must keep accurate records of hours of service.
As you can see, if you are involved in an accident with a construction truck, you need a truck accident lawyer who knows the FMCSA regulations and is experienced in handling cases involving multiple insurance companies and multiple lawyers.
Common Causes of Accidents Involving a Construction Truck
Construction truck accidents can be caused by any number of factors including:
Driver distraction
Speeding
Failure to brake in time
Following too closely
Running a red light
Impaired driving
Failure to secure the load
Tire blowouts
If the police report on your accident names the truck driver as being at fault, you are one step ahead of the game as far as claiming damages for your injuries and costs associated with the accident. But don't think that, just because the police report places the truck driver at fault, the insurance company is going to shower you with money. The insurance company's job, and the job of the construction company lawyers, is to try to place the blame on your shoulders.
How a McKinney Construction Truck Accident Lawyer Can Help
Our personal injury law firm will devote a team to your case, led by your construction truck accident lawyer. In order to build your case for damages, we will do a number of things, including:
Determining which insurance company policies apply. This could include the driver's insurance, the insurance of the company that owns the truck, and the developer of the site.
Performing accident reconstruction to see exactly how the accident happened and if there were any contributing factors
Reviewing the police report and accident scene photos
Accessing and reviewing traffic cam footage and surveillance footage, if there is any
Interviewing eyewitnesses
Reviewing maintenance and repair records for the truck involved
Accessing information about the truck driver's driving record and arrest record
Accessing cell phone records
Obtaining the blood test results of the truck driver, if there are any
And much more, depending upon the specifics of your accident
Once we have a strong case to show that you were not at fault for the accident, we can claim damages. In many cases, the insurance company will settle once they hear what we have found, but we are prepared to take your case in front of a jury.
We will seek compensation for your:
Medical bills, now and in the future
The cost to repair or replace your vehicle
Lost wages
Loss of ability to work because of the accident
Pain and suffering
Wrongful death, if a family member was killed in the accident
Punitive damages, if the driver was impaired
And more, depending on the specifics of your case
Consult with a McKinney Construction Truck Accident Lawyer
If you were injured in an accident with a construction truck, consulting with an experienced McKinney construction truck accident lawyer is a smart move. At your initial consultation, we'll talk with you about the specifics of your accident, the severity of your injuries, and discuss any offers the insurance companies have already made. Then we'll help you decide your way forward. Remember, there are no fees unless you collect.
Call us today at (469) 998-4069 or use our contact form and someone will get back with you quickly. We are available 24/7 to take your call.
Frequently Asked Questions