McKinney Improper Backing-Up Truck Accident Lawyer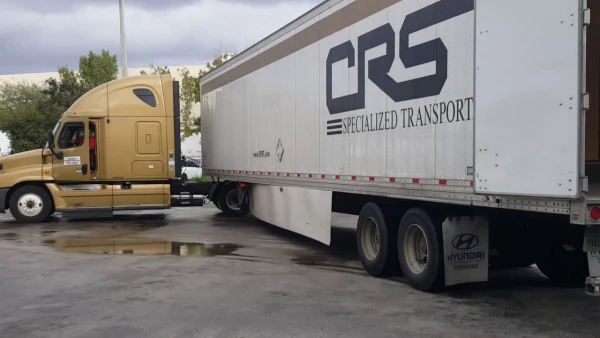 Sometimes, accidents happen in McKinney when a driver does not pay attention when backing up. These accidents often involve large commercial vehicles. They may result in significant damage to your vehicle and injuries for you.
Fortunately, you may get help securing compensation after a backing-up collision. Find out how by contacting us and speaking with a McKinney improper backing-up accident lawyer. Call us at (469) 998-4069. We're ready to help you get damages for your healthcare expenses and other losses right now.
We Understand Improper Backing-Up Accidents
Many drivers throughout the McKinney area do not think twice before backing up their vehicle. Backing up is often an automatic action, especially as more and more drivers get back-up cameras in their vehicles. However, care should always be taken when backing up, especially by drivers of large trucks.
Large trucks often have a blind spot directly behind their vehicle. This may make it more difficult for them to safely back up. Drivers who fail to check their blind spots may end up causing an accident. According to the Texas Department of Insurance (TDI), there are around 15,000 people hurt in backing-up accidents every year.
We're standing by to help if you were one of the many people hurt in a backing-up accident. We know the steps to take after your accident. Allow us to start helping you right now.
Back Over Accidents and Injuries in McKinney
Large trucks in McKinney may back up improperly and strike another vehicle. They may also cause back-over accidents in our area. Back-over accidents involve pedestrians or bicyclists. They occur when a truck simply back into and over these individuals.
Back over accidents are often very serious. They may involve children, as children are harder to see when they are behind a vehicle. These accidents often lead to major injuries or even fatalities. You may contact us if a family member was hurt in a back-over accident in McKinney.
Contact us by calling (469) 998-4069. We are ready to assess your specific situation to provide you with personalized assistance.
Take These Steps After a McKinney Improper Backing-Up Accident
It's difficult to know exactly what you should do after an improper backing-up accident. There are a number of steps you should take before you leave the scene of the accident. In general, the experts recommend that you:
Report the accident to the police
Take pictures of your injuries and the damage to your vehicle
Speak to witnesses and the truck driver to get contact information
Seek medical attention if you are hurt
Contact a truck accident lawyer in McKinney
You may also need to contact your insurance company after an accident. However, you may want to work with a McKinney improper backing-up accident lawyer first. Your lawyer may actually take care of communicating with insurance agents on your behalf.
Note that insurance agents may try to limit the compensation you receive after a backing-up accident. A lawyer may keep your best interests in mind after a collision. We're ready to stand up for you with insurance agents and the driver who hit you.
McKinney Improper Backing-Up Accidents and Compensation
You may want damages to cover your losses after an improper backing-up accident in McKinney. Members of our team are ready to step in to help your secure damages to cover your:
Current and future medical expenses
Costs to repair your motor vehicle
Lost wages at work
Diminished earning potential
Pain, suffering, and mental anguish
We understand your options for seeking compensation after a collision with a large truck. In many cases, we may negotiate with insurance agents for you. This could allow us to bring you a settlement. Settlements are deals with insurance companies.
However, sometimes insurance agents may refuse to treat you fairly after a collision. In this situation, you may want to file a lawsuit against the driver who struck you. We know how to handle your case in and out of the courtroom here in McKinney. Get our knowledge and legal experience on your side right now.
Work with a McKinney Improper Backing-Up Accident Lawyer
You're not alone after if another driver backed up into you in McKinney. You may start getting help building a claim right now by contacting us. Start working with an improper backing-up accident lawyer in McKinney today. It's easy to reach us if you call (469) 998-4069. You may also fill out our online contact form.
Consider your specific legal situation right now with a free consultation.
Frequently Asked Questions