McKinney Failure to Yield Truck Accident Lawyer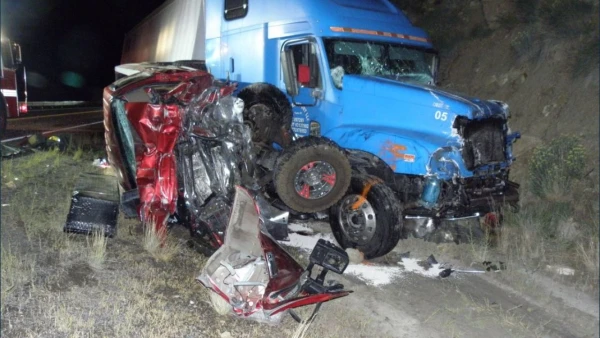 Were you hurt because another driver failed to yield the right-of-way in McKinney, Texas? If so, you may take steps to get compensation for your losses by working with a member of our team. We are prepared to help you work to get damages for your:
Healthcare expenses
Wages lost at work
Vehicle repairs
Get legal help right now by working with a McKinney failure to yield accident lawyer. We know what it takes to build a claim for you here in Texas. Find out more by calling (469) 998-4069.
Learn More About Failure to Yield Collisions in the U.S.
Failure to yield accidents occur when one driver is supposed to stop or give way and they do not. These accidents may occur in a number of different places. According to the National Highway Transportation Safety Administration (NHTSA), many of these accidents occur at intersections.
In many cases, drivers making a left-hand turn at an intersection fail to yield properly. All drivers making a left must yield to drivers who are going straight or making a right turn. However, drivers do not always obey these rules.
Failure to yield accidents may also occur when drivers attempt to merge onto the interstate or with the flow of traffic in other areas. We know that failure to yield accidents may involve any kind of vehicle. However, many of these collisions involve commercial trucks.
You may contact us for help after any kind of failure to yield accident. Allow us to provide you with straightforward answers to all of your legal questions here in McKinney.
Gather Information About a McKinney Failure to Yield Accident
If you were hurt in a failure to yield accident, it's important that you seek medical care for your injuries. However, before you leave the scene of the accident there are some steps you should take. Make sure that you take pictures if possible. You should get images of:
Your injuries
The damage to your vehicle
The scene of the collision
Any hazards that led to the accident
It's also a good idea to get contact information from the truck driver who hit you and any eyewitnesses. Finally, make sure that you contact the police to report your accident. Reporting an accident helps provide proof that the collision actually happened.
You may also want to reach out to a McKinney failure to yield accident lawyer to get immediate legal help in your corner. Find out how we could help by calling (469) 998-4069. We understand all the steps you should take after a truck accident in McKinney.
Forms of Compensation for a Failure to Yield Collision
You may be eligible to receive damages if you were involved in a failure to yield accident. This is true even if you were partially at-fault for the collision. Texas is a comparative negligence state, which means you may get damages even if you hold a percentage of responsibility for the accident.
However, the court may reduce your level of compensation depending on your level of fault. Allow a lawyer to show that someone else caused the accident so that you may receive damages to cover your medical bills. You may get damages for:
Emergency medical treatment
Medical tests and procedures
Rehabilitation and physical therapy
Members of our team may also help you get damages for your pain and suffering. These damages are considered non-economic losses. We believe you should get full compensation for your losses after a McKinney failure to yield collision, so reach out to us right now.
Methods to Resolve a McKinney Failure to Yield Claim
A lawyer may help you settle a failure to yield claim here in McKinney. Settling a claim involves coming to an agreement with insurance agents, instead of going to court. Many truck accident claims end in a settlement in our area. This may help you avoid court fees and it may allow you to get compensation more quickly.
However, a lawyer may advise you to file a lawsuit in some situations. This may occur if insurance agents refuse to treat you fairly. Allow us to review the best way to handle your specific case right now.
Contact a McKinney Failure to Yield Lawyer Immediately
We're standing by to help you seek compensation after a failure to yield accident in McKinney. Reaching out to us for assistance is easy. Just complete our online contact form. You may also call us right now at (469) 998-4069. Allow our failure to yield lawyers in McKinney to focus on your specific needs.
Ask us your legal question right now with a free consultation.
Frequently Asked Questions