Who Is at Fault in a Rear-end Collision?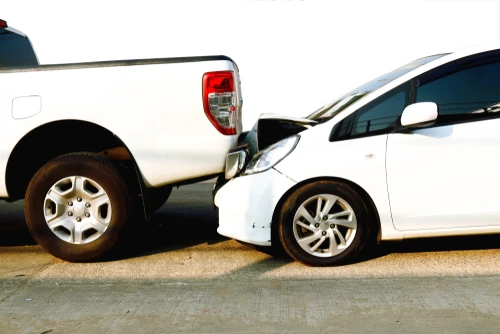 The latest data from the Texas Department of Transportation shows that almost 250,000 people were injured in car crashes in 2018 alone. No doubt many of those injuries resulted from rear-end collisions, which are among the most common forms of car crashes. Conventional wisdom holds that the person in the trailing car is usually at fault for a rear-end car wreck, but this is not necessarily the case. While an at-fault driver may slam into the back of the car in front of them, the front car may cause a crash by failing to signal a lane change, driving at unreasonable speeds, and a host of other factors.
The issue of fault is crucial to a successful personal injury claim after a serious car accident. Often, it is best for an injured person to seek legal assistance from skilled rear-end car accident lawyers to collect and keep evidence of the other driver's fault. If you are injured in a rear-end car accident, get in touch with the attorneys at our firm today so that we can begin to work toward maximum compensation for you and your family.
Why Fault Matters
Your ability to get compensation depends upon the apportioning of fault in your claim. This is because Texas uses a system called proportionate responsibility when determining compensation. Some states do not allow you to recover any money at all if you are even one percent at fault, but fortunately, Texas' system is not so strict. However, this does mean that your compensation is potentially lowered according to how much responsibility is assigned to you.
When I Can Sue for Compensation
The first part of Texas' system of proportionate responsibility (also called modified comparative fault/negligence) is also known as the 51% rule. Essentially, you are barred from recovering any compensation whatsoever if you are more than 50% responsible for your rear-end car accident. If you are 50% or less responsible for your accident, however, the good news is that you can still recover compensation from the other driver.
When My Compensation Is Reduced
The bad news, on the other hand, is that any compensation package you receive will be reduced in direct proportion to the amount of fault assigned to you. For example, your compensation is lowered by 15% if the court finds you to be 15% responsible for the rear-end car accident. When your case is valued highly, this can constitute a difference of tens and even hundreds of thousands of dollars!
In order to maximize your potential recovery, you need help from experienced rear-end car accident lawyers in Texas. our firm is available to help you and your family today.
Evidence of Fault
One of the important tasks of a rear-end car accident attorney is the collection and preservation of evidence. For example, the lawyers at our firm can collect crucial pieces of evidence that may shed light on the at-fault party in your case, including some of the following examples.
Surveillance camera footage from nearby stores
Traffic camera footage from nearby intersections
Eyewitness' testimony
Testimony from accident reconstructionists
Photos of the scene and resulting damage
The police crash report
Importantly, time is a critical factor in the collection of evidence. The longer you wait to get in touch with an attorney, the more an eyewitness' memory can change, the higher the risk of losing video footage, and the higher the risk of photos becoming damaged or lost.
In fact, waiting too long can jeopardize your claim altogether. In Texas, the statute of limitations is set at two years for car accident claims, per Texas Civil Practice and Remedies Code §16.003. That means that waiting for more than two years after your rear-end car accident to file a claim for compensation may totally bar you from recovering even if the other driver is completely at fault for the crash.
Speak to Skilled Rear-End Car Accident Attorneys for FREE
A rear-end car crash, because it is such a common fact pattern, can seem simple enough. The reality is that issues of fault are complex and can drastically alter the amount of compensation you are able to recover. Even worse: insurance companies like to offer injured people a check in the immediate aftermath of a claim. If you accept that check, the case is considered settled and you will not be able to recover what you are truly owed.
At our firm, we work to protect the rights and interests of our injured clients. Even better: we provide all clients with a FREE consultation to learn more about how we can help. If you decide to hire us as your attorneys for your rear-end car accident injury claim, we do not collect a fee unless and until we win you the compensation you deserve.
Schedule your consultation today by calling us at 469-998-4069 or by entering your contact and case information on our contact page.
Frequently Asked Questions