McKinney Rollover Accident Lawyer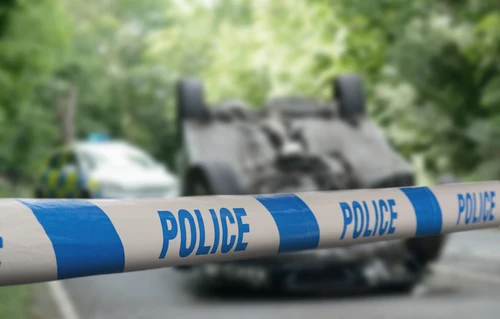 Rollover accidents can be incredibly frightening and painful. They can leave a victim in McKinney with serious injuries and even result in death. If you and your family were impacted by this type of accident, a McKinney rollover accident lawyer can help you with the legal side of things.
Our Dallas car accident lawyers are here to assist you. We handle serious accidents like rollovers from start to finish, and we are not afraid to fight aggressively for your rights. Plus, working with us is risk-free to you: The consultation is 100% FREE, and there is no fee for our services unless we win your case for you.
To get started today with a FREE, no-obligation consultation, call (469) 998-4069 or reach out through our online form. We are ready to assist you.
Rollover Accident Facts and Statistics
A rollover is a type of crash where the vehicle rolls or tips onto its side or its roof. A rollover can happen partially, or the vehicle may roll over multiple times.
According to the National Highway Traffic and Safety Administration (NHTSA)'s Safer Car website, rollovers are especially violent and complex. Rollovers demonstrate road, vehicle, driver, and environmental factors more than other types of accidents.
Other facts about rollover accidents include the following:
Vehicles that are taller and narrower, such as pickup trucks, vans, and SUVs, are more likely to roll over, but rollover accidents can happen to any vehicle.
Almost 85% of deaths related to rollovers are single-vehicle accidents that do not involve another vehicle.
In more than 90% of deadly, single-vehicle rollovers, the driver was performing everyday driving actions like turning a curve or driving straight when the accident occurred.
Forty percent of fatal rollover accidents involve speeding, and almost three-fourths happened while the speed limit was 55 miles per hour or faster.
Almost half of all rollover crashes involve driver alcohol impairment.
Nearly three-fourths of fatal rollover crashes happen on rural roads, which often lack dividers or barriers.
Types of Rollover Accidents in McKinney
Rollover accidents are often classified into one of two categories
Tripped or
Untripped
1. Tripped Rollover Accidents
According to the NHTSA, 95% of single-vehicle rollover accidents fall into the tripped category.
A tripped rollover is when the vehicle parts from the roadway, slides, and either hits an object, such as a curb, or digs its tires into the ground—similar to when a human trips over something. The force that occurs can lead the car to roll over.
Types of tripped rollover accidents include:
Guardrail trips
Soft soil trips and
Steep slope trips
2. Untripped Rollover Accidents
Untripped rollover accidents are much less common, but they still happen. Untripped accidents do not involve the vehicle "tripping" over anything. Instead, the vehicle tips on its own, often because it is top-heavy.
Untripped rollovers often happen when the driver is traveling at high speeds and employs avoidance maneuvers.
No matter what type of rollover accident happens, it's one of the worst, most hazardous types of accidents. Unfortunately, fatal injuries are very common in rollover accidents.
Common Injuries from Rollover Accidents
Rollover accidents can include any of the following types of injuries:
Broken bones
Traumatic brain injuries
Paralysis
Loss of limb or amputations
Spinal cord injuries
Serious road rash
Internal injuries
Death
Rollover accident injuries can leave a victim with astronomical medical bills and other damages. However, if you were a victim of this type of accident, you should not have to pay for damages you didn't cause. If you or a loved one were injured in a rollover in McKinney, our rollover accident lawyers can help.
We will begin researching the details of your case, who was at fault, and your total damages. From there, we can fight for your right to fair compensation for your damages. To learn more and schedule a FREE consultation, call us at (469) 998-4069.
What Leads to Rollover Accidents in McKinney
A rollover accident can happen for many different reasons. Here are the most common ones we see in McKinney.
Speeding
As mentioned above, 40% of fatal rollover accidents involve speeding. It's much easier for a driver to lose control of their vehicle when they or another driver involved in the accident are speeding. This is especially true in untripped rollovers.
Drunk Driving
Rollover accidents can sometimes happen because a driver is under the influence of drugs or alcohol. A drunk driver is not able to react in enough time to avoid a collision or rollover.
Distracted Driving
Many rollover accidents seem to result from a driver being distracted while operating their vehicle. This is why many rollovers occur during routine driving maneuvers.
Side-Impact Collisions
Rollovers can also happen when one driver collides into another vehicle at high speeds. This side impact can cause the second vehicle to tip and rollover.
How Fault and Liability Works in McKinney Rollover Accidents
The legal side of rollover accidents can be complicated. Unlike other types of crashes, they often only involve one vehicle. If you were injured in a rollover, you might be inclined to blame yourself—but not so fast. There is often more to the story, and our lawyers can uncover it.
When the Other Driver is at Fault
If you know or suspect that another driver caused your rollover accident, an experienced lawyer can investigate and determine exactly what happened. Even if you are worried that you were partially at fault for what happened, you may still be able to recover for some of your damages.
When There is No Other Driver
If you were the only vehicle involved in your rollover, don't assume that you were definitely to blame. There may be several factors at play. For example, unsafe road conditions can cause your vehicle to roll over. In that case, a government or organization may be ultimately at fault for not keeping the roadway safe.
Manufacturer errors can also lead to single-car rollover accidents. If certain parts of your car may have malfunctioned and caused your crash, they may be liable for your damages. A good lawyer will know to examine the accident from every angle so all fault and liability are considered.
Talk to a McKinney Rollover Accident Lawyer for Free Today
Our Dallas car accident lawyers are here for you and your family after a rollover accident. We have helped many victims like yourself recover what they need and deserve.
We always provide a 100% FREE consultation, and there is no fee unless we win your claim. Call (469) 998-4069 or reach out online to get started with your FREE consultation today.
Frequently Asked Questions