Lewisville Rollover Accident Lawyer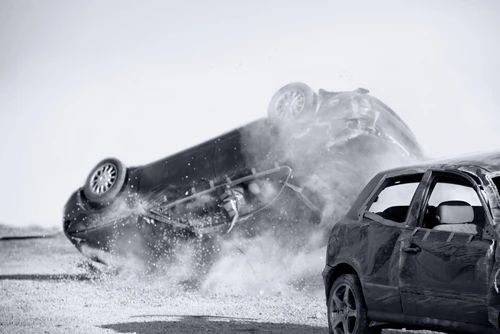 Having your vehicle rollover during an accident in Lewisville can be terrifying, but to mention incredibly dangerous. If you or a loved one was injured in this way, it's in your best interest to speak with a Lewisville rollover accident lawyer. If you were not at fault for the accident, you may be eligible for full compensation for your damages.
As a car accident law firm that helps injury victims throughout the Dallas area, we are committed to helping you get the financial recovery you deserve after a rollover accident. We do not charge a fee unless we win you money, so there is no risk to you.
Our communication with our clients is unmatched, and we are happy to come to you if you don't have reliable transportation. To schedule a FREE consultation and get matched with the best attorney for you, call us at (469) 998-4069 or contact us online today.
Main Types of Rollover Accidents
When an auto accident happens in Lewisville, the at-fault party is legally responsible for the damages. So, it's important to know who was at fault for the rollover accident. If you were not at fault for your accident, you can file a personal injury claim with the at-fault driver's insurance company for compensation for medical costs, lost wages, pain and suffering, and more.
Rollover accidents can involve many different types of vehicles, including cars, trucks, vans, buses, and SUVs. A rollover may involve one vehicle or two or more vehicles. It's best to work with a rollover accident lawyer from the beginning so they can help you investigate the details.
According to the National Highway Traffic Administration (NHTSA)'s SaferCar website, there are two main types of rollovers that can happen:
Tripped rollovers and
Untripped rollovers
Tripped rollovers make up 95% of single-vehicle rollovers. They occur when a vehicle slides sideways and "trips" over a curb, guardrail, soft soil, or some other object, causing the vehicle to roll over.
Untripped rollovers are much less common and only happen about five percent of the time. They typically occur when a top-heavy vehicle rolls over after swerving to avoid a collision at high speeds.
Causes of Rollover Accidents in Lewisville
Although rollovers fall into the two categories mentioned above, there are many different reasons they can happen in the first place. Here are some of the most common causes.
Drunk Driving
Driving while intoxicated opens up the potential for many different types of accidents on Lewisville road. An inebriated driver is not able to operate their vehicle safely and quickly navigate away from hazards. They are also often traveling at high speeds and driving in a reckless manner, which increases the risk of a rollover accident.
If you were injured in this type of accident because of a drunk driver, contact a Lewisville rollover accident lawyer right away. They can help you compile evidence of the other driver being under the influence when they caused your accident.
When alcohol is involved in an accident, there is also the chance of additional compensation through exemplary damages (also known as punitive damages).
Reckless Driving
Reckless driving can include actions like:
Tailgating
Speeding
Distracted driving
Road rage
Drunk driving
Failing to yield and
Running a red light or stop sign
Reckless driving often leads to serious crashes that increase the chance of a rollover.
Speeding
High speed is a common factor in rollover accidents, including both tripped and untripped rollovers. The majority of these accidents happen when the speed limit is 55 miles per hour or above.
Side-Impact Accidents
Rollovers can happen after a side-impact accident, also known as a T-bone collision, occurs between two vehicles. If the vehicles are traveling at high enough speeds, the force of the collision can cause the vehicle that was hit to roll over onto its side or hood. This can easily lead to serious injuries.
Tire Blowouts
Sometimes, rollovers happen because of situations not related to another driver. If you experience a tire blowout that forces your vehicle to roll over, the tire manufacturer could be liable.
Defective Roadways
Single-vehicle rollovers can sometimes happen due to defects in the roadway. If this happens, the owner or manager of the property may be at fault. Your lawyer can help you investigate further.
Defective Vehicle Design or Parts
If a vehicle is poorly designed or contains a defect that makes it unsafe, you may be able to bring a case against the responsible company after a rollover accident. This is, again, something to discuss with your Lewisville rollover accident lawyer.
Common Injuries Resulting from Rollover Accidents in Lewisville
Because rollover accidents are so serious, they often lead to severe or life-threatening injuries. Some of those injuries may include:
Broken bones
Neck and shoulder injuries
Head injuries, such as traumatic brain injuries
Severe burns
Organ damage
And even death
It's very important that you seek medical attention right away after a rollover accident. You should also keep track of all medical records and follow all treatment instructions from the doctor. This will not only ensure you are healing as much as possible, but it will also prevent the at-fault party's insurance company from doubting your medical costs.
You Have Two Years to File Your Claim After a Rollover Accident
Keep in mind that the statute of limitations for a car accident claim in Texas is two years. That means you have two years from the date of your accident to file a case for compensation. You will also need time to investigate the accident, gather evidence, and building a strong claim before that.
To make sure you are on track and don't miss your chance at compensation, talk to a rollover accident lawyer as soon as you can. They can begin helping you with your case right away and fight for your right to the fullest compensation possible—before it's too late.
Speak with a Lewisville Rollover Accident Lawyer for Free (and at No Risk) Today
Our Dallas car accident law firm, we help injury victims in Lewisville seek the compensation they deserve—and we structure our services so there is no risk to you. We do not collect a fee unless we win you a settlement or a verdict. Plus, the initial consultation is always FREE.
To learn more and discuss the details of your case with the best attorney for you during a FREE consultation, call us at (469) 998-4069 or contact us online today.
Frequently Asked Questions