Lewisville Truck Accident Lawyer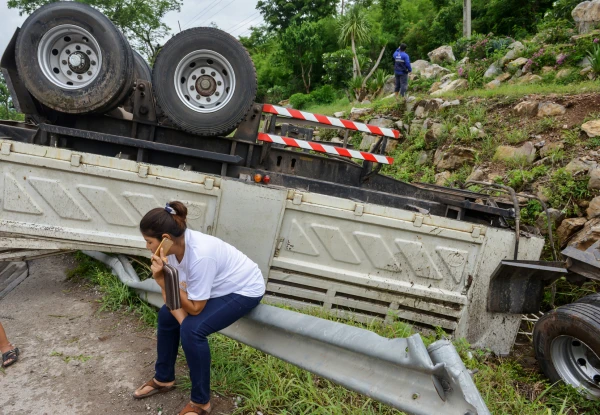 Most people need a lot of help after a truck accident. You might need medical care from emergency services. You could require a rental car while your vehicle is being repaired. You should also contact a Lewisville truck accident lawyer as soon as possible.
Truck drivers and trucking companies are protected by high-powered insurance agents. You risk being denied the compensation you need if you try to take on these companies on your own. Our legal team has the resources and experience to stand up for you.
We'll dig into the circumstances surrounding your accident and we won't let insurance agents push us around. Let us provide you with aggressive representation so you can get the compensation you need.
The Risk of a Truck Accident is High in Lewisville
Lewisville is an important hub in Texas. Our town has two major highways and a tremendous number of trucking companies that travel our roads. These trucks cause accidents that result in injuries, damage to other vehicles, and even wrongful death. More than 400 truck accidents led to deaths just in 2017 in Texas.
Truck accidents also occur in rural areas, meaning that drivers must be careful no matter where they are operating their motor vehicle.
You Deserve Compensation after a Truck Accident
Truck accidents have a well-earned reputation for seriously injuring victims. Our legal team has taken on clients suffering from:
Cuts, Scrapes, and Burn
Broken and Fractured Bones
Injuries to Organs
Spinal Cord Injuries
Traumatic Brain Injuries (TBIs)
Any of these injuries can leave you with tremendous bills from your immediate medical care and any additional treatment you require. You might always lose money because you are unable to work in the aftermath of an accident. Additionally, you may be entitled to compensation for your pain and suffering after a truck accident.
Our law firm believes in fighting for the possible compensation for our clients. You don't deserve to be saddled with high bills for an accident you didn't cause. Let us start digging into your case today so you can get the compensation you need to get out of debt and pay for your medical care.
We'll Fight to Establish Liability
Winning a truck accident case in Lewisville means proving that the other driver carried most of the responsibility for the wreck. In many cases, truck drivers are solely responsible for causing accidents, often because they are:
Driving While Tired
Driving Under the Influence
Disobeying a Traffic Law
Trucking companies may also be blamed for truck accidents if they:
Perform Improper Maintenance
Hire Inexperienced Drivers
Assign Unsafe or Overweight Loads
Proving that truck drivers or trucking companies performed these acts can be incredibly difficult, as insurance companies will do anything in their power to put the blame on you. You don't have to deal with the predatory actions of insurance companies on your own. Contact us today and we'll go to work investigating your case.
We have connections with professional investigators that we'll bring to bear for you. We know what questions to ask witnesses to ensure the truth about your accident comes out. If necessary, we can even recreate your accident to strengthen your case.
We have the resources to counter any wild accusations made by insurance agents and trucking companies.
Get Legal Help on Your Side Before it's too Late
You should be aware that you only have a limited amount of time to file a truck accident suit in Lewisville. Texas only gives you two years to seek damages against the truck driver or trucking company. Once this period of time passes, you will not be able to get restitution for your injuries.
Insurance companies sometimes try to stall as a way to protect their clients. We understand the underhanded tactics insurance agents can bring to bear and we'll protect you from them throughout your case.
Our Team of Lewisville Truck Accidents Lawyers Can Help
You deserve legal representation from a skilled group of Lewisville truck accident lawyers. We've worked hard to develop an expert understanding of the laws surrounding truck accident cases. Our reputation was built on winning cases for individuals in your situation. Learn more about what we can do to get you the compensation you need by filling out our online contact form or calling (469) 998-4069.
Start getting the help you deserve today with a FREE consultation.
Frequently Asked Questions