Lewisville Ridesharing Accident Lawyer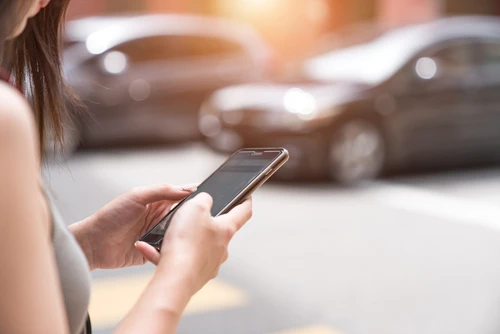 Ridesharing services have become more common than ever in Lewisville in recent years. While ridesharing is helping many people spend less on gas and support gig workers, there's always the potential for accidents to happen. If you or someone you love was injured in an accident with a rideshare driver, our Lewisville ridesharing accident lawyers are here to help.
We are a Dallas car accident law firm that is dedicated to serving those who were injured in a Lyft, Uber, or some other ridesharing accident in Lewisville. We'll handle the legal side of things so you can focus on healing and being with loved ones.
Our attorneys do not charge a fee unless we win you money, so there is no risk to you. We'll also start with a FREE consultation to get to know each other and discuss how we can help your case. To get your FREE consultation today, call (469) 998-4069 or contact us online.
Why Injury Claims Against Ridesharing Companies Can Be Difficult
There are certain factors that make a claim against a ridesharing company more difficult than other accident cases. For one, large ridesharing companies often have more resources to fight claims after an injury accident. They will have their own team of attorneys and significant insurance policies that they want to protect.
Some contracts that ridesharing companies have with their drivers can make it difficult for you to recover the compensation you deserve. Plus, the source of compensation may vary based on how the accident occurred and how you were involved. Thankfully, a ridesharing accident lawyer can help you sort through the confusion and know your legal options.
Filing a Claim Against the Driver Versus the Company
If the ridesharing accident happened when the driver was at fault and using their vehicle for personal reasons, their own auto insurance company will be responsible for covering the damages. On the other hand, if the driver was using the app to accept passengers but had not yet accepted a ride request, you may be able to file a claim with both the driver's and ridesharing company's insurance companies.
If the driver is "on the clock" with a passenger in the car or on the way to pick up a passenger, the ridesharing company's insurance policy will typically apply. The company's policy limits will probably be very high, but that means they will be fighting all-the-harder to protect their money.
There are also situations where the company can be found fully at fault for the accident, such as if:
They did not conduct a thorough background check on the at-fault driver or
A company policy that allows behavior that can lead to an accident
Your lawyer can look into the details of the accident and the insurance policies that apply. From there, they can fight for your legal rights and help you pursue the fullest compensation possible.
Proving Fault and Negligence in a Ridesharing Accident Case
In Lewisville and the rest of Texas, the driver that causes an accident (and their insurance company) is responsible for the costs of that accident. As the victim of that accident, you will need to show that:
The driver was negligent
Their negligence directly led to your accident and
You suffered damages as a result of the accident
Ridesharing accidents can occur for any number of reasons. The driver might have failed to obey certain signs or signals, failed to yield the right-of-way, been driving while distracted (such as using their app), or even driving under the influence.
Working with a Lewisville ridesharing accident lawyer puts you at an advantage because your lawyer will know how to investigate the details. They can help you gather evidence like:
Pictures from the accident scene
Witness statements
Copies of medical records
A copy of the police report
Traffic surveillance footage and
Cell phone or other data from the driver's phone
Fault is the key factor in any car accident case because it determines how damages are compensated. If the ridesharing driver was fully at fault for the accident, they will be liable for all of your resulting damages. If you hold a percentage of fault, your compensation would be reduced based on that percentage of fault. In some cases, another party might be partially or fully at fault for the crash.
To make sure you are pursuing the full compensation possible and not getting blamed for certain details of the accident, contact a Lewisville ridesharing accident lawyer today. They can help protect your rights from the very beginning.
What to Do After a Ridesharing Accident in Lewisville
After an accident involving a ridesharing driver, there are certain things you can do to help build your case. Our car accident lawyers recommend the following actions if you are able to perform them.
Pull Over and Call the Police
If you are a driver involved in an accident, you should immediately stop at the scene and render aid to those involved in the accident (Texas Transportation Code section 550.021). It's also important that you remain at the scene until the police have been notified.
If an accident involves injuries, deaths, or significant property damage, the police should be called. Officers should respond to the scene and file a report on the accident. This is important because it creates an official record of the accident to support your claim.
Get Medical Treatment
Don't neglect your well-being after a ridesharing accident. If you have serious or life-threatening injuries, get emergency medical attention at the scene. Otherwise, make sure you see a doctor as soon as possible after leaving the scene.
The at-fault driver's or ridesharing company's insurance company will look for ways to reduce the value of your claim. If you wait too long to get medical treatment, they can use that against you. So, you'll want to protect your rights by getting prompt treatment and following all instructions from your doctor.
Talk to an Experienced Ridesharing Accident Lawyer
You should also reach out to a trusted attorney as soon as you can after your accident. At the very least, it's a good idea to schedule a consultation so you can know your legal options. Your lawyer can help you begin building a strong claim and protecting your rights.
Get a Free, No-Risk Consultation with a Lewisville Ridesharing Accident Lawyer Today
Our Dallas car accident lawyers are happy to help you after a ridesharing accident in Lewisville. We know how stressful and overwhelming the legal side of an accident can be, and that's why we're here to handle it for you.
We always start with a FREE initial consultation to get to know you and your needs. Then, if you decide to work with us, we do not charge you unless we win your case. There's no risk to you and no pressure from us—we're just here to help you with your claim.
Call us at (469) 998-4069 or contact us online to get started with your FREE consultation today.
Frequently Asked Questions