Lewisville Dangerous Intersections Lawyer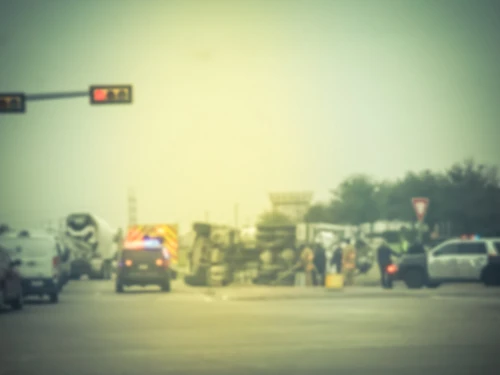 There are many ways that citizens of Lewisville and others in the Dallas-Fort Worth area get from one destination to another. Whether you often take the expressway, public transportation, your own vehicle, or a ridesharing service like Uber, you may regularly come across some of the most dangerous intersections in the U.S.
If you were hurt in a crash that happened at an intersection, our Lewisville dangerous intersections lawyers at our firm can help. We are skilled at determining the cause of the accident, your damages, and the best ways to pursue the full compensation you deserve. We also do not charge a fee unless we win you money.
Give us a call at (469) 998-4069 or contact us online to get started with a FREE, no-obligation consultation today. We'll listen to the details of your accident, answer any questions you have, and talk about how we can help your case. Call now to schedule your FREE consultation.
Dangerous Intersections in the Dallas-Fort Worth Area
According to recent crash statistics reports from the Texas Department of Transportation (TxDOT), some of the most dangerous intersections around Lewisville and the DFW area include:
Lyndon B. Johnson Freeway and Skillman Street
Northwest Highway and Walton Walker Boulevard
Belt Line Road and Dallas Parkway
Buckner Boulevard and Military Parkway
Central Texas Expressway and Lyndon B. Johnson Freeway
Buckner Boulevard and John West Road
Northwest Highway and Stemmons Fairway
Commerce Street and Lamar Street
Buckner Boulevard and Samuel Boulevard
Lyndon B. Johnson Freeway and Webb Chapel Road
If you were injured by another driver at one of these intersections or some other intersection in the Lewisville area, you should not have to pay for the costs. You may be entitled to full compensation for your medical bills, lost wages, car damage, emotional suffering, and more.
How Dangerous Intersections Lead to Accidents
A common cause of accidents at intersections is a driver's failure to yield the right of way. They might run a red light, run a stop sign, or not yield to another vehicle. This can easily lead to a serious crash with severe injuries and other damages.
Distracted driving is another common reason for dangerous intersection accidents. If a driver is using their phone, talking to a passenger, eating while driving, or doing anything else that takes their attention away from the road, they might make a mistake when they come to an intersection and cause an accident.
Other causes of dangerous intersection accidents can include:
Reckless driving
Driving under the influence of drugs or alcohol
Failure to yield before turning left or
Making an improper turn
Sometimes, an intersection accident is at least partially caused by specific conditions at the intersection itself. An accident might occur due to lack of visibility, poor design, high traffic situations, dangerous on- or off-ramps, or poor signage.
When you work with a Lewisville dangerous intersections lawyer, they can look at the details of your accident to determine why it happened and who was at fault. This will give you insight into who is responsible for your accident damages. Your lawyer can then help you file a claim to pursue compensation for the losses you suffered.
What to Do After an Accident at a Dangerous Intersection in Lewisville
After any type of auto accident, there are things you can do to begin building your case—even in the moments right after the accident. The more information you're able to gather right after the crash, the better it can be for your injury claim.
If you're able to, here are some actions you can take after a dangerous intersection accident.
Get Medical Attention
If your injuries are serious, call (or have someone call) for emergency medical treatment right away. Your well-being is the number one priority after a dangerous accident, and you don't want any injuries to worsen.
If you are well enough to remain at the scene to gather information, be sure to see a doctor as soon as possible afterward. Even if you feel okay, have a medical professional assess your condition to be sure. If you wait too long to get treatment, it can really hurt your case.
Gather Information at the Scene
If you can, take pictures of your injuries, your vehicle damage, and the entire accident scene. This will preserve the accident scene so that your lawyer and the insurance company can see what it looked like.
Also, exchange names, contact information, and insurance information with the other driver in the accident. If there were any eyewitnesses to the crash, ask for their contact information so your lawyer can reach out to them for statements later.
It's also very important that you or someone else involved in the accident call the police after the accident. Officers will respond and create an accident report, which is important for your case.
Talk to a Dangerous Intersections Lawyer
The at-fault driver's insurance company might try to reach out to you soon after the accident. It's best to avoid any contact with them until you have an experienced car accident lawyer on your side.
Insurance companies will look for any opportunity to reduce what they have to pay on your claim, but a lawyer will know how to handle them and protect your rights. Just make sure you work with a car accident lawyer who has experience with dangerous intersection cases. To speak with one of our skilled attorneys during a FREE consultation, call (469) 998-4069 now.
Don't Miss Your Window to File for Compensation
The statute of limitations for personal injury cases in Texas is two years from the date of the accident. Don't let that time tick by without taking action. The sooner you can get started on your case, the better. Reach out to an experienced and trusted lawyer today.
Get Help from a Lewisville Dangerous Intersections Lawyer Today—Starting with a Free Consultation
If you were hurt in an accident at a dangerous intersection in the Lewisville area, our firm are here to help. Our Dallas car accident law firm helps injury victims throughout the area seek the recovery they need and deserve.
We do not collect a fee unless we win for you, and our communication with clients is unmatched. Contact us today and we'll get to know you, your case, and your needs better during a FREE consultation. Call us at (469) 998-4069 or contact us online to get started for FREE today.
Frequently Asked Questions