Carrollton Dangerous Intersections Lawyer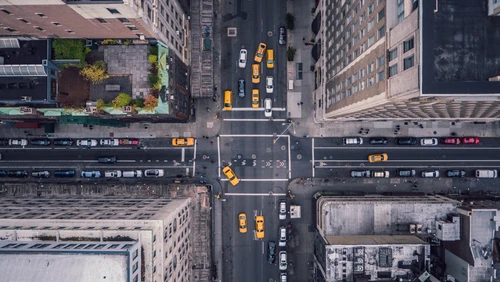 All sorts of accidents can take place at intersections in Carrollton. That's why drivers should be careful and attentive when stopping at and passing through dangerous intersections in the area. Unfortunately, not all drivers take this to heart, which is what leads to serious accidents. If you were injured in this way, a Carrollton dangerous intersections lawyer can help.
Our Dallas car accident lawyers know what it takes to fight for your rights—and your financial recovery. You should not have to pay for someone else's negligence that caused your accident. We can help you build a case and file a claim for your total damages.
Contact us today and we'll get started with a FREE consultation. If you decide to work with us, there is no fee unless we win you money. Call (469) 998-4069 or contact us online to get started with your FREE consultation and get matched with the best attorney for your case needs.
What Makes an Intersection Dangerous in Carrollton
Intersections already come with some increased risk since they involve multiple vehicles stopping and accelerating at the same time. If one drive is not attentive enough to the space in front of, behind, or to the sides of their vehicle, an accident can happen at any time.
Common reasons for intersection accidents in Carrollton include:
Distractive or inattentive drivers
Impaired drivers
Road rage
Missing or hard-to-see signs
Poorly-maintained traffic signs or signals
Vegetation like bushes or trees blocking drivers' views
Unexpected lane detours
Uneven road pavement and
Accumulated water, snow, or ice
No matter the reason, if you were in a car accident at an intersection that was not your fault, you may be entitled to compensation. You'll want to contact a Carrollton dangerous intersections lawyer as soon as you can to know your legal options.
Dangerous Intersections in the Dallas Area
There are many dangerous intersections in the Carrollton and Dallas-Fort Worth area. Drivers should be aware of problematic areas so they can be especially careful when coming upon them. It also helps to know alternative routes to avoid dangerous intersections, especially during high-traffic times.
Some of the riskiest, most dangerous intersections in the area include:
TX-121 and Preston Road
Park Lane and Preston Road
Hebron Parkway and Old Denton Road
North Dallas Tollway & Parker Road
MacArthur Boulevard & Sandy Lake Road
Irving Boulevard & Loop 12
Spring Creek Parkway & Coit Road and
Plano Parkway & North Dallas Tollway
The above are just a few examples of intersections that have been deemed dangerous in the area. It's a good idea to become familiar with the most hazardous intersections in your area so you can be on high alert when you need to use them.
Knowing that an intersection is dangerous can also help you with your case. If traffic cameras have been installed near the intersection, you may be able to use the pictures or footage to support your claim. A lawyer can help you in obtaining that information.
Why Accidents Happen at Intersections in Carrollton
According to the Federal Highway Administration, around a fourth of traffic deaths and half of the traffic injuries in the United States are linked to intersections. They are a common cause of concern for this reason.
Besides being dangerous, intersections can easily become congested during busy traffic times, resulting in frustration between drivers that may also increase the risk of accidents.
The main cause of dangerous intersection accidents in Carrollton is drivers who have been negligent or exhibited reckless behavior. Examples include:
Speeding
Driving while distracted or impaired
Driving while fatigued
Road rage
Running red lights or stop signs
Not yielding properly and
Failing to follow traffic signs or signals
Although most accidents at intersections result from driver error, there are situations where a driver is not at fault. Some crashes happen because of vehicle parts malfunctioning, poor intersection or road design, or other negligence on the part of a company or government entity.
Types of Accidents at Dangerous Intersections
An accident can occur at an intersection. If one or more party is negligent, it can result in accidents like:
Rear-end accidents
Side-impact collisions (also known as t-bone accidents)
Head-on collisions
Rollovers and
Pedestrian accidents
When you contact a Carrollton dangerous intersections lawyer after your accident, they will determine what caused the accident and what legal action you will need to take. To get matched with the best car accident lawyer for your situation and get a FREE consultation, call us today at (469) 998-4069 or contact us online.
What to Do After a Dangerous Intersection Accident in Carrollton
After an accident at an intersection, if you are well enough to gather information, it can really help your case. Here are some actions we highly advise you to take.
Call the Police
If there were any injuries (or death) in the accident, you will need to call the police to report the accident. When officers arrive at the scene, tell them what happened so they can create an accident report. This will be important for your case.
Take Pictures
If you can, use your phone or a camera to take pictures of the accident scene, your injuries, your vehicle damage, and anything else that helps show what occurred.
Pictures can be so powerful in a dangerous intersection case because they fully preserve the scene. Since intersections are vital for the flow of traffic, an accident scene at an intersection will be cleaned up as quickly as possible. However, if you have pictures, it will show what everything looked like right afterward.
See a Doctor
Be sure to get your injuries checked out right away. You might get emergency medical attention at the scene if you need it. Otherwise, see a doctor as soon as you can after leaving the scene. If you wait too long, it can really hurt your case and possibly lead to worsening or life-threatening injuries.
Talk to a Dangerous Intersections Lawyer
An experienced lawyer will help you with all of the above and more. They can assist you with gathering evidence from the accident, calculating your total damages, and making sure you are fighting for the full compensation you deserve.
Speak with a Carrollton Dangerous Intersections Lawyer for Free Today
If you or a loved one were hurt in an accident at an intersection in the Carrollton area, our Dallas car accident lawyers can help. We offer the experience you can trust with no risk to you—we do not charge a fee unless we win you a financial recovery. To schedule a FREE consultation and get matched with the best attorney for your needs, call us today at (469) 998-4069 or reach out online.
Frequently Asked Questions