Carrollton Bus Accident Lawyer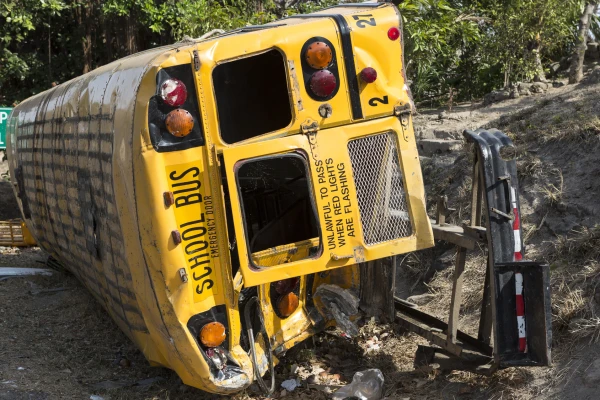 We all see buses every day on the roads. School buses, transit buses, and more drive through Carrollton every day in increasing numbers. Most of the time we don't think about these large vehicles unless they are involved in an accident.
Bus accidents can be incredibly dangerous to other drivers or to passengers in the bus. Over 97,000 injury crashes involved buses or large trucks in 2015 alone, according to the Federal Motor Carrier Safety Administration. If you were involved in one of these accidents, you need legal help right away.
A Carrollton bus accident lawyer can provide you with the assistance you need. You will likely have to face predatory insurance companies and you could end up pleading your case in court. Make sure you have professional help on your side before it's too late.
How to Handle a Bus Accident in Carrollton
Bus accidents can be frightening events. Buses are much larger than most motor vehicles and they can do tremendous amounts of damage during an accident. Bus accidents also frequently lead to serious injuries. If you or a loved one is harmed during a bus accident, you should:
Call Emergency Services
You should get immediate medical care if you've been injured in a bus accident. It's important that all of your injuries are treated and officially recorded. Calling emergency services also ensures that there will be a police record of the accident, which can be useful later on.
Record the Scene
Our memories can be unreliable, especially after a traumatic event. It's a good idea to take pictures or video of the scene after an accident so you can prove what happened. You can also take down the contact information of any witnesses and the bus driver.
Get Professional Help
Busing companies generally work with insurance agents to protect their interests. These agents can try to push you into accepting an unfair settlement immediately after a bus accident. You can get help dealing with insurance agents by contacting a bus accident lawyer right away.
Bus accident lawyers can stand up for you while you recover. Make sure that you're not taken advantage of by getting professional help on your side right away.
How a Bus Accident Lawyer Can Help You
Dealing with the aftermath of a bus accident can be stressful. You need to recover and you also likely need compensation to pay for your medical bills and any damage to your vehicle. Fighting to get the payment you deserve from a busing company can be difficult. That's where a bus accident lawyer comes in.
An experienced bus accident lawyer will start working on your case right away. The goal will be to:
Reach a Settlement, OR
Win Your Case
Some insurance companies will negotiate with a bus accident lawyer and pay you the compensation you need outside of court. Other times, you will have to go before a judge to get the payments you deserve. Your bus accident lawyer can improve your odds of winning by:
Hiring Investigators
Questioning Witnesses
Reconstructing the Accident
A bus accident lawyer can even bring in expert witnesses to testify on your behalf at your trial. All of this work with make it easier for your lawyer to prove that the bus driver caused the accident and your injuries.
Find the Bus Accident Lawyer That's Right for You
Many law firms will offer to take on your bus accident case, but you deserve high-quality legal advice from a lawyer with a history of winning cases. You can focus on getting the help you need by looking for a law firm that has experience dealing with bus accidents.
You also need to work with a lawyer you can trust. Many times, you will need to talk about personal information with your lawyer, so make sure you pick a law firm you feel comfortable with.
Finally, many law firms use shady pricing strategies. They may expect payment for legal fees immediately. You can protect yourself from these practices by picking a law firm that has a "no win, no fee" policy.
Let a Bus Accident Lawyer in Carrollton Help You
A skilled bus accident lawyer in Carrollton can strengthen your case and improve your odds of getting the compensation you need. You don't have to stand up to high-powered insurance companies on your own or face the coming legal challenges without help.
We offer experienced legal advice and care to our clients. Let us work on your case so you can focus on recovering from your injuries. You can find out what we can do for you today by contacting us for a FREE consultation about your situation.
Take charge of your future by filling out our online contact form or calling (469) 998-4069.
Frequently Asked Questions