Carrollton Concrete Truck Accident Lawyer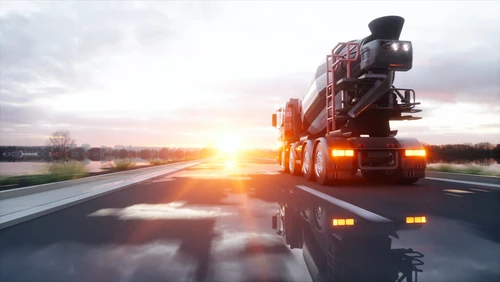 Concrete trucks are very large vehicles that travel the roads through Carrollton, TX. These trucks are often on their way to construction sites. They generally have a full load of concrete that they must deliver quickly, before it hardens. Unfortunately, sometimes they end up in an accident.
You could experience serious injuries if you are struck by a concrete truck in Carrollton. These trucks may even cause accidents when they reach their destination, if they strike a construction worker. Start building a claim if you were hurt by contacting a Carrollton concrete truck accident lawyer. Work to get compensation now by calling (469) 998-4069.
Understand the Risks of Concrete Truck Accidents
Concrete truck drivers face a challenge each time they get behind the wheel. Operating a large truck is always difficult in Carrollton. Concrete trucks may end up in accidents because:
Their heavy weight requires a longer stopping distance.
They are more difficult to handle due to their size.
They may become unbalanced due to the movement of the concrete drum.
The concrete within the drum of the truck shifts constantly. This keeps the concrete from hardening, but it may also unbalance the vehicle. This could cause the truck to roll over, resulting in a serious accident. Truck drivers may also have a hard time seeing behind the truck, which could lead to accidents as they back up.
Many concrete truck accidents involve impacts with other vehicles. However, according to the Occupational Safety and Health Administration (OSHA), some concrete accidents occur when these vehicles strike pedestrians or workers. Get legal help after any accident caused by a concrete truck in Carrollton.
Your Options After a Carrollton Concrete Truck Accident
Many drivers aren't sure what to do after they're involved in a concrete truck accident in Carrollton. You may want to follow these steps after your collision to begin working on your claim. Make sure that you:
Take pictures of the scene of the accident and your injuries.
Speak to any witnesses and get their contact information.
Get information from the concrete truck driver.
Report the accident to the Carrollton police department.
Get medical treatment for your injuries.
Contact a Carrollton truck accident lawyer.
We understand that you may not be able to complete all of these steps, especially if you experienced a serious injury. However, taking these steps may help you get compensation for your losses. Find out more about how you can build a strong claim by calling (469) 998-4069 right now.
Investigating a Concrete Truck Accident in Carrollton
You may need to file a claim with the truck driver's insurance company to get compensation after a collision. However, before filing a claim your lawyer may want to investigate the accident. Your lawyer can dig into the facts of the collision to gather evidence to show that:
Someone else caused the accident.
The accident caused your injuries.
Your concrete truck accident lawyer will investigate your case thoroughly. A lawyer may speak with witnesses who saw the collision and review your police record. Your lawyer may also work with accident reconstruction specialists here in Carrollton.
Concrete truck accidents may occur because the driver did not obey the rules of the road. Drivers may be in a hurry to reach their destination, resulting in a collision. The trucking company may also cause an accident by neglecting truck maintenance.
Settling a Concrete Truck Accident Claim in Carrollton
Many drivers choose to settle a concrete truck accident claim here in Carrollton. Settling a claim allows you to avoid a lengthy and costly court battle. Insurance agents may settle with you and provide you with compensation for your medical expenses and other losses.
However, insurance companies may try to get you to agree to a settlement that doesn't cover all your losses. For this reason, it's important that you allow a lawyer to go over any offers made by insurance representatives. In some cases, your lawyer may advise you to file a lawsuit. Going to court may allow you to get compensation after some concrete truck accidents in Carrollton.
Reach Out to a Carrollton Concrete Truck Accident Lawyer Now
Start working on your legal claim if you were struck by a concrete truck driver in Carrollton. You can reach out to our law firm by calling (469) 998-4069. Discuss all of your legal options with a concrete truck accident lawyer in Carrollton. You can even reach us by completing our online contact form. We'll review the specifics of your case as soon as possible.
We provide clients in your situation with a free legal consultation. Contact us now to learn more.
Frequently Asked Questions