Carrollton Head-On Collisions Lawyer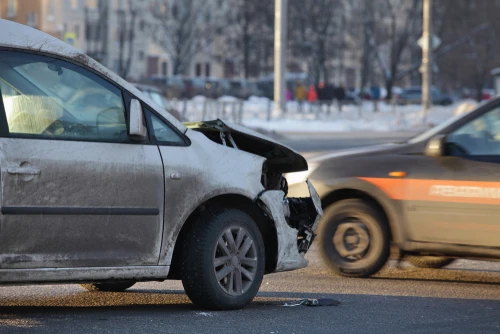 Although head-on collisions don't happen as frequently as other types of car accidents in Carrollton, they are often very serious when they do occur. Head-on collisions involve two vehicles colliding while facing each other, and their consequences are life-altering. If you were hurt or lost a loved one in this type of accident, our Carrollton head-on collisions lawyers are here to assist you.
You should not have to pay for an accident caused by someone else. Texas law is on your side, and you may be entitled to full compensation. Our Dallas car accident law firm is dedicated to helping injury victims win what they deserve by handling the legal side of things.
We do not charge you unless we win you a settlement or award, and the consultation is always FREE. Contact us today to discuss the details of your case and how we can help you. Call (469) 998-4069 or contact us online to get your FREE consultation.
Common Causes of Head-On Collisions
Any type of carelessness or negligence on the roads can potentially lead to a head-on collision, but some of the most common causes include:
Driving under the influence (DUI) of alcohol or drugs
Fatigued driving or drowsy driving
Speeding
Distracted driving
Vehicle issues or poor maintenance
Inclement weather conditions
Unsafe road conditions
Roads without medians or clear center lines
Many drivers in Texas are not used to driving on snowy or icy roads. If winter brings particularly severe weather, more head-on collisions can happen as drivers skid or slide into oncoming traffic. In addition, two-way roads that are not clearly marked may lead a driver to cross over the center thinking the road is one-way.
Many head-on collisions happen because the at-fault driver is being very careless or reckless, such as in DUI, distracted driving, and road rage cases.
No matter how your head-on collision happened, if it was caused by someone else's negligence, you may be entitled to compensation. It's best to speak with a Carrollton head-on collisions lawyer as soon as possible to know your legal options.
Determining Liability in a Head-On Collision in Carrollton
One of the most common violations in a head-on collision is a failure to maintain a single lane (which is a violation of Texas Transportation Code section 545.060). However, as you can see above, there are many reasons a driver may cause a head-on collision.
When looking at a personal injury claim, what matters is who was negligent in the accident. In other words, whose actions (or lack of actions) directly resulted in the accident that led to your injuries and other damages. That person or party is legally liable for the costs of the accident.
When you contact a head-on collisions lawyer in Carrollton after your accident, they will begin investigating the crash. This will determine who is responsible for your damages so you can know where to file your injury claim for compensation.
At-Fault Parties in a Head-On Collision
The liable party in this type of accident is typically another driver, but there are exceptions. Sometimes, certain road conditions or vehicle issues may ultimately cause the accident. In these cases, your lawyer will determine where you need to turn for compensation.
Depending on the circumstances of your crash, responsible parties for a head-on collision could be any of the following:
Another driver
A manufacturing or maintenance company
A trucking company
A government entity
Sometimes, more than one party is at fault for a collision. If this is the case in your accident, you may be able to seek compensation from more than one place. If you are worried that you hold some fault in the accident, speak to a lawyer. You can typically still recover damages if you are less than 50% at fault.
Injuries That Result from Head-On Collisions
Head-on accidents are some of the most serious collisions that occur in Carrollton. Since they happen when two vehicles are traveling towards each other, the impact results from the combination of both vehicles' speeds. This can make head-on collisions deadly.
Common injuries from head-on collision include:
Traumatic brain injuries
Broken bones and fractures
Organ damage
Spinal cord injuries
Head, neck, and shoulder injuries
Loss of limb
Severe burns
Lacerations
And even death
Your lawyer will take into account all of the treatment needs for your injuries—including past, current, and future costs.
Serious accidents often leave victims with months or even years of medical needs. Some are left with disabilities or injuries that impact them for life. This will all need to be accounted for when you seek compensation in your injury claim.
What to Do If a Loved One Died in a Head-On Collision in Carrollton
If someone you love was killed in a head-on collision in Carrollton, you may be able to file a wrongful death claim on their behalf. While money can never undo what happened, we find it does help victims' families cover the costs from the accident and begin to heal in a small way.
In a wrongful death claim, you can seek damages like:
Medical bills from the loved one's last injuries
Lost income
Pain and suffering the loved one experienced before their passing
Loss of consortium or loss of companionship
A head-on collisions lawyer can also help you and your family with a wrongful death case. Our Dallas car accident lawyers are dedicated to helping families get what they need after a life has been lost. We will listen with compassion and do everything we can to help with your claim.
Get a Free Consultation with a Carrollton Head-On Collisions Lawyer Today
In Texas, you typically have two years from the date of the accident to file a personal injury claim or wrongful death claim. Don't wait to get started. This time goes quickly, and you will need sufficient time to build your case.
Call us today to speak with the best lawyer for your case and get a FREE consultation. Our Dallas car accident lawyers are dedicated to getting you the recovery you need and deserve. Call (469) 998-4069 or contact us online to get started for FREE today.
Frequently Asked Questions