Is a Weather-Related Accident an at-Fault Accident?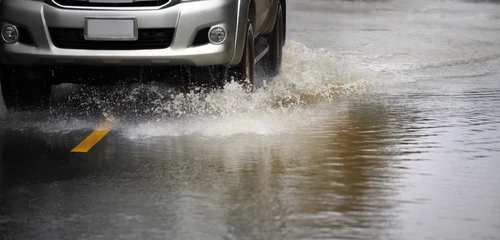 Inclement weather such as rain, flash floods, hurricanes, and even the occasional snowstorm can afflict Texas roadways. When this happens, accidents can increase in frequency. But one important question is how fault is apportioned when an accident is caused by harsh weather. In fact, weather-related car accidents are still at-fault accidents, meaning that the weather itself is not an excuse that will get drivers out of responsibility for the wreck. This is because drivers in Texas are expected to "adjust their speed accordingly" and drive safely for the conditions, according to the Texas Department of Transportation.
As with any other car accident or personal injury claim, fault in a weather-related car accident is determined the same way: through the collection and preservation of evidence. If you are injured in a car crash that involved inclement weather, your best option is to get in touch with skilled car accident lawyers who have experience with these matters, like the ones we have at our firm.
Our attorneys will be with you every step of the way, collecting evidence, building a case, negotiating with opposing attorneys during the pre-trial phase, conducting an investigation, cataloging your damages, and litigating the case if a trial is necessary.
How Fault Is Determined in Weather-Related Car Accidents
A driver can be responsible for a weather-related car accident in the same ways that they can be responsible for any car crash. However, the weather conditions make collisions more likely, as many drivers do not adjust their driving to the weather. Some common examples of actions that can be seen as negligence in these cases include the following.
Driving too fast and hydroplaning
Driving too closely behind other vehicles
Failing to use windshield wipers
Failing to use lights during fog
Failing to signal lane changes
In short, the same risky driving behaviors outlined by the National Highway Traffic Safety Administration are applicable in weather-related car accidents. They are simply exacerbated when harsh weather is involved, increasing the risk of more severe wrecks and injuries.
Evidence Used in Car Accident Claims
At our firm, our knowledgeable car accident attorneys can help you get the compensation you need by collecting and preserving evidence of the other driver's fault in your car accident. This can include using the police officer's crash report if they were called to the scene of your wreck, the testimony of eyewitnesses, testimony from experts like accident reconstructionists, photographs of the scene and damages, and even the opposing driver's cellphone record if you suspect that they were texting or on their phone at the time of the crash.
Why Fault Is Crucial to My Car Accident Claim
The issue of fault is at the heart of all personal injury claims. The determination of the person responsible for an injury also determines whether or not the injured person can pursue compensation and how much compensation they can pursue. Texas uses a system of proportionate responsibility that allows you to recover compensation from the other party as long as you are no more than 50% responsible for your accident. Any amount of blame you do possess is used to reduce your compensation by an equal amount.
For example, let's say you suffer $1 million in damages and the court finds you to be 25% responsible for the accident. In that case, your compensation would be reduced by 25% as well, for a maximum total of $750,000. While that is a lot of money for most of us, it represents a reduction of $250,000 in the amount you could have received! This is why it is so important to have skilled attorneys on your side who can show that the other driver was responsible for the wreck, lowering your percentage of the blame and maximizing your compensation package.
The Value of My Weather-Related Car Accident Claim
Fault can reduce the value of your claim, which is determined by compiling all the negative ways that your injury affects your life. The most obvious forms of damage are usually those that directly affect your finances, such as your medical expenses, lost wages, lost earning capacity for the future, and car repairs. Otherwise known as economic damages.
Your non-economic damages may be more difficult to understand. Issues like your pain and suffering, mental anguish, loss of enjoyment in life, loss of companionship with a spouse, and similar impacts are also eligible for compensation. There is no limit to the amount you can recover for these damages, though it is often necessary to bring expert witnesses into the case so that they can testify to accurate values for non-economic harms.
Speak to an Attorney Today
If you are injured in a weather-related car accident, it is crucial for you to get help from skilled attorneys. At our firm, we provide all clients with a FREE consultation so that we can learn more about each case and you can learn more about how we can help. Plus, our firm works on a contingency fee basis, meaning that you do not pay us unless and until we get you the compensation you deserve.
Schedule your consultation today by filling out the form on our contact page or by calling our offices at 469-998-4069.
Frequently Asked Questions