Lewisville Head-On Collisions Lawyer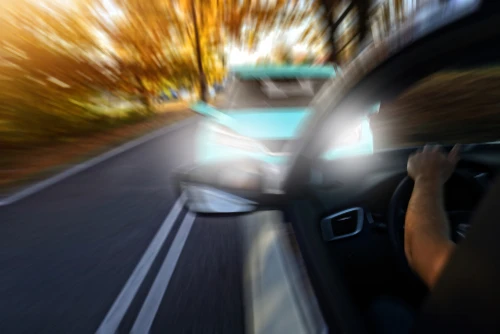 Head-on collisions can lead to incredibly serious and even fatal injuries. Even if you are following all traffic laws and taking every precaution on Lewisville roads, this type of accident can still happen if another driver is negligent. That's why our Lewisville head-on collisions lawyers are dedicated to fighting for the rights of accident victims like you.
If you were injured or a loved one was killed in a head-on collision, our Dallas car accident lawyers are here to help you. We believe everyone deserves fair legal representation after being injured by another driver's careless actions. We'll investigate the details of your case and help you build a strong claim for compensation.
We only charge a fee if we win you money, so there are no upfront or out-of-pocket costs you need to worry about. To get a FREE consultation and get matched with the best attorney for your needs, call us today at (469) 998-4069 or contact us online.
Negligence in Head-On Collisions in Lewisville
Head-on collisions can happen between any two vehicles on Lewisville roads. They can involve any of the following types of accidents:
Car accidents
Truck accidents
Motorcycle accidents
Bus accidents
Ridesharing accidents
No matter which types of vehicles are involved, the most important factor in any auto accident is negligence. To be eligible for compensation, you must be able to show that the other driver was negligent in your accident.
All drivers in Lewisville have a duty of care to act in a way that does not harm others on the road. If a driver fails to exercise this duty, it's known as negligence. To prove negligence in a personal injury case, you will typically need to demonstrate the following points:
Duty: The driver owed a duty to you, as the other driver, to act in a way that does not cause harm.
Breached Duty: The driver failed to uphold their duty to you.
Cause: The head-on collision was caused by the driver's breached duty.
Damages: As a result of the driver's negligence and the accident, you suffered damages.
An experienced Lewisville head-on collisions lawyer will know how to demonstrate each of these points when showing how the other driver was negligent.
As long as you are less than 50% at fault for the accident, you still have the right to seek compensation for your damages (Texas Civil Practices and Remedies Code section 33.001).
Why Head-On Collisions Happen in Lewisville
Many different factors can contribute to a head-on collision. In most situations, they happen because the at-fault driver was being incredibly careless and negligent. They might be engaging in behavior like:
Excessive speeding
Driving under the influence of drugs or alcohol
Distracted driving, such as texting and driving
Driving on the wrong way of the road or street
Driving the wrong way on an exit ramp
Fatigued driving or falling asleep at the wheel
One of the most common causes of head-on collisions is drunk driving, which is why many of these crashes occur at night and on the weekends (when drinking happens more frequently).
No matter how a head-on collision happens, the resulting injuries and damages are usually devastating. When two vehicles collide while traveling directly towards each other, they receive the combined force of impact from both cars. This can make the collision deadly even at low speeds.
A driver who causes a head-on collision should be held responsible. Our lawyers can help you build a case and fight for the financial recovery you need and deserve as compensation for your costs. To get a FREE consultation and discuss the details, call (469) 998-4069 or contact us online.
Common Injuries from Head-On Collisions
The speed of all vehicles, the point of impact, and the position of the drivers can all affect the severity of injuries and the degree of damage done in an accident. Here are some types of injuries that commonly result from head-on collisions specifically:
Neck injuries from the head being whipped backward and forward during impact
Head injuries from hitting the dashboard, windows, windshield, or something else in the vehicle
Broken arms, legs, or other fractures
Spinal cord injuries
Serious lacerations from broken glass or other elements
Organ damage
Chest or rib cage injuries from a seatbelt or striking the steering wheel
Paralysis of one or more parts of the body
And even death
Some injuries from a head-on collision might be immediately painful and noticeable, while others may take days or even weeks to fully manifest. This is why it's so vital that you get medical attention right away after this type of accident. If you wait too long to get fully checked out, the insurance company can use it against you.
Head-on collisions often lead to debilitating and life-threatening injuries, so you will likely need emergency medical treatment at the scene. After your initial treatment, be sure to go back to your doctor with any additional concerns and follow all prescribed treatment instructions.
Your lawyer can also help you keep track of all medical records and other evidence that can be used to show your damages.
Talk to a Head-On Collisions Lawyer As Soon As You Can
After a head-on collision, don't wait to get help from an experienced attorney. The at-fault driver's insurance company will do everything they can to reduce how much they have to pay you. They know that this is a very vulnerable time for you, and unfortunately, they can use that to their advantage.
A trusted lawyer can help your situation by:
Gathering evidence from your accident
Building a strong insurance claim
Communicating with the insurance company on your behalf
Negotiating with the insurance company for a fair settlement and
Handling every step of the legal process so you can focus on healing and being with loved ones
Don't worry or suffer alone. Most head-on collisions lawyers, such as our Dallas car accident lawyers at our firm, work on contingency. That means they do not charge you a fee unless they win you money. You can schedule a consultation and learn your legal options without worrying about the cost.
Talk to a Lewisville Head-On Collisions Lawyer for Free Today
If you were injured or you lost a loved one in a head-on collision in Lewisville, our Dallas car accident lawyers are here to help you. We specialize in all types of car accidents in this area, and we have the experience you need.
To get started with a FREE consultation today, call us at (469) 998-4069 or contact us online. We'll listen to the details of your accident and match you with the best attorney for your legal needs. Reach out today to get started for FREE and at no risk to you.
Frequently Asked Questions