Is Whiplash a Real Injury?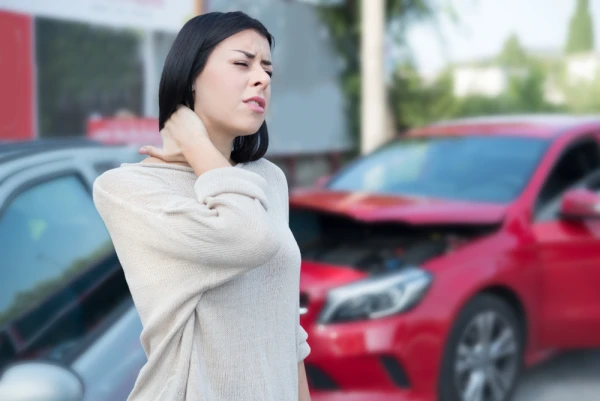 Whiplash is the most common accident injury. It's also the most underestimated. After your accident, the insurance company might make you feel like your whiplash isn't real. They'll question your pain and your medical costs. Make no mistake: whiplash is a very real injury.
If you suffered whiplash in an accident, it's time to get help. Our car accident lawyers know what to do. We can match you with the best attorney for your situation. Call (469) 998-4069 or contact us online today for a FREE consultation.
What to Know About Whiplash
It's essential to understand the symptoms and causes of whiplash. Whiplash happens when your neck whips rapidly back-and-forth. The neck tendons stretch beyond their normal range of motion.
Car accidents are the most common cause of whiplash. It's especially likely during rear-end collisions. Physical trauma, sports accidents, and abuse can also cause whiplash.
Whiplash can cause a lot of pain, but it can take hours or days to fully manifest. Pay close attention to your symptoms after an accident. Common whiplash signs include:
Neck stiffness
Neck and shoulder pain
Numbness or tingling
Limited neck range of motion
Sleeping issues
Headaches starting at the base of the skull
These are just the most frequent symptoms. If you suspect you have whiplash, get it checked out. You might have injuries that are worse than they seem.
Get Treated for Whiplash Immediately
If you have neck pain or discomfort after an accident, see a doctor. Your doctor will evaluate you and run tests. Unfortunately, whiplash doesn't show up on imaging tests. But your doctor will do a physical evaluation and might order tests for other injuries.
You might need X-rays, CT scans, or ultrasounds. Your doctor might also order neurological examinations or other tests. Keep all of your medical records. You'll need to include these in your claim to prove your costs.
A doctor will only diagnose you with whiplash after they hear your symptoms. They'll probably ask about whiplash if they know you've been in an accident.
Why Insurers Don't Take Whiplash Seriously
We've established that whiplash is a real injury. However, insurance companies rarely treat it that way.
If another driver caused your accident, you have rights. You can file a claim with the driver's insurance company. The insurer should pay for your:
Medical costs
Missed wages
Vehicle damage
Pain and suffering
You can pursue compensation for your damages. You'll need to file a personal injury claim with the insurer.
Unfortunately, insurance companies care most about their bottom lines. They do not have your best interests at heart. If you say you have whiplash, the insurer will likely doubt it.
You will need to prove that your whiplash injuries are real. This isn't easy, but you have legal options.
Building a Whiplash Accident Claim
You must build a strong injury claim after a whiplash injury. It's harder to prove whiplash, but it's by no means impossible.
A whiplash accident lawyer can help. Your lawyer will know how to gather substantial evidence of your injuries. Then, they can build a strong claim and deal with the insurance company.
Besides working with an attorney, here are some other ways you protect your legal rights.
Get a Copy of the Accident Report
Most states have laws about reporting car accidents. According to Texas Transportation Code Section 550.021, an officer must create a report of an accident with:
Injury
Death
$1,000 or more in property damage
Call 911 to report your accident. The responding officer might ask if you have injuries. If you don't feel any pain, don't say "no." Just say you aren't sure yet.
If you say you don't have injuries, the officer can put that in their report. You might not realize you have whiplash until later. If the accident report mentions no injuries, it can complicate your claim.
Also, get a copy of the accident report. This will prove that there was an accident. The police officer can let you know how to get a copy. If you need help, contact a whiplash accident lawyer.
See a Doctor
Even if you feel fine right after the accident, see a doctor. Whiplash rarely shows up right away. It can take hours or a few days to fully manifest.
To be safe, have a doctor evaluate you. If you experience more pain later, go back to your doctor. If you wait too long to get checked out, it can hurt your case.
After you file your claim, the at-fault driver's insurance company will investigate. If they see you waited to get medical attention, they can use that against you. The insurer might say you're making up your whiplash. Or, they might claim you're exaggerating your injuries.
Save All Evidence of Your Damages
After you do see your doctor, save all records and bills. Keep track of all other damages, too. You will need to include these in your claim.
Know the Statute of Limitations
Your time is limited to file a whiplash claim. In Texas, you have two years from the accident date (Texas Civil Practice and Remedies Code Section 16.003).
If you miss the statute of limitations, you won't be able to recover damages. Contact a whiplash accident lawyer as soon as possible. Your lawyer can help you:
Document the accident scene
Record your whiplash damages
File your claim on time
Handle the insurance company's tactics
Insurance companies know how to take advantage of accident victims. Thankfully, an experienced lawyer can protect you. Your lawyer can communicate with the insurer for you. Plus, the insurance company will probably take you more seriously if you have a lawyer.
Get a Free Consultation with a Whiplash Accident Lawyer Today
If you suffered whiplash from a crash, you have legal rights. We can help you seek the fullest recovery possible. There is no fee unless we win you money.
To get a FREE, no-risk consultation, call (469) 998-4069, or contact us online today. If you don't have reliable transportation, we are happy to come to you. Call us to get started for FREE today.
Frequently Asked Questions