Rowlett Rollover Accident Lawyer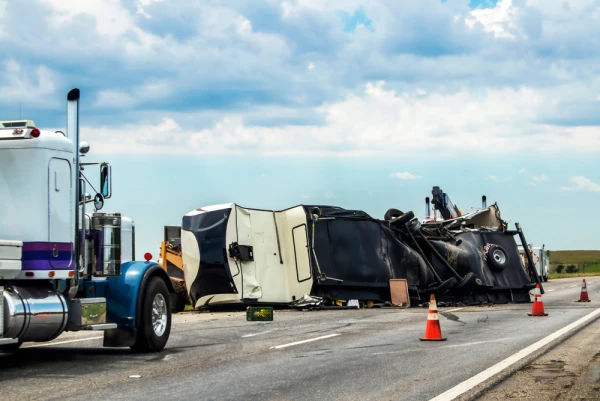 Allow us to help if you were hurt in a rollover accident in Rowlett, Texas. We'll get to work on your claim right away. We understand how to help you build a claim or a lawsuit after a collision. You can contact us if you want compensation for your:
Medical expenses
Lost wages at work
Pain and suffering
Vehicle repairs
Find out more by reaching out to a Rowlett rollover accident lawyer right now. You can easily contact us by calling (469) 998-4069. We'll listen to your side of the story and help you build a legal claim.
Learn More About Rollover Accidents in Rowlett
Rollover accidents occur when a vehicle loses control and tips over. There are many rollover accidents every year. According to the National Highway Traffic Safety Administration (NHTSA), these accidents occur for a number of different reasons.
Interestingly, many rollover accidents occur while vehicles are driving in a straight line. Vehicles also commonly rollover during a turn. Vehicles are less likely to rollover while passing or changing lanes. Sometimes, vehicles rollover after running off the side of the road.
Both commercial vehicles and passenger vehicles can rollover in Rowlett. Commercial vehicles are sometimes more likely to rollover. This is because of their size and their high center of gravity. Sometimes, merely going around a tight turn can cause a large truck to rollover.
Your Next Steps After a Rowlett Rollover Accident
We're here to provide you with guidance if you were hurt in a rollover accident in Rowlett. Our team knows how to help clients in your situation. The experts generally recommend that you remain at the scene of your accident. You should:
Report the accident to the police
Take pictures of your injuries and any vehicle damage
Get contact information from the truck driver and witnesses
Make sure you take as many of these steps as possible before you leave the scene of the collision. You should also seek medical treatment if you were hurt in a rollover collision. These collisions can lead to a number of serious injuries, including:
Head and brain injuries
Damage to the back, neck, or spine
Organ damage and internal injuries
Broken bones, burns, and abrasions
You can get emergency treatment for your injuries if you call an ambulance. Some individuals drive themselves to a hospital. In either case, make sure you get medical care quickly. You can find out more about what to do after a collision. Just contact a rollover accident lawyer in Rowlett. Reach us by calling (469) 998-4069.
We'll Review Your Rollover Accident in Rowlett
It's important to start reviewing the causes of a rollover accident in Rowlett quickly. You only have a set amount of time to file a claim after a collision. Generally, the statute of limitations for truck accident claims expires in two years in Texas. However, in some cases, it runs out in six months.
We're ready to start helping with your claim right now. Our team knows how to focus on the exact causes of your accident. Let us focus on showing that another driver caused the collision. We'll:
Speak with witnesses
Get a copy of your police report
Work with accident reconstruction teams
Taking these steps can help us show that a truck driver was at-fault for the accident. Drivers can cause these accidents if they drive recklessly or exceed the speed limit. Allow us to focus on the specifics of your claim right now.
Construct a Claim for a Rowlett Rollover Accident
You can seek compensation from the insurance company after a rollover accident in Rowlett. We can construct this claim for you before filing it with insurance agents. We also know how to handle negotiations with insurance agents here in Rowlett.
Allow us to review any settlements offered by insurance companies. Often, the negotiation process requires us to go back and forth with insurance agents a few times. This can allow us to bring you a settlement that covers your medical expenses and other losses.
You also have the option to file a lawsuit here in Rowlett. Going to court can allow you to secure compensation for your losses. Find out more right now.
Speak with a Rowlett Rollover Accident Lawyer Now
Contact us if you want assistance after a rollover accident in Rowlett. Members of our team are ready to listen to you. We'll help you with all aspects of your claim and keep you informed about the status of your case. You can start working with a rollover accident lawyer in Rowlett today. Just complete our online contact form. You can also call (469) 998-4069.
We'll go over your specific situation with a free consultation.
Frequently Asked Questions