Rowlett Pedestrian Accident Lawyer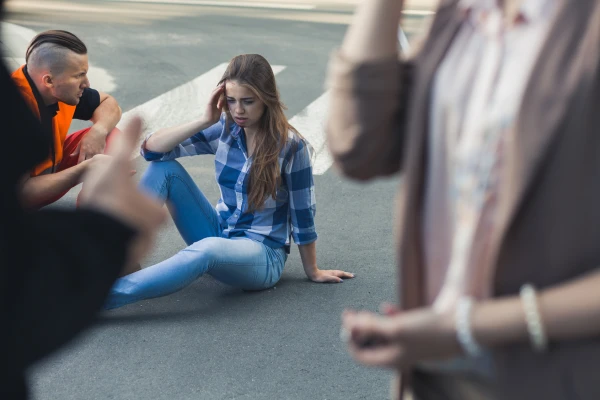 Many people enjoy walking in Rowlett, TX. Individuals walk as a leisure activity, or as a way to get around without spending money on gas. Most of us never think twice about taking a walk, but this activity can be very dangerous.
Pedestrian accidents are a dangerous event. Motor vehicles can severely injure pedestrians in seconds. The driver of the motor vehicle can then refuse to cover your medical bills. A Rowlett pedestrian accident lawyer can help you deal with this situation right away.
Understanding Pedestrian Accidents in Rowlett
It's easy to dismiss the dangers of walking along the side of a road. After all, many of us do it every day. But this simple activity can be incredibly dangerous. According to research completed by Centers for Disease Control and Prevention (CDC):
These accidents are most likely to occur:
At night
In urban areas
Away from intersections
Complications Associated with Pedestrian Accidents
It can be difficult to get compensation after a pedestrian accident for a number of reasons. In some cases, pedestrians are the victim of a hit-and-run. You can face a tough battle for fair treatment if you don't even know who hit you.
In other situations, pedestrians are blamed for the accident, even though they receive the majority of the injuries. You could face a more difficult legal battle if you had a high blood alcohol concentration (BAC) at the time of the pedestrian accident, but you could still be able to win your case.
Pedestrian Accident Lawyers Can Help You
Fighting for compensation after a pedestrian accident can be difficult. You can get help handling this challenge by contacting a pedestrian accident lawyer in Rowlett as soon as possible after your accident.
Pedestrian accident lawyers understand the process you need to follow to get payment for your injuries. You will need to:
Prove the Fault of the Driver
It can seem like it should be obvious that the driver of the motor vehicle that hit you should be responsible for a pedestrian accident. However, this is not always the case. Drivers can argue that you were jaywalking or otherwise at fault for the accident.
That's where a pedestrian accident lawyer comes in. A skilled legal team will investigate your accident to gather proof. This can involve:
Questioning witnesses
Reconstructing the accident
Working with expert witnesses
Building proof that the driver that hit you was to blame for the accident can make it easier to get the damages you need.
Prove the Accident Caused Your Injuries
In some cases, an insurance agent for the driver that hit you will claim that the accident did not cause your injuries. This argument can be easier to beat if you keep official records of the care you receive. Pedestrian accidents often lead to severe injuries that you deserve compensation for.
Pedestrian accidents can also lead to wrongful death. You can get professional legal help if a loved one is killed a pedestrian accident.
Act Quickly
You only have 2 years to file a suit after a pedestrian accident in Rowlett. After this period of time, the statute of limitations on the accident will run out and you will not be able to seek damages to pay for your medical bills.
This means that you will have a better chance of winning your case if you contact a pedestrian accident lawyer quickly. Court cases take time to work on. Make sure that you get professional help on your side with plenty of time to spare.
Pick the Right Pedestrian Accident Lawyer
Deciding on a pedestrian accident lawyer can be a stressful choice. You can make this decision easier by looking for a legal team with:
Experience handling similar cases
A reputable "no win, no fee" pricing policy
Trustworthy lawyers
Making sure that you pick the law team that's right for you can improve your odds of winning your case.
Don't Wait – Get Help from a Pedestrian Accident Lawyer in Rowlett Today
Pedestrian accidents can disrupt your entire life. You can be left with serious injuries that require extensive medical care. The medical bills can quickly pile up and it can be difficult to pay them without compensation from the driver that hit you.
We understand your situation and we want to help. Our law firm has experience taking on pedestrian accident cases. You can ensure you're ready to fight for the compensation you need by contacting a Rowlett pedestrian accident lawyer. You can call us at (469) 998-4069 or you can fill out our online contact form.
We're here to fight for you. Find out how we can help with a FREE consultation.
Frequently Asked Questions